Trump Threatens European Auto Tariffs, But May Have Himself To Blame For Record Trade Deficit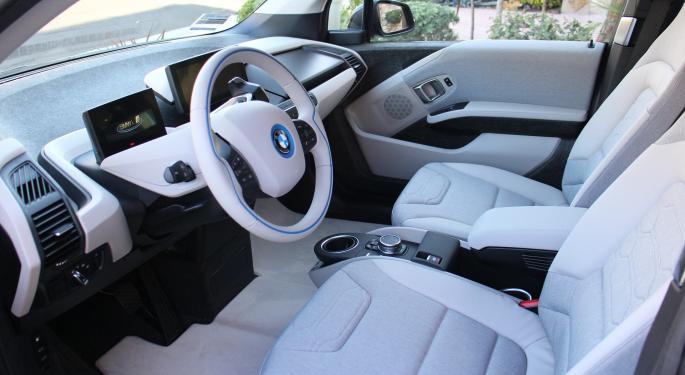 After returning from a trip to Europe, President Donald Trump is reportedly meeting with his trade team Tuesday to discuss an ongoing report by the Commerce Department related to a potential tariff on European automakers.
Trump has been targeting China, Europe and other trade partners in his efforts to reduce the U.S. trade deficit. Yet experts say the cause of the trade deficit may be more internal than external, and potential auto tariffs may be mostly a bargaining tool for Trump in ongoing negotiations.
Takeaways From Tariff Meeting
Height Capital Markets said in a Tuesday note that it sees two primary takeaways from Trump's auto tariffs meeting.
First, Trump is likely trying to regain the advantage in trade talks with Europe after getting strategically "wounded" on his recent trip. Second, Commerce Secretary Wilbur Ross is trying to remain relevant in the aftermath of Trump asking for Attorney General Jeff Sessions' resignation.
"Trump moving to release the report before the end of the year is a bit faster than expected, but it is likely an attempt by the White House to look strong after an embarrassing trip to Paris and increasingly steep midterm losses," according to Height.
Trump theoretically has 90 days after the release of the report to determine whether to take action, but he could also choose to extend that deadline.
"Pushing the report out earlier than expected also gives Ross, who is responsible for the investigation process, a chance to demonstrate his relevance to a president reportedly on the verge of firing him," the Height analysts said.
The final report will likely be released within the next several weeks, but Trump is likely to hold off on implementing any tariffs indefinitely as negotiations with Europe progress, according to Height.
Trade Deficit Irony
Former Federal Reserve Chair Janet Yellen said Tuesday that there may be some irony in Trump's war on the trade deficit.
At a conference in Beijing, Yellen said Trump's fiscal stimulus, including aggressive corporate tax cuts, are indirectly to blame for rising U.S. interest rates, a stronger U.S. dollar and a widening trade deficit.
"I do not see unfair trade practices in China, or anywhere in the world, as what is responsible for the U.S. trade deficit," Yellen said. "We have a country that was already operating at around full employment before the recent tax cuts took place, and additional spending has spurred expansionary fiscal policy."
Yellen said the result is a U.S. economy that is "perhaps overheating" and a record $33.6-billion average trade deficit with China over the past 12 months.
Price Action
U.S. auto stocks don't seem to be rattled by the potential of an escalating trade war with Europe. Here's how the market reacted to today's news:
Related Links:
Everything We Know About The California Fires
View Comments and Join the Discussion!
Posted-In: Height Capital MarketsAnalyst Color Eurozone Politics Federal Reserve Markets Analyst Ratings General Best of Benzinga