Autos Post Better-Than-Expected December Sales On GDP Growth, Tax Reform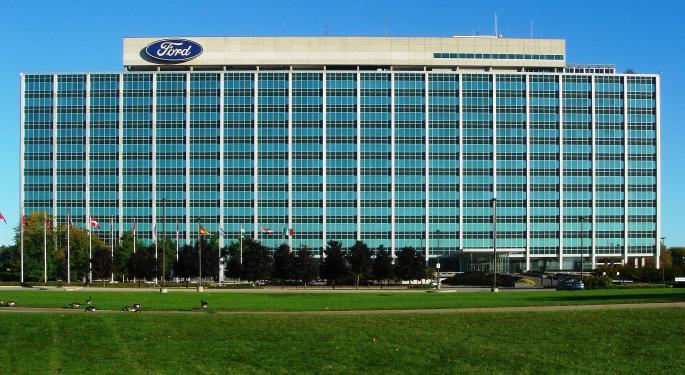 The auto industry wasn't expected to do so well coming off 2016's record sales. But it seemed to hold its own this December.
All but one automaker outperformed Kelley Blue Book's monthly estimates, which forecast negative growth across the board in what still amounted to the biggest sales month of the year.
"December turned out better than analysts expected, largely due to continued strength in the economy as well as some decent incentives heading into the new year," Michelle Krebs, executive analyst at Cox Automotive's Autotrader, told Benzinga. "We had in the back of our minds that it could perform better than our numbers suggested."
Krebs attributed the turnout to strong GDP growth, low unemployment, positive consumer sentiment and wallet-bulking tax reform — circumstances General Motors Company (NYSE: GM)'s chief economist said are expected to continue in the coming year.
"This year, many consumers will see their take-home pay rise because of tax reform," chief GM economist Mustafa Mohatarem said in a press release. "That will keep the broad economy growing, and help keep sales at very healthy levels even as the Fed increases interest rates."
GM's Good Game
General Motors expects to have seized an 18-percent market share in its best month of the year. Sales dropped just 3.3 percent year-over-year against a 7.9-percent KBB estimate, with fleet sales down 22 percent and retail up 2 percent.
Its success was well diversified: GMC had its best month in more than 12 years, Buick sales peaked at 5 percent, Cadillac set a monthly average transaction price record of $58,300 and Chevrolet posted its best-ever ATP above $34,000, compounding sales spikes in the Equinox (21 percent), Traverse (19 percent) and Silverado (25 percent).
"We are starting 2018 with very lean inventories for such a strong industry, and we see more room to grow because Chevrolet, Buick and GMC will have a full year of sales of their all-new crossovers, and we are going to launch the industry's best full-size pickups," Kurt McNeil, U.S. vice president of sales operations for GM, said in a press release.
Ford's Feisty Finish
Ford Motor Company (NYSE: F) alone saw positive growth, with December sales up 0.9 percent against estimated declines of 2.4 percent.
A 16.8-percent increase in fleet sales offset a 4-percent decline in retail, while an 8-percent rise in SUVs, rounding out a record year for the segment, compensated for 1-percent and 5.5-percent drops, respectively, in trucks and cars.
Mustang sales popped 9.2 percent, and SUVs posted record December sales with a 10.3-percent gain over 2016.
FCA's Feeble Finale
Fiat Chrysler Automobiles NV (NYSE: FCAU) sales fell 11 percent year-over-year against an 11.7-percent estimate. Retail sales declined 3 percent, while fleet sales, in accordance with a corporate strategy to reduce the rental segment, dropped 42 percent.
Most brands posted plummets, with Jeep down 12 percent, Dodge 23 percent, Fiat 33 percent and Ram 7 percent.
Chrysler rose 3 percent, with the Pacifica celebrating an 8-percent rise for its best-ever December and the 300 rising 60 percent for its best December since 2012. Alfa Romeo saw a 3,812-percent pop (nearly 2,000 units).
Toyota's Tepid Term
Toyota Motor Corp (ADR) (NYSE: TM) posted December sales that were down 8.3 percent against a 9.6-percent KBB estimate. Lexus dropped 13.9 percent, buffered by Toyota's 7.2-percent decline. The company nonetheless remained optimistic.
"We finished 2017 on a high note," Jack Hollis, the Toyota division's vice president and general manager, said in a press release.
Toyota's Camry and Tacoma had their best-ever Decembers, and the 4Runner its best-ever month.
Honda's Hardship
Although buoyed by record monthly performance for light trucks, American Honda Motor Co Ltd (ADR) (NYSE: HMC) sales fell 7 percent against estimated declines of 5.3 percent. The Acura division dragged with a 12.2-percent drop, and Honda fell 6.3 percent.
Related Links:
Truck, Van Demand Drive November Auto Sales
Tesla And The Auto Market's New 'Big Three'
Photo by Dave Parker/Wikimedia.
View Comments and Join the Discussion!
Posted-In: auto sales AutoTrader Kelley Blue Book Michelle Krebs Monthly Auto SalesAnalyst Color News Analyst Ratings Best of Benzinga