Financials, Fannie And Freddie: One Analyst's Big Ideas For 2018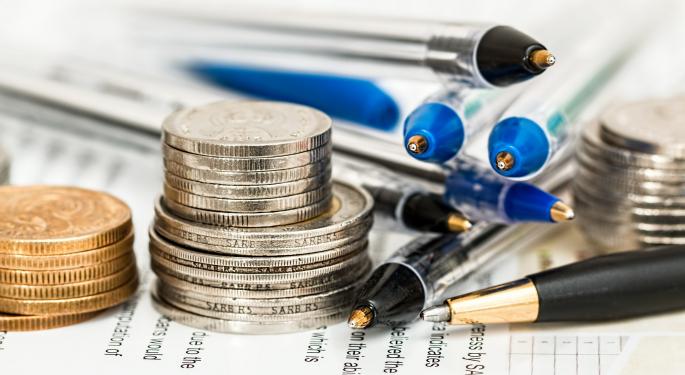 Financials remain poised to benefit from the tax bill signed by President Donald Trump on Friday, deregulation and legislation, Height Securities analyst Ed Groshans said in a note. The financial services industry is a "significant beneficiary" of the lower 21-percent corporate tax rate, Groshans said.
A 13% Boost For Banks
Banks are likely to see a 13-percent earnings increase on average from the tax cut, prior to any management actions such as improving employee wages and benefits, Groshans said.
Legislation that's in the works in Congress would lift the SIFI asset threshold to $250 billion and provide regulatory relief to community banks could also benefit the sector, the analyst said.
The Financial Stability Oversight Council, or FSOC, is reviewing the Volcker rule and working on improving the non-bank SIFI designation process, the analyst said. The deregulation momentum is likely to continue to accelerate, as Trump nominees and appointments control nine of the 10 agencies that are FSOC members, according to Height.
The likely winners among regional and global banks from the triple catalyst of taxes, deregulation and legislation are, according to Groshans:
See also: From Apple To Netflix, Tax Reform's Impact On The Titans Of Tech
Positive On Housing Finance, GSEs
Federal National Mortgage Association (OTC: FNMA) and Federal Home Loan Mortgage Corp (OTC: FMCC) have been permitted by the Treasury to hold $3 billion of capital in the fourth quarter of 2017, a change from the government's stance since January 2013 of not letting the two retain capital.
"Sens. Bob Corker (R-TN) and Mark Warner (D-VA) are drafting a bill in another positive development we expect to materialize in January 2018, setting the GSEs on a path to privatization under FHFA and Treasury's direction," Groshans said.
Auto Finance Companies At Risk
Though used vehicle prices rebounded in the fall of 2017, as Hurricane Harvey destroyed over 500,000 vehicles, Height Securities expects the factors that pressured used vehicle prices in the first half of 2017 to reappear toward mid-2018.
The factors include record off-lease vehicle volumes; an increasing percentage of these vehicles going to auction; constrained used vehicle auction capacity; tighter auto loan underwriting standards; subprime credit deterioration; and near record-high new car incentives.
The companies that face risk from these trends include:
Following hurricane disasters and federal tax cut, which is expected to reduce the profitability of Puerto Rico-based manufacturers, Height Securities sees elevated loss for:
Related Link:
Morgan Stanley: The Biggest Internet Stock Winners From Tax Reform
View Comments and Join the Discussion!
Posted-In: Ed Groshans Height SecuritiesAnalyst Color Politics Analyst Ratings Trading Ideas General Best of Benzinga