What Wall Street Thinks Of The $69 Billion CVS-Aetna Deal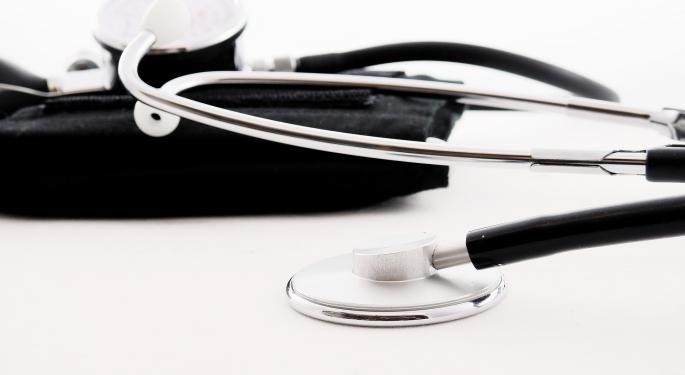 Here we have it: the largest deal of 2017.
CVS Health Corp (NYSE: CVS) confirmed Monday its agreement to acquire Aetna Inc (NYSE: AET) as a standalone business unit for about $207 per share.
The parties intend to close the deal in the second half of 2018 to yield $750 million in near-term synergies and low- to mid-single-digit accretion in year two.
The Pros
Analysts generally back the strategy, considering CVS well-positioned to transform its stores into mini-clinics and to get ahead of a perceived industry shift favoring comprehensive medical services.
"Given our long-standing positive stance on health care consumerism and the shifting of patients to outpatient and home-based settings, we share management's view that there is a need that CVS can fill by transforming its retail pharmacies into health hubs that will enhance consumer access to healthcare services and, over the long run, bring down costs," said Jefferies analyst Brian Tanquilut.
Ultimately, the deal is seen to increase CVS's ability to compete on both price and convenience, which Citi analysts consider favorable for long-term investors. Baird Equity noted the differentiated strategy worthy of a fight against Amazon.com, Inc. (NASDAQ: AMZN), while Merrill Lynch sees the entity matching pace with UnitedHealth Group Inc (NYSE: UNH).
"In our view, the deal moves AET closer towards UNH's Optum model, where integrating health plan, pharmacy and provider assets has resonated in the market," Merrill Lynch analyst Kevin Fischbeck wrote.
The analysts anticipate synergies arising from pharmacy savings, reduction of wasteful treatments, better negotiated vendor pricing, pharmacy benefits manager operating efficiencies and data analytics.
"From our PBM viewpoint, we believe the combination of CVS and AET will drive significant value for shareholders, clients of both firms and consumers," said Leerink analyst David Larsen.
The Cons
But the cost to restructure 9,700 stores to accommodate integrated health services could hinder operations and hurt performance through 2020, according to Jefferies.
Baird Equity analyst Eric Coldwell acknowledged similar concerns but anticipates a smooth integration considering CVS' preexisting relationship with Aetna. Leerink noted that most of CVS's modern stores are already designed to accommodate wellness services.
Nonetheless, Credit Suisse said the deal complicates an otherwise straightforward story for CVS.
"While we like the long-term opportunity to provide more clinical services in retail settings, such transformational changes often take a long time to implement and are seldom accomplished without periodic hiccups," said Credit Suisse analyst A.J. Rice. "While AET has solid operating momentum (in its MA & commercial businesses), the environment for CVS (from a PBM and retail pharmacy perspective) is undergoing major transformation."
At the same time, CVS shareholders may suffer capital shifts from share buybacks to Aetna-related debt payments, and synergies may not manifest for some time.
"Given that CVS was already AET's PBM and that AET management is staying on, we do not anticipate seeing a front-end-loaded synergy ramp for this transaction," Jefferies' Tanquilut wrote, anticipating dilution in 2018 and 2019 before seeing accretion in 2020.
Piper Jaffray considers the deal detrimental to Aetna and forecasts potential issues securing shareholder approval.
"We believe this is a negative for AET shareholders given the positive industry backdrop, which drives our believe that AET could be valued at the high end of our SOP valuation of $218 and the combined company's growth rate that would be lower than AET's estimated growth rate," Piper Jaffray analyst Sarah James wrote, noting potential regulatory and competitive challenges among PBMs.
James said Aetna could profit independently from insurance trends toward higher deductible plans, and she remains skeptical of suggested financial and strategic synergies.
Regulatory Risks
Credit Suisse expects objections from independent pharmacies and joins consensus in anticipating antitrust investigations surrounding drug pricing related to Medicare Part D.
But the Medicare overlap may not prove a hindrance. By Leerink's assessment, regulatory agents set a positive precedent in approving the CVS-Caremark merger, the Express Scripts Holding Company (NASDAQ: ESRX) and Medco Health Solutions Inc. transaction and a good portion of the Walgreens Boots Alliance Inc (NASDAQ: WBA) and Rite Aid Corporation (NYSE: RAD) deal. Merrill Lynch weighs factors meriting equal optimism.
"We continue to believe that this deal is unlikely to face antitrust scrutiny as AET already uses CVS as its PBM," Fischbeck wrote, noting that CVS could divest Aetna's Medicare business.
Price Targets
Jefferies suggested that, considering the yearlong hype around the deal, the latest announcement is already baked into each stock. The analysts maintained a Hold on CVS with a $76 price target.
Leerink maintained an Outperform on CVS with an $85 price target.
Baird Equity maintained a Neutral on CVS with a $77 price target.
Merrill Lynch removed its Buy and previous $204 price target on Aetna.
Credit Suisse maintained its Neutral on Aetna with a $174 price target.
Piper Jaffray maintained a Neutral on Aetna with a $187 price target.
Related Links:
Analysis: A CVS-Aetna Merger Would Be Revolutionary
What To Make Of The Rumored CVS Bid For Aetna
View Comments and Join the Discussion!
Posted-In: A.J. RiceAnalyst Color M&A News Health Care Top Stories Analyst Ratings General Best of Benzinga