The Broader Implications Of Broadcom's Bid For Qualcomm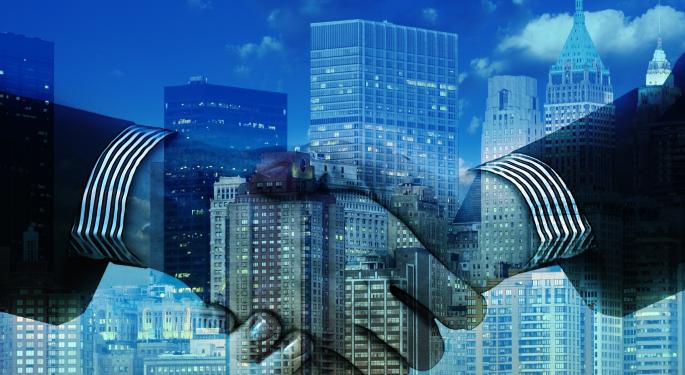 Broadcom Ltd (NASDAQ: AVGO) is looking to acquire QUALCOMM, Inc. (NASDAQ: QCOM) in a deal that would value the stock at $70 per share, or around $100 billion.
Qualcomm's board of directors will likely find the price tag to be too low and reject the deal, Canaccord Genuity's T. Michael Walkley said in a Monday note.
The combination of Broadcom and Qualcomm is expected to generate "strong" synergies and create a new "dominant" wireless business that would also be considered to be a global semiconductor leader, Walkley said. (See Walkley's track record here.)
At $70 per share, Qualcomm would be in a better position as an independent and standalone entity, even when factoring in an ongoing legal dispute with Apple Inc. (NASDAQ: AAPL), Walkley said.
Nevertheless, Broadcom is likely looking at a deal as a means to not only generate shareholder value through synergies, but to increase its exposure to Apple and Samsung's ecosystem, the analyst said. Broadcom could solve Qualcomm's dispute with Apple in a "more timely manner" given the already strong existing relationship between the two, he said.
In fact, Apple would likely be put in a position where it needs to work more closely with a combined Qualcomm and Broadcom, given the smartphone market's unique technology solutions, Walkley said. Aside from Apple, Qualcomm's 5G technologies and overall road map are "well ahead" of the competition and could help grow Broadcom's FBAR filters in 5G devices, the analyst said.
The potential combination of the two businesses would need to overcome various obstacles prior to completion, but any regulatory concern can be solved in the end, Walkley said.
William Blair: A Lot To Digest
Initial reports of a potential merger between Broadcom and Qualcomm may have surprised investors, as there are multiple moving parts, William Blair's Anil Doradla said in a research report. Perhaps the biggest unknown is what impact would a merger have on the Qualcomm-NXP Semiconductors NV (NASDAQ: NXPI) deal which has yet to close.
At the very least, Broadcom's acquisition would "raise concerns" around Qualcomm's ability to finalize the NXP deal and, if completed, the likelihood of the NXP deal finalizing would be diminished, Doradla said. (See Doradla's track record here.)
Aside from NXP, a potential acquisition could usher in a new era of licensing across the handset and semiconductor industries, as Broadcom would assume a "much more amiable" approach and work to solve Qualcomm's legal disputes, the analyst said. But given the significance Apple has in the industry, any deal would likely need its blessing, he said.
A Broadcom-Qualcomm deal faces multiple regulatory hurdles, and it is no coincidence that the company redomiciled its headquarters from Singapore to the U.S. to help ease regulatory scrutiny, according to William Blair.
Related Links:
Qualcomm's Days Of Supplying To Apple Appear To Be Numbered
Posted-In: Anil Doradla Apple Qualcomm Dispute Apple Supply Chain Canaccord GenuityAnalyst Color Top Stories Analyst Ratings Tech Best of Benzinga
View Comments and Join the Discussion!