Bernstein Ponders Potential PayPal M&A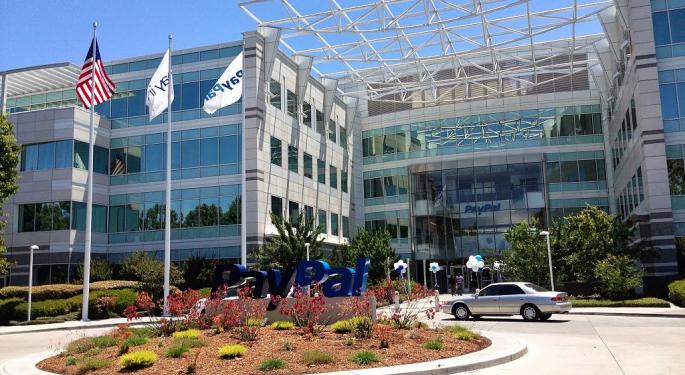 In a note released Wednesday, Bernstein discussed the various permutations and combinations concerning M&A involving Paypal Holdings Inc (NASDAQ: PYPL). The firm noted that its early July upgrade of PayPal was based on a predicted strategic acquisition it will likely make in the coming months.
As such, the firm maintains its Overweight rating and $66 price target for the shares of PayPal.
Analyst Lisa Ellis listed the potential acquisition targets, categorizing them as top candidates and less-likely candidates.
Top Candidates
Adyen: $5 billion, plus, price tag; Braintree of continental Europe.
Klarna: $2.5 billion, plus, price tag; PayPal credit++ of Scandinavia.
Square Inc (NYSE: SQ): $10 billion, plus, price tag; merchant of record capabilities and in-store SMB presence synergistic.
Stripe: $9 billion, plus, price tag; Braintree competitor.
See also: The Spin-Off ETF Spins To New Highs
Less Likely Candidates
WIRECARD AG UNSPON ADR EACH REP 0.5 ORD (OTC: WCAGY): $11 billion, plus, price tag; WORLDPAY GRP PLC UNSPON ADR EACH REPR 3 ORD (OTC: WPYGY) of Germany.
Shopify Inc (US) (NYSE: SHOP): $11 billion, plus, price tag; SMB-centric e-commerce service provider.
Sumup: mPos provider.
Transferwise: Xoom competitor.
Nets: $5 billion, plus, price tag; Vocalink of Nordics.
Synchrony: credit partner.
Vantiv Inc (NYSE: VNTV)/Worldpay.
Global Payments Inc (NYSE: GPN).
First Data Corp (NYSE: FDC): processing partner.
Discover: In-store partner.
PayPal Unlikely To Be Acquired
Meanwhile, Bernstein believes PayPal is unlikely to be acquired, given that few players can afford a $75 billion, plus, price tag. Additionally, the firm believes PayPal is likely more valuable independent than owned by those that could.
The firm sees dis-synergies or unclear deal rationale if PayPal was bought by Amazon.com, Inc. (NASDAQ: AMZN), Apple Inc. (NASDAQ: AAPL), Alphabet Inc (NASDAQ: GOOGL) (NASDAQ: GOOG), Facebook Inc (NASDAQ: FB), Visa Inc (NYSE: V), Mastercard Inc (NYSE: MA), JPMorgan Chase & Co. (NYSE: JPM) or Wells Fargo & Co (NYSE: WFC).
Although a merger with Alibaba Group Holding Ltd (NYSE: BABA)-owned AliPay would make sense, the firm feels the merger would likely be stymied by regulators. The firm also ruled out American Express Company (NYSE: AXP) interested in PayPal, as it would now conflict with Choice.
That said, Bernstein believes the strong performance will continue over the coming year, catalyzed by a likely strategic acquisition, the forthcoming credit partnership intended to shift the company's credit business off-balance sheet and earnings outperformance, driven by recent pricing actions and the rollout of Choice
Related Link: What Will Alibaba Do With MoneyGram?
_________
Image Credit: By Sagar Savla - Own work, CC BY-SA 3.0, via Wikimedia Commons
View Comments and Join the Discussion!
Posted-In: Bernstein Lisa EllisAnalyst Color Reiteration Analyst Ratings Tech Best of Benzinga