Deutsche Bank: The Street Is Lowballing Tesla's Electric Truck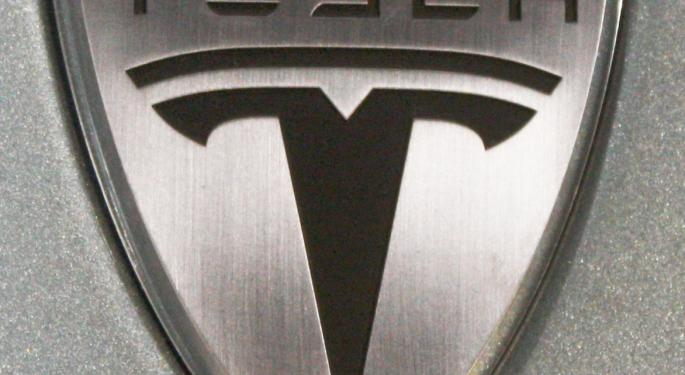 The electric truck Tesla Inc (NASDAQ: TSLA) is expected to unveil later this month could be "more competitive than is widely perceived," according to Deutsche Bank.
The trucks are projected to have a 2.9-year payback period that will decline to less than two years by the early 2020s, research analyst Rod Lache said in a Monday note.
Fleet owners' preferred payback period is 18-24 months, Lache said.
While the Tesla truck's reported driving range of 200-300 miles could be a negative for some customers, 20 percent of U.S. Class 8 trucks drive less than 200 miles per day, the analyst said.

"We now believe that by the mid-2020s, 10 percent of U.S. Class 8 trucks and 15 percent of Class 5-7 trucks could be fully electric."
'Our Assumptions May Prove Conservative'
Deutsche Bank maintains a Hold on Tesla and raised its target price from $240 to $320.
The new price target bakes in $35 per share "to reflect conservative assumptions" for the electric truck, assuming it takes 6 percent of the U.S. Class 8 market, Lache said. Deutsche also added $45 per share to reflect updated assumptions for the Model 3.
"Our assumptions may prove conservative," Lache said.
If Tesla achieves a 25-percent margin on the Model 3 against Deutsche's estimate of a 20-percent margin by 2020, the bank will raise its target price to $400, he said.
A Cost Advantage
Deutsche Bank projects that Tesla aspires to gain a 20-percent market share with its Class 8 trucks.
The EV manufacturer is expected to leverage its high volume and "highly automated" manufacturing capacity to price the trucks at about $200,000 for low-range and $240,000 for high-range versions, Lache said.
"This alone should be disruptive," the analyst said.
The truck will use "several" stock electric motors from the Model 3 and several stock battery packs, according to Deutsche Bank.
Production Expected In 2018
Deutsche Bank is projecting the start of electric truck production will begin in late 2018, with Tesla outsourcing its cabs and gliders and sourcing some parts from its light vehicles.
"Tesla's leadership in AI/autonomous driving could also represent a significant advantage in the eyes of fleet operators," Lache said.
Autonomous vehicles will also be deployed "sooner than expected" and do not face significant regulatory obstacles, according to Deutsche Bank: Autonomous cars and trucks are "allowed" if they're in compliance with federal safety standards.
Related Links:
Everything Old Is New Again: Century-Old Cummins Spent Decade Laying In The Weeds Before Dropping Truck Bomb On Tesla
Money To Burn: What To Make Of Tesla's Latest Bond Offering
__________
Image Credit: By Bin im Garten (Own work) [CC BY-SA 3.0 (http://creativecommons.org/licenses/by-sa/3.0)], via Wikimedia Commons
View Comments and Join the Discussion!
Posted-In: Analyst Color News Price Target Previews Travel Events Analyst Ratings Tech Best of Benzinga