Kohl's Structural Pressures Are Not Abating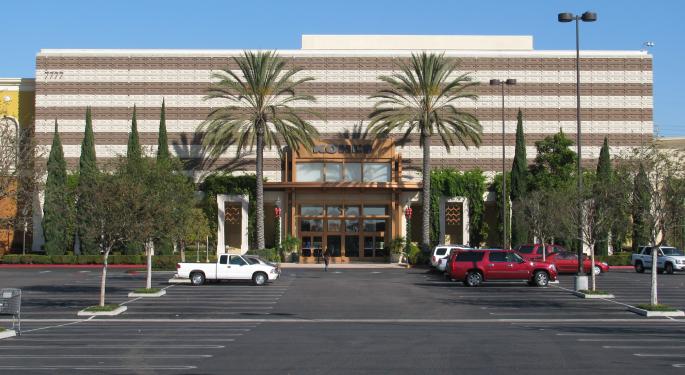 Following Kohl's Corporation (NYSE: KSS)'s second-quarter results, Argus and UBS said structural pressures the company faces are not abating. The firms noted that the retailer has been plagued by several years of lackluster performance amid several factors that challenge the industry and the sector.
The challenges include struggling middle income shoppers following the recession, growing online competition, loss of share to off-price retailers such as T.J. Maxx (TJX Companies Inc (NYSE: TJX)), shoppers reallocating spending to cosmetics and purses and Macy's Inc (NYSE: M) becoming a potent competitor.
Argus has a Hold rating on Kohl's shares with a $39.50 price target.
UBS has a Neutral rating and a $38 price target (lowered by 3.8 percent) on Kohl's.
Competitive Pressure Worries Investors Despite Q2 Beat
Argus noted that Kohl's reported a 2-percent increase in second-quarter adjusted earnings per share to $1.24, 16 cents ahead of its estimate. The growth in the earnings per share was helped by a 7-percent decline in share count, with the adjusted net income actually declining year over year.
Although there was an initial positive reaction to the results in pre-market trading due to the earnings beat and a smaller-than-expected comp decline, the firm noted that the gains faded as investors worried about department stores remaining under competitive pressure.
See also: A Look At Traditional Retailer Promotions Amid Amazon Prime Day
Ailing Department Store Sector
However, Argus noted that Kohl's has embarked on a mission, nicknamed the "Greatness Agenda," to reverse its predicament. The mission, according to the firm, is more urgent because department stores' retail market share losses are growing, and the company's rivals are taking aggressive actions to stay alive.
Explaining the obstacles faced by department stores, Argus noted that sales of department stores declined to a combined $111.5 billion in 2016 from $112.9 billion in 2015 and $120.5 billion in 2006.
As opposed to the trend, Argus noted that Amazon.com, Inc. (NASDAQ: AMZN) sales have grown from $10.7 billion in 2006 to $107 billion in 2015 and $136 billion in 2016, with the company surpassing the entire department store sector for the first time.
Argus believes the sector must still undergo repositioning to improve profitability and keep the remaining stores relevant. The firm noted that department store locations declined by a net of 30 locations in 2016. The firm referred to Kohl's comments on the call that it doesn't see a significant decline in the number of stores, although it expects square footage to decline over time.
Argus feels Kohl's need to improve its e-commerce interface and web analytics and make its stores a more compelling alternative to browsing online in order to better compete against Amazon.
"Our optimism about Kohl's as an investment, is constrained, because we believe that the louder promotional cadence at J C Penney Company Inc (NYSE: JCP) keeps pressure on Kohl's; Macy's is intensely focused on its online strategy and is exciting younger customers; store traffic may remain soft; and internet price transparency and free shipping may constrain the gross margin as ongoing technology spending raises SG&A," the firm said.
As such, Argus believes the shares of Kohl's are fairly valued.
UBS analysts summarized their view by stating, "We don't see a path back to positive EBIT."
As Kohl's suggested some of its $250 million in SG&A savings wouldn't trickle into its EPS, UBS sees the situation as setting up a "difficult path to a return to positive EBIT." Furthermore, the path to valuation is seen as "difficult."
"That said, KSS commented that July total SSS was ~flat, meaning the company 'bought the traffic' with negative AURs in July — making it very difficult for us to embrace a scenario where SSS can turn sustainably positive," UBS added.
_________
Image Credit: By MattL90 - Own work, Public Domain, via Wikimedia Commons
Posted-In: Argus UBSAnalyst Color Earnings News Price Target Reiteration Analyst Ratings Best of Benzinga
View Comments and Join the Discussion!