4 Reasons Private Prisons Could Still Prosper, With Or Without Jeff Sessions As AG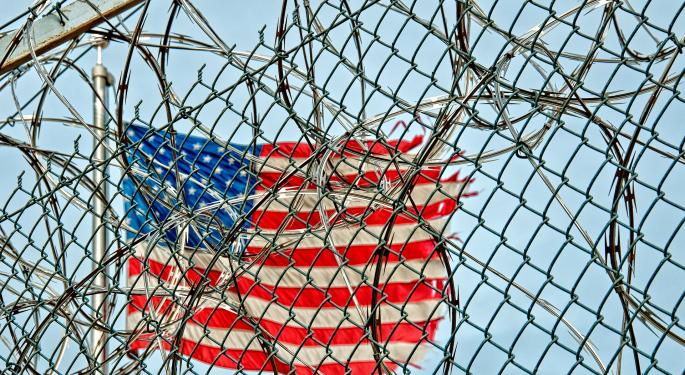 Jeff Sessions, the U.S. Attorney General, has entered the bad books of President Donald Trump ever since he recused himself from the Russia investigation, which is probing into the Trump campaign's alleged collusion with Russia.
The president has stopped short of firing Sessions but has been publicly denouncing him, purportedly in a bid to force a voluntary resignation.
Height Securities said in a note that the recent drama surrounding Sessions, known as a friend to the industry, has scared the wits out of investors in Corecivic Inc (NYSE: CXW) and The GEO Group Inc (NYSE: GEO).
The firm outlined a few reasons why private prisons would continue to prosper with or without Sessions holding onto the Attorney General role.
1. Congressional Support
Analyst Peter Cohn noted that there is strong backing among the House Republicans as well as Republican Senators for continued reliance of the Federal Bureau of Prisons on private prisons.
Excerpts from the report accompanying the House version of the fiscal year 2018 Department of Justice appropriations bill said, "The Committee strongly supports the policy set forth in the Attorney General's February 21, 2017, memorandum on the use of private prisons, which acknowledged the importance of contract correctional facilities to meet the future needs of the Federal correctional system."
See Also: If Gender Confirmation Becomes A Legal Human Right, Which Corporations Could Benefit?
2. BoP Plan to Favor Low Cost Alternatives
Height Securities said the capacity realignment plan due on Aug. 2 would likely ensure that inmates with lower security classifications are in the most cost effective facilities such as contract prisons.
If the BoP looks to shift inmates to lower cost alternatives to prevent overcrowding, the firm said the plan should include details such as population projections, overcrowding percentages, timelines and cost savings.
3. DoJ's Outlook Of Rising Population & Continued Overcrowding
The firm also raised questions regarding why a potential successor to Sessions, in case he is ousted or voluntarily quits, would decide to reverse a Feb. 21 directive to use contract facilities amid an ongoing budget cut.
With the BoP likely to get only limited increases amid a 2-percent cut on the DoJ budget, Height Securities believes the former would look for less costly solutions. The limited increases for BoP would come even as the overall federal prison population is expected to rise by 2.2 percent in 2018, the firm noted.
4. DHS/ICE To Patronize The Use Of Private Detention Centers
The firm thinks the Department of Homeland Security and the Immigration and Customs Enforcement, which fetch the two publicly traded prison operators a lion's share of their revenues, would not be swayed by a change in the office of the Attorney General.
View Comments and Join the Discussion!
Posted-In: Height SecuritiesAnalyst Color News Futures Politics Legal Markets General Best of Benzinga