Pot War, Muslim Travel Ban, Russia Probe: Jeff Sessions In The Middle Of Troubled Trump Issues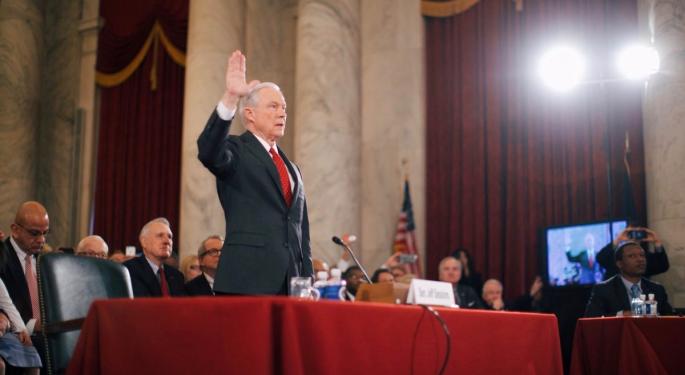 Embattled Attorney General Jeff Sessions, the first U.S. senator to endorse President Donald Trump's candidacy, finds himself swept up in virtually every issue that has confounded the administration's efforts to advance any sort of an agenda.
Front and center is his role in whether the Trump team conspired with Russian agents to fix the November election, his subsequent recusal in March from the federal investigation into those ties and whether he broke his own promise to stay out of the affair.
Sessions is supposed to testify before the Senate Intelligence Committee about Russia Tuesday, but the openness of the session is undecided.
Here are a few things to know about Sessions:
The Russia Probe
As a Republican senator from Alabama, he went out on a limb and endorsed Trump in February of 2016, when few people thought the real estate mogul had chance, and he was rewarded for his loyalty with the AG's job. It's been downhill ever since.
Last week, former FBI Director James Comey, without being specific, said he had information about Sessions related to Russia that he termed "problematic" to the investigation.
"It was a tantalizing clue that there may be other complicating issues connecting the attorney general to the ongoing investigation," Sen. Chris Coons (D–Del.) told Politico.
Comey also said he asked Sessions, his boss, not to leave him alone with Trump after an awkward meeting in February, when Comey alleged that Trump asked him to drop the investigation into former National Security Advisor Michael Flynn's visits and meetings with pro-Kremlin Russians.
Sessions had also said under oath during his confirmation hearing that he had not had contact with the Russians during the election campaign, then admitted it in a letter to the Senate Judiciary Committee when reports surfaced he indeed had meetings. It was then that Sessions recused himself.
Immigration Ban
Sessions played a key role in Trump's two executive orders seeking to ban Muslims from first seven, then six nations. His comments about Muslims played a part in the acting attorney general, Sally Yates, refusing to enforce the order.
Yates was subsequently fired by Trump in January. Both the first and second bans were blocked by federal courts, and the Muslim prohibition now appears headed to the U.S. Supreme Court.
Sessions is also strongly opposed to guest worker visas that allow immigrants to work temporarily in the United States.
National Security
Sessions was named head of the Trump campaign's national security advisory committee in March 2016 and was pivotal to Trump naming Flynn as national security advisor, even though it was known that Flynn had misled Vice President Mike Pence about meeting with the Russians and discussing U.S. sanctions against Russia for the 2014 invasion of neighbor Ukraine.
Sessions was also instrumental in the naming of Pence as Trump's running mate, and Pence subsequently led the Trump presidential transition team.
Race Relations
Sessions has a history of making racially inflammatory remarks, and his nomination to a federal judgeship in 1986 was denied because of the accusations.
The Southern Poverty Law Center's Heidi Beirich told the Washington Post that Sessions has been guilty of using hate speech, and that his presence close to Trump "a tragedy for American politics."
Drug Policy
Sessions has vowed to wage war on the increasing number of states that have passed marijuana laws allowing it for medicinal and/or recreational use. However, a bipartisan budget committee has rejected Session's attempts to get money for the effort.
"I reject the idea that America will be a better place if marijuana is sold in every corner store," Sessions said March 15, comparing it to heroin.
Related Links:
Comey Demolishes Infrastructure Week, Calls Trump A Liar
I Read The Tweets Today, Oh Boy: A Week In The 140-Character Life Of Donald Trump
_______
Image Credit: By Office of the President-elect - https://greatagain.gov/sessions-highlights-6819d2478fc5#.ow7rot78y, CC BY 4.0, via Wikimedia Commons
View Comments and Join the Discussion!
Posted-In: News Futures Previews Politics Travel Legal Events Markets Best of Benzinga