Exclusive: DelMar Pharma CEO Sheds Light On Glioblastoma, And How Its Drug Could Help Sen. John McCain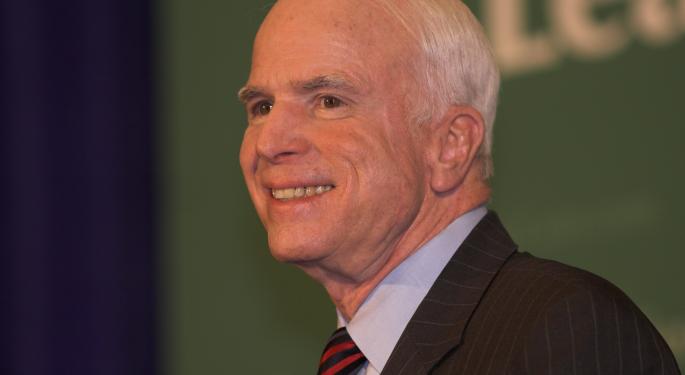 Glioblastoma is a rare type of brain cancer thrust into the spotlight after it was reported Sen. John McCain has been diagnosed with the very aggressive disease.
Glioblastoma affects 15,000–17,000 new patients in the United States every year, and treatment options haven't changed much in the past 30 years.
DelMar Pharmaceuticals Inc (NASDAQ: DMPI) has been working diligently to provide a new solution to prolong the life of patients diagnosed with this devastating disease and hopes to eventually provide a cure.
"The overall survival rates of Glioblastoma has not changed in 30 years. Two out of three patients won't respond to the current standard of care," DelMar Pharmaceutical CEO Jeffrey Bacha told Benzinga.
It's Early In McCain's Diagnosis
"It is very early on in his [McCain's] situation. We do not know a lot yet. Having just done the surgery and being in a situation where they are waiting for the full pathology report, they don't know how he is going to respond to the full care," said Bacha.
After a diagnosis, doctors look at biomarkers, the expression of the returns called MGMT and the likelihood of a positive response to chemotherapy and radiation therapy.
"If he is one of the majority of patients that has a high expression of MGMT, the tumor is going to recur quickly. That is inevitable; that is the recurrence," he said.
If McCain does have a recurrence, continuing the standard treatment will not increase the likelihood of survival.
This is where DelMar Pharmaceuticals VAL083 clinical-stage drug comes in.
Related Link: Exclusive: A Talk With DelMar Pharmaceutical CEO Jeffrey Bacha
The Potential Of VAL083
"It is just a bad situation, and that is where most patients are going to end up. This is where we are currently focusing our phase 3 clinical trial — for patients that have failed both temozolomide and avastin — but we are also looking to bring the drug forward for patients that are newly diagnosed and have a high expression of MGMT," said Bacha.
While rare, if McCain has a low expression of MGMT, there is a chance he can beat the disease. And, it may be possible with DelMar's VAL083 drug.
"Our drug is a chemotherapy," said Bacha. "It was studied by the national cancer institutes in the U.S., and it is shown to be active against GBM. It attacks the tumor differently than temozolomide does; it hits the tumor's DNA at a different point, therefore the MGMT enzyme does not affect the activity with our drug. We have demonstrated that in laboratory studies, and we are now looking to take advantage of that knowledge in patients sooner in their diagnosis. Ideally, as soon as they are diagnosed, we would like to have them on our drug instead of the standard method of care."
How DelMar Could Come Into Play
There is a chance that McCain's doctors could reach out to DelMar Pharmaceuticals to get access to the phase 3 drug, with approval from the FDA.
"Depending on his situation, they may determine it is the right thing to reach out to us earlier rather than later," Bacha said. "Upon recurrence, he may be eligible for our STAR-3 clinical trial, the phase 3 trial for GBM patients who have failed Avastin. We as a company have an expanded access policy under the 21st Century Cures Act, if John McCain's doctors who are treating GBM felt that it warranted sooner than later, we would certainly take a look at this case and consider whether it was appropriate to provide the drug there. We have done it in the past. Really, [it] requires his clinicians, the FDA and us to all agree that [for] that one patient, that the potential benefit outweighs the risk of treatment with an experimental therapy outside of a formal clinical trial."
"It's a terrible situation. We wish John McCain the best, and we are not alone in working hard to develop cures for this disease. There is a lot of room for improvement, and we hope to be a big part of it."
If McCain were to use DelMar's treatment, the news could be a double-edged sword for the pharmaceutical company.
Rodman & Renshaw analyst Ram Selvaraju told Benzinga if McCain responds positively to VAL083 as a treatment, the news would "obviously be good" for the company. However, if McCain responds negatively to the treatment, the news might be "very bad" for DelMar.
Image Credit: By Flicker photographer dsb nola - Flickr photo, CC BY 2.0, via Wikimedia Commons
Posted-In: Analyst Color Biotech News Health Care Politics FDA Top Stories Exclusives Best of Benzinga
View Comments and Join the Discussion!