If Colgate's Looking To Sell Itself, Would Berkshire Be Looking To Buy?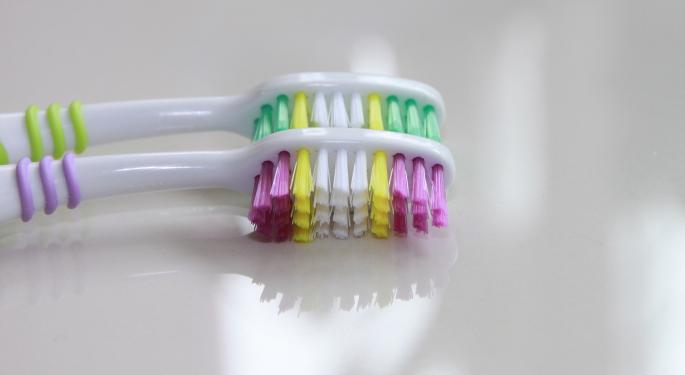 Ever since the New York Post reported in mid-May that Colgate-Palmolive Company (NYSE: CL) had admitted to being open to the prospect of selling itself, one legendary investor has repeatedly been mentioned in conjectural conversations - Warren Buffett.
Colgate CEO Ian Cook reportedly indicated he'd be open to acquisition talks at a price of $100 per share, placing the total price of such a deal somewhere in the mid-$80 billion. Buffett, either through his acquisitive goliath Berkshire Hathaway Inc (NYSE: BRK-A) (NYSE: BRK-B) or through a co-investment with his Kraft Heinz Co. (NASDAQ: KHC) partners 3G Capital, has been talked about as a possible suitor.
"I do think [Colgate-Palmolive] is the type of company Berkshire would be interested in," Argus Research Director Stephen Biggar told Benzinga.
Does Colgate-Palmolive Fit The Buffett Bill?
Buffett, known for his disciplined investment style, has long expressed a few core principles in identifying the kind of companies he likes to collect. One of the most well-known is the "economic moat" - a competitive advantage that protects the corporate "castle" from competition.
Colgate-Palmolive, a consumer staples fixture with more than 120 years of uninterrupted dividends, has been volunteered as a "Buffett-style stock" for years.
Biggar highlighted the company's "strong brands and franchise," adding that its steady growth only bolsters its credentials.
Why Now?
So what has catapulted both Buffett and Colgate into the speculative spotlight? In a word, Unilever plc (NYSE: UL).
Earlier this year, Kraft Heinz made a failed attempt to take over Unilever, exposing Kraft Heinz and Buffett's desire to get into consumer staples in a big way, leaving market mavens frothing with theories as to where the 'Oracle of Omaha' might aim his famed "elephant gun" next.
Is Buffett Willing To Pay The Price?
While some wring their hands over the hefty valuation implied by Colgate's stated bid price, in May (weeks before Cook's statement appeared in the New York Post), Bloomberg reported Buffett was expected to do a deal the size of which he'd never attempted. The upper limit of such a deal? $100 billion, according to reports.
"Price of about $85 biillion [at a $100 share price] would be a bit high for a cash deal, but is within easy reach using part debt," Biggar explained. Buffett's shown a willingness to use debt, as he borrowed a significant portion of the payment he made to acquire Precision Castparts in 2015.
Buffett could also simply contribute financing to 3G and Kraft Heinz if the sting from missing out on Unilever has subsided, but Biggar isn't convinced that's necessary.
"I'm not sure why a partner would be needed here," he said.
Doubts Persist
There have been no reports of Colgate-Palmolive holding actual talks with anyone, and some analysts, such as Jefferies' Kevin Grundy, believe Johnson & Johnson (NYSE: JNJ) is a more likely buyer. The NY Post, one day after their Cook scoop, reported a source saying Buffett and 3G were going to "back off" from making acquisitions for the time being.
It remains to be seen what, if anything, will come of all this, but considering Colgate-Palmolive shares are selling at about a 25 percent discount to the proposed level of a deal, the market for now remains noncommittal.
Posted-In: ArgusAnalyst Color M&A News Rumors Top Stories Exclusives Analyst Ratings Best of Benzinga
View Comments and Join the Discussion!