The 5 Senses Of Computing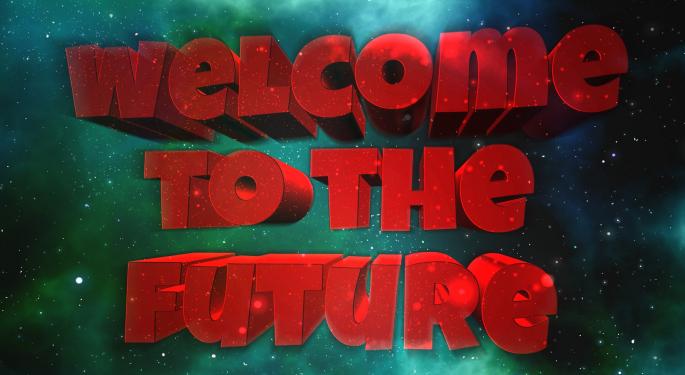 While we are all familiar with the five senses — sight, smell, sound, taste and touch — the basic understanding of them are insufficient at the dawning of the new technological age. Thanks to Loup Ventures' Andrew Murphy, the five senses of computing — which build upon the principles of the traditional senses — are explained and further explored in a note released Tuesday.
Murphy stated that each computing paradigm maps to one or more of the five human senses and that exploring each sense gives us an indication of the direction in which technology is heading.
Sight: Graphical User Interface
The graphical user interface, or GUI, drew inspiration from sight, humans' dominant sense.
The GUI then advanced with the advent of touch-screen devices.
The next frontier for visual interfaces lies in virtual reality, or VR, and augmented reality, or AR, both of which are expected to carry forward the GUI paradigm further.
VR and AR combine the sense of sight more artfully with other inputs like audio, motion and touch to create immersive interfaces.
Touch: Touch-Screen Devices
After touch was used as a fundamental input through the keyboard and mouse in the PC era, Apple Inc. (NASDAQ: AAPL)'s iPhone ushered in a computer era dominated by touch.
Touch, touted by Steve Jobs as the best pointing device in the world, was given an impetus by Haptics by making it more sensory, although touch-screen devices had their shortcomings as well.
Loup Ventures feels integration of touch is critical for the user interfaces of the future.
The firm thinks haptic suits are a step in the journey to full immersion while manipulating the neurochemistry of the brain called neurohaptics is the best way to trick the user into believing he or she is actually feeling something in VR.
Hearing: Digital Assistants And Hearables
From diction software to limited audio feedback and rudimentary speech-to-text transcription, usage of the sense of sound has come a long way, with digital assistants now being integrated in phones.
Loup Ventures' study found that about 43 percent Americans used a digital assistant in the last three months. However, the firm's study of Amazon.com, Inc. (NASDAQ: AMZN)'s Echo vs. Alphabet Inc (NASDAQ: GOOG) (NASDAQ: GOOGL)'s Google Home showed that Google answered only 39.1 percent of the queries correctly versus Echo's 334.4 percent.
The firm believes Apple Inc. (NASDAQ: AAPL)'s AirPods represent the next step forward for audio as an user interface. Through Apple's digital assistant Siri, AirPods can handle information requests, dictation, media control and phone calls.
Audio as an user interface is a key enabler of AR technology and the future of computing, with non-visual inputs like audio and motion becoming critical components to interacting with devices.
Smell And Taste: Advanced VR
The pinnacle of VR and AR experiences, according to Loup Ventures will include all five senses.
Neurochemical manipulation will ultimately enable lifelike touch experiences and even smell and taste.
Such advanced VR would offer multi-sensory computing, making digital experiences much more lifelike, indistinguishable from the real thing.
Concluding, Murphy noted that computer technology is clearly bending towards more advanced user interfaces, bringing all five senses together into a fully immersive future of computing: A future in which we interface with machines and each other in completely new ways.
Related Links:
Apple Vs. Amazon Vs. Google: Digital Assistants Square Off At CES
The OS Of The Future: Who's Taking The Lead?
View Comments and Join the Discussion!
Posted-In: AirPodsAnalyst Color Psychology Topics Analyst Ratings Tech Trading Ideas General Best of Benzinga