Mixed Earnings Expectations For Bank Of America, JPMorgan And Wells Fargo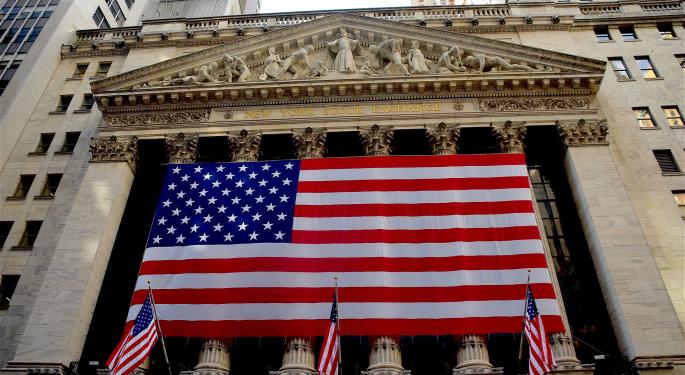 The first of the big banks help kick off the fourth-quarter earnings reporting season this week.
Mixed but generally positive results are expected from the first three quarterly reports.
Expectations are also positive for the flood of bank earnings reports that follow.
The fourth-quarter earnings reporting season kicks into high gear later this week when the first of the big banks begin sharing their results. But expectations are somewhat mixed, based on the analysts' consensus forecasts for the period when the Federal Reserve raised interest rates and a new president was elected.
Solid results are expected from Bank of America Corp (NYSE: BAC) for the period that included the so-called Trump rally. Solid bottom-line growth is also anticipated from JPMorgan Chase & Co. (NYSE: JPM) but with minimal top-line growth. Its CEO during the period saw Trump's election as good news for business and the economy. Wells Fargo & Co (NYSE: WFC), on the other hand, is expected to say that its earnings slipped from a year ago, in the period when it latest analyst ratings and price targets on these three banks.
Below is a quick look at what is expected from the results of these three, as well as a peek at a few of the other upcoming quarterly reports from financial companies.
Bank of America
The fourth-quarter profit of this bank is anticipated to come in at $0.38 per share, which would be nearly a 30 percent gain from the year-ago period, according to Wall Street analysts. The consensus of 116 Estimize respondents has earnings pegged at $0.40 per share. Note that both Wall Street and Estimize underestimated earnings in the prior two quarters.
In Friday morning's report, analysts will also be looking for $20.91 billion in revenue for the three months that ended in December, compared with the $21.00 billion that Estimize predicts and the $19.56 billion in the year ago period. Here too, the results in the previous quarter topped Wall Street and Estimize estimates.
JPMorgan
In its report before Friday's opening bell, the largest U.S. bank by assets is expected to say that it had earnings of $1.47 per share in its fourth quarter, according to Estimze. That would be up from $1.32 per share a year ago. Wall Street is a bit more pessimistic, with a consensus estimate of $1.43 in earnings per share (EPS). But JPMorgan blew out EPS estimates in the previous two quarters.
Estimize has underestimated revenue in the past few quarters, and this time the 88 respondents are looking for $23.72 billion. That would be about the same as in the year-ago period. Wall Street anticipates it will be $23.95 billion, which would still be the lowest level in the past three quarters.
Wells Fargo
The consensus Wall Street forecast calls for this bank to post fourth-quarter EPS of $1.00 (down three cents from in the same period of last year) but for revenue to have risen around 4 percent to $22.48 billion. Note that analysts underestimated both the top and bottom lines in the prior quarter. Also, this latest revenue projection would be the greatest in more than eight quarters.
Estimize is a bit more optimistic on the bottom line, with the consensus of 68 respondents pegging EPS at $1.02, with revenue of $22.45 billion also predicted for the three months that ended in December. Estimize likewise underestimated earnings results in the third quarter. And the bank is scheduled to share its latest results before trading begins on Friday as well.
And Others
Regional bank PNC Financial is also on tap to share its results on Friday, and Wall Street anticipates an earnings decline here too.
Looking ahead to next week, consensus forecasts so far call for at least a little earnings growth from BB&T, Citigroup, Citizens Financial, Comerica, Goldman Sachs, KeyCorp, Morgan Stanley, Northern Trust, Regions Financial, Synchrony Financial and U.S. Bancorp. On the other hand, shrinking profits are in the cards for American Express and SunTrust Banks, if analysts are correct.
View Comments and Join the Discussion!
Posted-In: Analyst Color Earnings News Previews Crowdsourcing Analyst Ratings Movers Trading Ideas Best of Benzinga