What Elon Musk Should And Shouldn't Do In His Meeting With Trump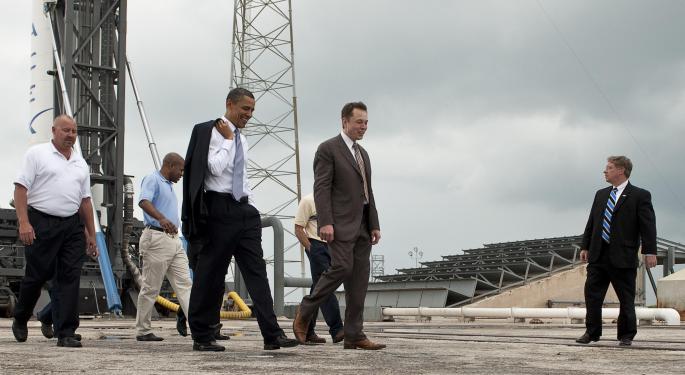 The CEOs of Tesla Motors Inc (NASDAQ: TSLA), Amazon.com, Inc. (NASDAQ: AMZN), Apple Inc. (NASDAQ: AAPL), Facebook Inc (NASDAQ: FB) and Microsoft Corporation (NASDAQ: MSFT) are among a group of tech CEOs who will meet with President-elect Donald Trump this week in New York.
Don't Critique Trump
Outspoken Global Equities Research analyst Trip Chowdhry, who is bullish on Tesla, has some advice for Elon Musk ahead of the meeting with Trump. According to Chowdhry, Musk should avoid being critical of Trump on climate change.
Chowdhry explained:
"How Elon Musk can screw up: insisting on scientific data to prove climate change is real [...] President Trump knows very well that [the] scientific community is completely clueless and stupid.
"They can always find data to it that particular theory[.] It is the scientific community, which in 1970's were saying the coming of 'Ice Age' and then in the 2000's pivoted to the coming of 'Global Warming.'
"[B]asically fitting a data to a theory."
He continued, "Important: President Trump is for reducing/eliminating pollution — but thinks climate change is a hoax — pollution control and climate change are completely different from each other[.] Elon Musk will screw up big time if he insists on data to prove Climate Change is for real."
Throw The Others Under The Bus
Instead, he believes Musk should throw Apple CEO Tim Cook and Facebook CEO Mark Zuckerberg under the bus and point out how Tesla has been creating jobs.
"Basically, Elon Musk should in a subtle way insinuate to President Trump that both Tim Cook and Mark Zuckerberg are total idiots," Chowdhry concluded. He believes Musk should highlight the fact that Cook is spending $5 billion on a new corporate campus, Zuckerberg is spending $6 billion on share buybacks and Musk is spending $5 billion to create GigaFactory jobs.
Apple and Facebook shares are up 9.8 percent and 15.5 percent in 2016, respectively. Tesla shares are down 16.8 percent.
Editor Note: Chowdhry's quotes have been lightly edited for clarity and punctuation.
Image Credit: Elon Musk gives tour to President Barack Obama, others. By Bill Ingalls [Public domain], via Wikimedia Commons
View Comments and Join the Discussion!
Posted-In: Donald TrumpAnalyst Color News Politics Management Analyst Ratings Tech General Best of Benzinga