Eyegate CEO Discusses De Novo Pathway For Therapeutic Eye Drops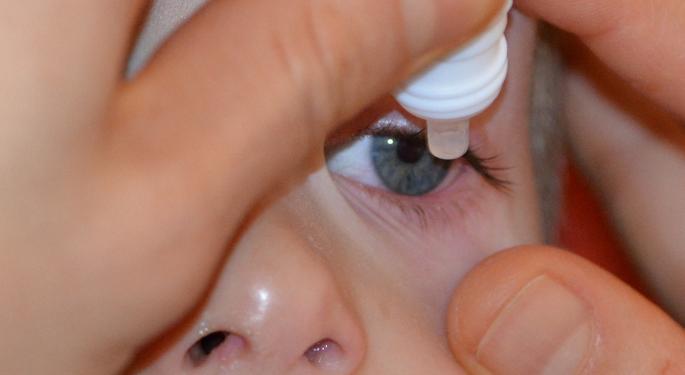 After a tough year, shares of Eyegate Pharmaceuticals Inc (NASDAQ: EYEG) have managed to rebound more than 29 percent in the last month, largely on the back of the announcement that the FDA had allowed it to pursue regulatory approval of its Ocular Bandage Gel (OBG) under the De Novo 510(k) pathway.
Following the event, analysts at Rodman & Renshaw reiterated a Buy rating and $10 price target on the stock, arguing that there are no eye drops currently approved in the United States for accelerating corneal re-epithelialization. "The device regulatory pathway would require a much shorter time frame for approval than a drug-oriented development pathway," the experts explained, adding that, although the initial data would be limited to photorefractive keratectomy (PRK), they believe "OBG has the potential to be used under multiple occasions upon completion of future trials."
An Orphan Device
"There really aren't any therapeutic eye drops that have been approved as a device. There are wetting drops, but not a prescription product like this. So, it wasn't obvious; we had to spend a fair amount of time determining how our product works, to determine if it was a device or not, and we did all the work required for that," CEO Stephen From told Benzinga in a recent interview.
"If you have a scratch on your eye, or you have a problem, a wound, whether it's from a burn or dry eye, any of these types of indications, right now you're just given artificial tears and an antibiotic to prevent an infection," he explained. "But the best way to prevent an infection is to get the wound to close quicker, so that's what this product is able to do and that's what we're trying to demonstrate in our study. So we're really excited that the FDA is allowing us to have this 510(k) De Novo pathway."
"This technology's license actually comes from BioTime, Inc. (NYSE: BTX)," he added, referencing a series of interviews conducted recently by Benzinga.
Why PRK?
When asked why Eyegate had picked PRK for its pilot study, From expounded that this indication allows the company to have a much "better control over the type of patient and the type of wound. If you have PRK you have healthy patients."
"In order to actually have PRK done, you have to have stem cells that are working properly, you have to be a person that has fairly good health. So we know that these people are going to heal, and we also control the size of the wound, so we dictate the homogeneity of the wound size," making them easier to compare.
View Comments and Join the Discussion!
Posted-In: Analyst Color Biotech News Health Care Price Target Reiteration FDA Analyst Ratings Best of Benzinga