From A(mazon) To Z(ynga): Loop Capital Breaks Down Trump Presidency Risk On Internet Stocks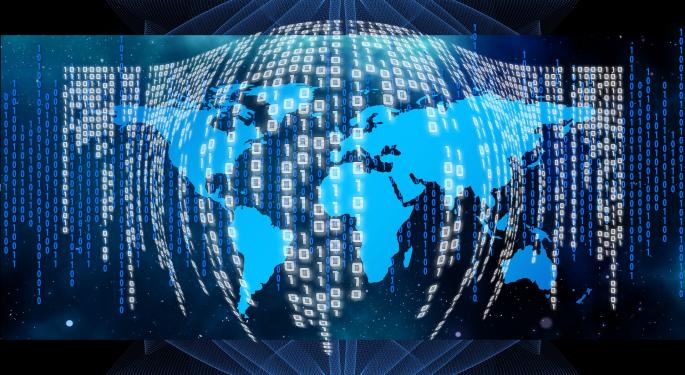 Loop Capital said a Trump presidency could exert near-term pressure on large-cap internet firms with heavy international exposure, while U.S. centric Internet businesses should be more immune. Stocks that could be effected include:
Amazon.com, Inc. (NASDAQ: AMZN).
Facebook Inc (NASDAQ: FB).
How Trump Would Hurt
In Loop Capital's view, a Trump presidency could hurt internet majors in the following ways:
Trump's policies could be "more isolationist, restrictive of trade and antitrust."
Trump seeks to block select large mergers and has sighted Amazon as a potential antitrust target. Google and Facebook could face scrutiny for their duopolistic control of the digital ad market.
Trump seeks to "pause" the H-1B program, which could result in scarcity of foreign skilled talent. Hiring of American workers out of necessity would pressure wages and margins.
Companies may be able to more favorably repatriate the estimated $400 billion overseas cash, but could be pressured to invest in domestic job growth.
Amid heightened regulatory and antitrust scrutiny, there is more risk for large deals that in turn offsets some of the potential impact on M&A from repatriation.
Analyst Explains
Under a Trump regime, analyst Blake Harper sees the largest risk to companies' international expansion, and companies with more international revenues and diverse operations, given potential restrictive trade and antitrust policies.
Over Half Of Revenue From Overseas
Apart from Alphabet and Facebook, the following firms also rely on overseas markets for more than 50 percent of their revenues:
A Third To Half International Exposure
Harper said the following companies generate 33 percent to 50 percent of revenues from their international exposure:
Activision Blizzard, Inc. (NASDAQ: ATVI).
Amazon.
Expedia Inc (NASDAQ: EXPE).
LinkedIn Corp (NYSE: LNKD).
Groupon.
Take-Two Interactive Software, Inc. (NASDAQ: TTWO).
Twitter Inc (NYSE: TWTR).
Zynga Inc (NASDAQ: ZNGA).
"Note that large caps, those with more international revenues, and China based companies have underperformed since the election results while smaller caps and those with large percentage of domestic revenues have outperformed," Harper wrote in a note.
A Few Possible Beneficiaries
Meanwhile, the analyst continued that marketplaces with more than 90 percent of their revenues from the United States and a narrower market focus should benefit from more positive sentiment. They include:
The above names, which generates less than 10 percent of revenue from international markets, should see growth from offline transactions, while their user behavior would be unaffected by a Trump presidency.
A Word Of Caution
However, Harper believes the near-term headwinds will not change the long-term secular trends of the internet industry, including increasing penetration online, mobile and online marketplaces, and the shift of ad dollars to online and mobile from traditional media.
ETFs At Last Check
First Trust DJ Internet Index Fund (ETF) (NYSE: FDN): Down 1.26 percent in the last month. Currently trading at $78.53.
PowerShares Exchange-Traded Fund Trust (NASDAQ: PNQI): Down 3.96 percent in the last 30 days, and trading at $82.49 at last check.
Technology SPDR (ETF) (NYSE: XLK): Down 1.77 percent in the last month. Currently trading at $46.53.
View Comments and Join the Discussion!
Posted-In: Analyst Color News Politics Top Stories Analyst Ratings Movers Tech Trading Ideas Best of Benzinga