JPMorgan's All-Star Quant Issues Dire Warning About What Lies Ahead For Global Equity Markets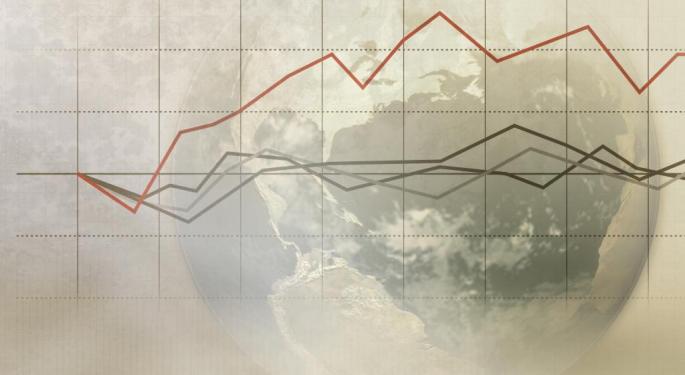 JPMorgan's allstar quant Marko Kolanovic hit mailboxes Tuesday morning with a note highlighting some concerns he sees in the market. Kolanovic, whose market timing of inflection points has been unmatched by any other quant-analyst we've seen on the Benzinga news desk, has a very real concern when it comes to the S&P 500's realized volatility.
Kolanovic blames recent option flow and central bank comfort derived from backstopping any down days as the culprit relating to surpressed market volatility.
To wit:
"In addition to comfort provided by central banks, option related flows over the past 2 months were suppressing market realized volatility and contributed to the buildup of leverage in systematic strategies. As a result, Volatility Targeting portfolios and Risk Parity strategies likely run near record historical levels of equity exposure."
Related Link: What's Going On With The VIX?
Those volatility strategies have built up an unreal amount of pressure and Kolanovic sees "About ~$1,000Bn of S&P 500 options expire this week," which means when those contracts likely roll to higher strikes there will be support for a higher volatility environment.
Alas, buybacks have begun to lessen, down about $250 billion or 40 percent from the roughly $2 trillion cumulative buybacks since 2013.

Recall, Goldman Sachs said last month that buybacks would be the main driver of equity upside in 2016.
That discussion, as key as it is, isn't the main focus here. Where things go from bad to horrifying, as Zero Hedge noted this morning, is when "Kolanovic proceeds to muse somewhat philosophically over a scenario that would presage a far worse outcome than a mere 10-20% decline in stock prices."
To wit:
"Central Bank Alchemy: In recent years, central banks across the world were lowering rates, buying assets, and pushing investors into riskier assets in an attempt to boost growth. Recent bond and currency price trends in Japan show some success in this Alchemy: the government is issuing bonds and central bank is buying most of the issuance. While this is dilutive to private bond holders and increases credit and inflation risk, both bonds and Yen are appreciating at the same time. This appears to create value out of nothing (and achieves what medieval Alchemy could not)"
Kolanovic is fearful of the feedback loop generated and maintained by central banks since 2008, specifically how central banks have anchored investors to view bad fundamental data as good for risk assets. He believes fundamentals skew performance to the downside for equities and sees the possibility of central banks continuing to be the big dog whose buying up everything under the sun.
The SPDR S&P 500 ETF (NYSE: SPY) traded $207.33, down $1.09 or 0.50 percent.
Posted-In: JPMorgan Marko KolanovicAnalyst Color Top Stories Economics Markets Analyst Ratings Best of Benzinga
View Comments and Join the Discussion!