What The Twitter-NFL Partnership Means For Twitter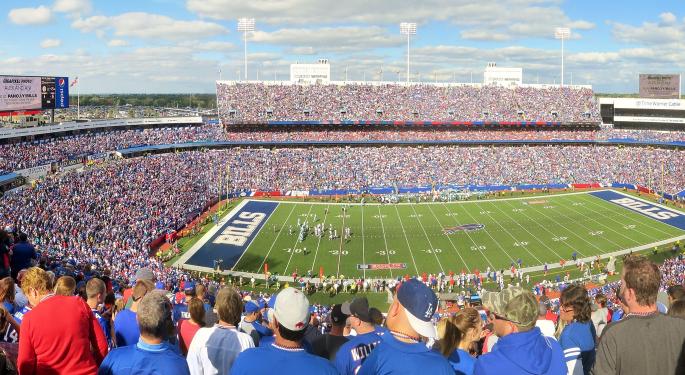 On Tuesday, Twitter Inc (NYSE: TWTR) won the NFL sweepstakes, officially partnering for the right to stream 10 Thursday night games next season.
Twitter reportedly paid about $10 million for the package, although interestingly, the NFL admitted that they were not the highest bidder, suggesting that the attractiveness of Twitter's platform helped them win over the likes of Facebook Inc (NASDAQ: FB), Verizon Communications Inc. (NYSE: VZ), Yahoo! Inc. (NASDAQ: YHOO) and Amazon.com, Inc. (NASDAQ: AMZN).
Related Link: Twitter Wins Streaming Rights For NFL's Thursday Night Game
From the NFL's perspective, this deal makes perfect sense. Because the games will still be broadcast live on TV – five on NBC and five on CBS, as well as a simulcast on NFL Network – they now have two different revenue streams for the same property.
At first glance, it seems like Twitter got off cheap, considering that Yahoo paid $17 million for one game last season and CBS and NBC each pay $225 million for their broadcast rights.
The reason for that discount, according to Re/Code, is most of the ad revenue from the broadcasts will still belong to the networks and not Twitter (however, Forbes' Mike Ozanian has a different theory).
Quelling Investor Concerns
Investors have long been worried about Twitter's lack of growth, and analyst reaction was mixed about whether this could change that.
Victor Anthony of Axiom Capital wrote in his note, "This is a positive for Twitter as it should, in theory, help drive incremental users and engagement on the platform."
However, Wedbush's Michael Pachter said, "I think this barely registers as a ripple in Twitter subscriber figures, and don't think it is worth a ton. I suggest investors keep their eye on the core problem, which is stagnant user growth. This deal is unlikely to change that materially."
Colin Sebastian of Baird wrote in his note, "The partnership could provide a relatively inexpensive channel for new user acquisition, a key positive. The deal represents a potentially cost-effective user acquisition/engagement tool, assuming broadcasts attract a fair number of currently inactive Twitter users."
Related Link: NFL Is The Real Winner From Twitter Deal, Angel Investor Says
That last point is huge. Thursday Night Football broadcasts averaged 13 million viewers last year, and it remains to be see how many of them will migrate over to Twitter.
Because nobody's quite sure what these streams are going to look like on the platform, it remains to be seen how Twitter will monetize this. However, they will get to sell some ads, and they'll have to figure out other avenues for revenue. Will they sell tweet space alongside the stream? Charge users a small amount for access?
"If this does work well, this could dynamically change Twitter's ad rates," said Sean Udall, CIO of Quantum Trading Strategies. "They're going to be conservative with ad load, and that's advertising nirvana."
A Sign Of Things To Come?
What makes this deal so interesting isn't so much what it will do for the NFL – this is small potatoes for them – but what it could mean for other media properties. If Twitter can show value from this deal, via growth in monthly active users and overall engagement, it could open up a new world for online streaming partnerships.
What's to stop other media properties (other sports leagues, cable TV shows, concerts, movies) from doing this same thing?
There's now an entire generation of TV watchers who've been conditioned to consume media in multiple screens. With Twitter combining the viewing experience, this could open up more opportunities for users to connect with each other during live events.
"Twitter is a platform that lends itself very well to media," added Udall. "People don't get the opportunity on Twitter. They're so caught up in the negativity of it."
Image Credit: Public Domain
Posted-In: axiom capitalAnalyst Color Sports Top Stories Analyst Ratings Tech Trading Ideas General Best of Benzinga
View Comments and Join the Discussion!