NFL Is The Real Winner From Twitter Deal, Angel Investor Says
Earlier on Tuesday, the NFL's commissioner Roger Goodell confirmed a new partnership between the football league and Twitter Inc (NASDAQ: TWTR), in which the latter would live stream Thursday Night Football.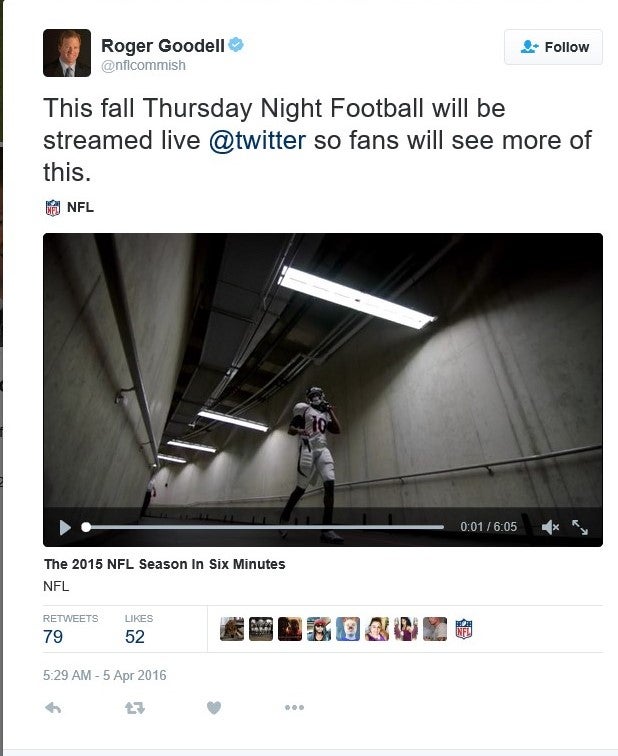 Following the announcement, angel investor and Inside.com's founder and CEO Jason Calacanis guested on CNBC to discuss the partnership.
'Community Play'
When asked about how streaming through Twitter would affect NFL viewers, Calacanis said, "So, Twitter is [an] incremental audience as far as the NFL is concerned. And I think this is a community play and the NFL saying, 'Hey! We've got to get this smartphone generation, we've got to get this Millennial to start watching the NFL.' — because, frankly, they have too many options […] and we're losing them."
Related Link: Twitter Wins Streaming Rights For NFL's Thursday Night Games
Calacanis was challenged with the idea that the move could end up costing Twitter, subsequently being a loss for the social media platform. Calacanis responded, "Listen. It's only $10 million."
"It's a million dollars a game. If they [Twitter] make back half of that money with the Periscope screen backstage and some other ancillary ad revenue, it's well worth it."
NFL Is Clear Winner
As Calacanis was continually prodded and asked to discuss more on how Twitter may be unable to attract enough viewers to make the deal a "win" for both Twitter and the NFL, Calacanis adamantly stated, "It gets the NFL those people who might be slipping away. The NFL is really the brilliant group here."
"By selling the rights to this three times – you know, they have their NFL network. They have CBS and NBC. And now they have Twitter," Calacanis explained. "What's really interesting though is the experience is going to be neat, because you're going to have the video up top and you'll have the tweets below it. And for people who are really into commenting and remixing […] this is going to play into that next generation."
Posted-In: CNBC Inside.com Jason Calacanis live streamingAnalyst Color Sports Media General
View Comments and Join the Discussion!