Wedbush Offers Probabilities For Upcoming Catalysts In Emerging Pharmas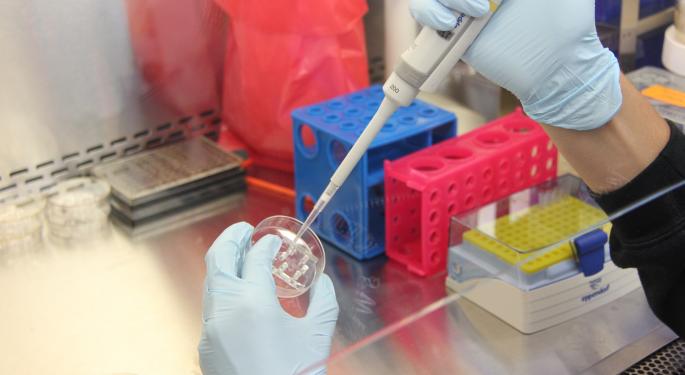 Liana Moussatos of Wedbush overviewed the emerging pharmaceuticals space and offered a scenario analysis of various potential catalysts.
Moussatos has the highest degree of confidence on two upcoming catalysts for Relypsa Inc (NASDAQ: RLYP), one of which could see its stock move up or down by as much as 40 percent.
The analyst sees Sangamo Biosciences, Inc. (NASDAQ: SGMO) having the highest gain/loss potential – by as much as 100 percent.
Emerging pharmaceutical companies can see drastic shifts in their stocks, especially following an unexpected FDA decision.
According to Liana Moussatos of Wedbush, the potential impact of an unexpected FDA decision can result in a 90 percent drop in the company's stock or a doubling (if not more) following a positive review.
With that said, Moussatos compiled a list of emerging pharmaceutical companies and offered a probability of a company-specific catalyst playing out.
Here is a summary of some of the more notable events.
Related Link: Another Visit With A Leveraged Biotech ETF
BioMarin: Panel On Drisapersen Likely Negative On Risk To Reward
BioMarin Pharmaceutical Inc. (NASDAQ: BMRN) held an advisory committee meeting for its drisapersen for the treatment of Duchenne muscular dystrophy (DMD). According to the analyst, while the panel "seemed to be affected" by the testimony of patients and parents, the panel appeared to have been "unconvinced of the efficacy of drisapersen."
The panel did not vote at the time for an approval, but the analyst believes the panel was "negative on the risk/reward" of the drug.
Moussatos places a 50 percent chance of a potential Committee for Medicinal Products for Human Use (CHMP) opinion for drisapersen in the first half of 2016. The stock is expected to gain or lose anywhere from zero percent to as much as 25 percent.
Shares of BioMarin are Neutral rated with a $125 price target.
Intercept Pharmaceutical: Preparing For Potential Launch Of OCA In PBC
According to Moussatos, Intercept Pharmaceuticals Inc (NASDAQ: ICPT)'s lead drug, obeticholic acid (OCA), has generated "impressive" efficacy data in Phase 2 studies for the treatment of Primary Biliary Cirrhosis (PBC).
Moussatos noted that Intercept's management has already provided an overview in preparation of a potential launch of OCA in the first half of 2016. The company has also prepared for the potential commercial launch with key hires and activities to increase awareness of PBC. In fact, the analyst is estimating that OCA is an "underappreciated gem," which could achieve over $2 billion in peak sales.
Moussatos places an 80 percent probability of a potential U.S. approval for OCA in PBC during the first quarter of 2016. The stock is expected to gain or lose anywhere from 5 percent to as much as 40 percent.
Shares of Intercept Pharmaceutical are Outperform rated with a $493 price target.
Relypsa: Highest Degree Of Confidence
Patiromer is Relypsa's lead drug candidate and is a non-absorbed, optimized potassium-binding polymer dosed once or twice daily as an oral suspension powder to normalize hyperkalemia.
According to Moussatos, patiromer has the potential to be a "best-in-class," and with U.S. approval on October 21, 2015, Veltassa (trade name) has become the first breakthrough treatment for hyperkalemia since 1958. The analyst added that patiromer could see peak annual sales of over $1 billion in the United States alone.
Moussatos places a 90 percent likelihood on: 1) U.S. launch of patiromer in the first week of January, 2) a potential EMA approval of patrimorer in the first quarter of 2017 and 3) a potential EU launch of patiromer in mid-2017.
Shares of Relypsa are Outperform rated with a $75 price target.
Related Link: A New Bearish Biotech ETF And A Lazarus Act For A Couple Leveraged Funds
Sangamo: Largest Potential Stock Reaction
According to Moussatos, Sangamo Biosciences is a "true biotech company," and its Phase 2 clinical trials testing a zinc finger nuclease (ZFN)-modified cell therapy for HIV-infected patients.
The analyst noted that as of the end of the third quarter, Sangamo held close to $220 million in cash. With its cash on hand and a potential partnership income to offset cash burn, the company has sufficient runway for the foreseeable future, not to mention sufficient capital to cover additional HIV program catalysts.
Moussatos places a 50/50 chance of a potential therapeutic partnership for its HIV drug at some point in 2016. The potential upside to the stock ranges from 20 to 100 percent.
Shares are Outperform rated with a $30 price target.
Image Credit: Public Domain
View Comments and Join the Discussion!
Posted-In: Analyst Color Biotech Long Ideas Health Care FDA Top Stories Analyst Ratings Trading Ideas Best of Benzinga