One Year Ago, GoPro Traded At 4x Its Current Price; What Happened?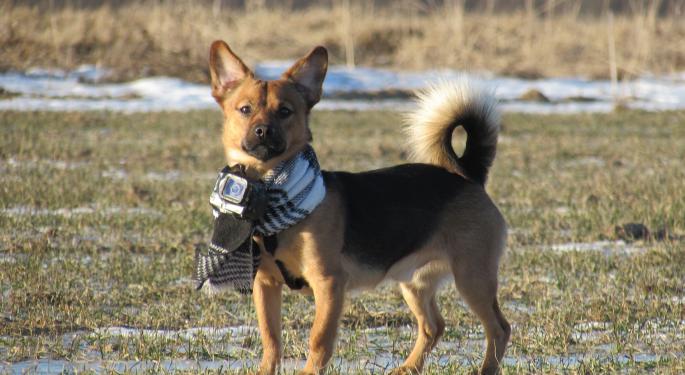 Shares of GoPro Inc (NASDAQ: GPRO) have had a very tough year.
For instance, on November 18, 2014, the stock closed at $84.10. As of Friday, November 13, 2015, the shares were trading around $21.50, at roughly one quarter of the price it traded at one year ago.
So, let's take a look at the missteps and mishaps that have led to the stock's current valuation.
About a year ago, GoPro's stock was trading at almost four times its current price. Over 12 months, the shares fell from above $84 to under $22 – below its market debut at $24. So, what happened?
Until the latest quarter, reported on October 28, the company had been comfortably beating estimates. Only in the last quarter did earnings and revenue fall short of expectations. As illustrated in the chart below, before the third quarter of 2015, it had been only smooth sailing for GoPro financially.
Related Link: GoPro Makes New All-Time Low
So, the latest earnings miss was only responsible for a small portion of the tumble. Following the release of the company's third-quarter financial results, the shares fell from above $30 to around $25. But, what had made them plummet from above $84 to $30?
A Look At Some Mishaps
Roughly a month ago, shares of GoPro were sliding after the company's new camera, the Hero4 Session, received negative reviews, especially from Morgan Stanley, which argued the company's products could remain a niche, given that many smartphones already offer similar video features.
Back in January, the shares experienced one of their biggest declines, after the U.S. Patent and Trademark Office granted Apple Inc. (NASDAQ: AAPL) a patent for a remote-control system for cameras. This led GoPro investors to worry about Apple encroaching on GoPro's action camera market, triggering a big tumble in the stock price.
As the year went on, the stock continued to collapse. Despite a small spike on the day the lock-up expired on February 17, the stock fell quite consistently until mid-March.
A small recuperation between March and August had investors' hopes up. But, once again, they were proven disappointed. Since August 10, the stock has lost more than 65 percent, as expectations and actual results got worse, competition, higher, and even some litigation emerged.
Moreover, investors should note that repetitively as of late, GoPro has been one of the short-sellers' favorite picks. In fact, borrowing volumes have been getting close to their limits for a few weeks now, SunGard's Astec Analytics explained in a recent report.
The Experts' Eye
Back in September, Steady Trader's head of investment strategy, Serge Berger, framed GoPro's decline in a wider landscape of momentum stocks being beat down. In fact, he noted, "In August, GoPro shares made an important lower high versus their 2014 highs, and the most recent selloff [around September of 2015] has since pushed the stock marginally below its March 2015 lows. From a momentum perspective, GPRO stock is well oversold, with the MACD oscillator on the weekly chart signaling so."
Piper Jaffray's Erinn E. Murphy recently said he expected volatility in GoPro shares to continue, "in view of softening consumer demand and contraction in prices."
James Faucette of Morgan Stanley believes the stock will trade around $35 by October of 2016, noting mixed feedback on the HERO4 Session, "software improvements not coming fast enough and overall little differentiation from smartphone cameras."
Disclosure: Javier Hasse holds no positions in any of the securities mentioned above.
Image Credit: Public Domain
Posted-In: Astec AnalysticsAnalyst Color Long Ideas Top Stories Analyst Ratings Movers Tech Trading Ideas Best of Benzinga
View Comments and Join the Discussion!