Is It Really Time To Sell STAG Industrial REIT?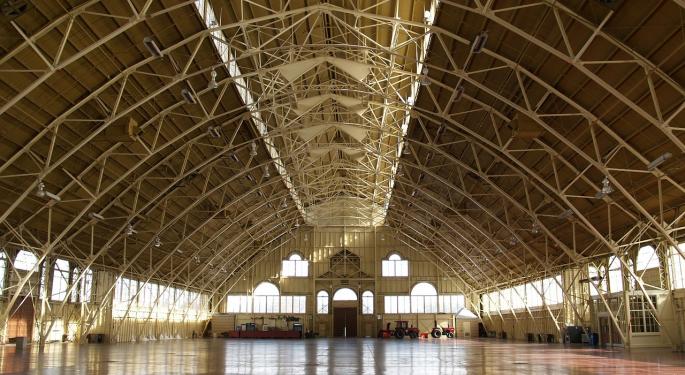 On July 17, UBS published a downgrade of STAG Industrial Inc (NYSE: STAG) from Neutral to Sell and lowered its target price from $23.50 to $18.00 per share.
So far, 2015 has been a tough year for REITs as an asset class. This includes REITs that are focused on owning warehouse/distribution, manufacturing and "flex" office/industrial space.
Tale Of The Tape: 2015 Price Decline
STAG shares opened lower on Friday's session and closed the day at $20.66, down 1.5 percent after the UBS morning downgrade.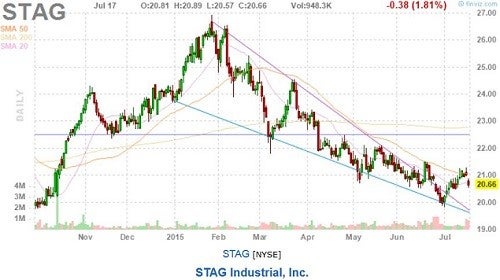 During the past 52 weeks, STAG has traded in a range of $19.16 to $26.93 and had already been down approximately 14 percent YTD prior to the downgrade.
Related Link: Blackstone Q2 Earnings Call: Strong Results Trump Early Headlines
STAG's Strong Historical Performance
STAG's June 2015 Investor Day presentation points out, "Total shareholder return 135 percent since IPO (81 percent price appreciation, 54 percent dividends)," and that STAG has "grown [its] industrial portfolio an average of 42 percent since IPO."
Notably, STAG has a history of regular dividend increases since its IPO and currently pays a monthly dividend with an annual yield of 6.7 percent – about double the average of its peer group.
STAG's Peer Comparison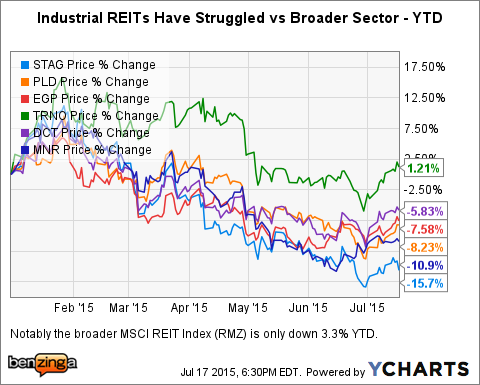 Industrial REIT Peers: Strategic Focus
Related Link: A Peek Through The Door Of Upcoming Self-Storage REITs
While each of these industrial REITs follows a different business model, there is some overlap in some markets; however, STAG Industrial employs yet another a unique strategy.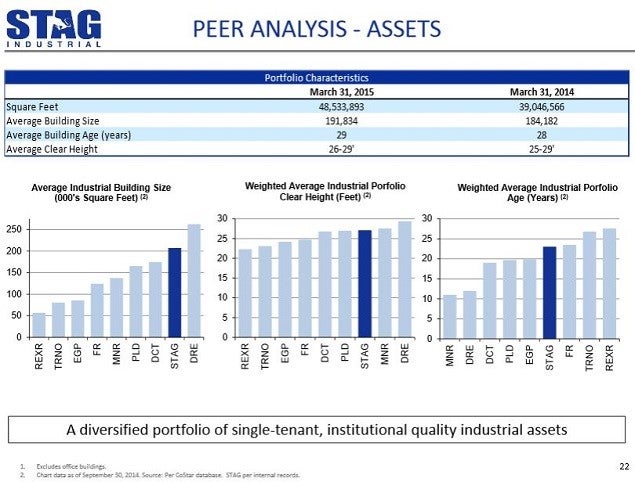 STAG ranks high on both building size and clear ceiling heights, two metrics that can help when it comes time to market a facility to a new tenant.
STAG Industrial: A Unique Strategy
STAG is an acronym for Single Tenant Acquisition Group. A STAG facility either has an occupancy of 100 percent or zero, which the company refers to as "binary risk."
By primarily focusing on single-tenant, Class-B industrial facilities, located in geographically diverse secondary markets, $1.35 billion cap STAG Industrial has shown the ability to steadily grow its portfolio through accretive acquisitions.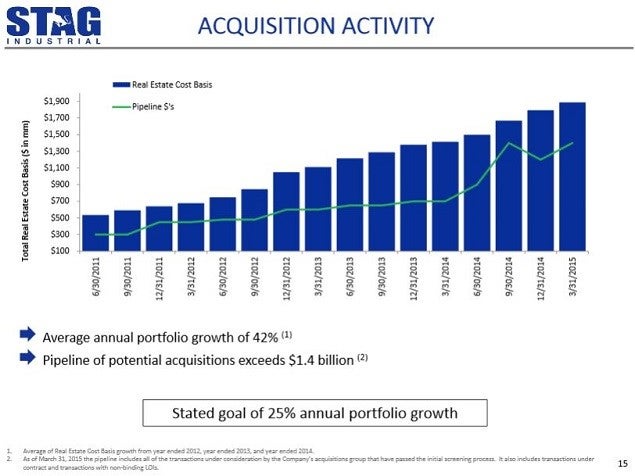 STAG is a bit of a hybrid, an "operating industrial REIT," which generates higher returns from a portfolio that is comprised of shorter-weighted average lease terms, as compared to typical single-tenant net-lease REITs.
However, STAG has a proprietary methodology for evaluating these risks.
STAG Industrial's June Investor Day Presentation
CEO Ben Bucher's 12-year history of modeling and underwriting single-tenant binary risk shows that a large portfolio of non-correlated "bite size" industrial facilities ($5 million to $10 million range) can generate predictable cash flows, high tenant retention and require minimal landlord capex.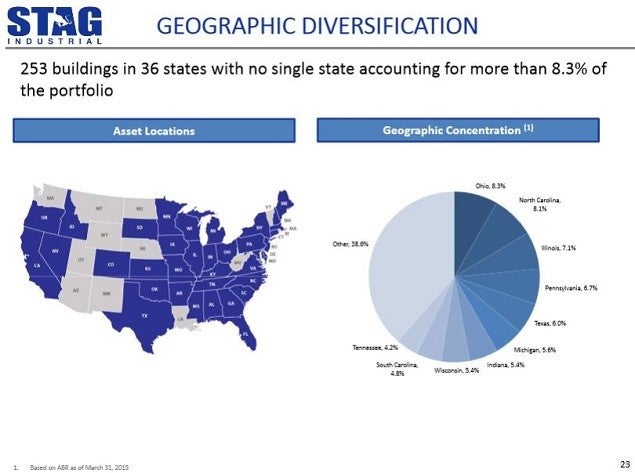 By buying assets that are diversified by geography, industry, tenant and lease expiration, STAG effectively creates a "virtual industrial park."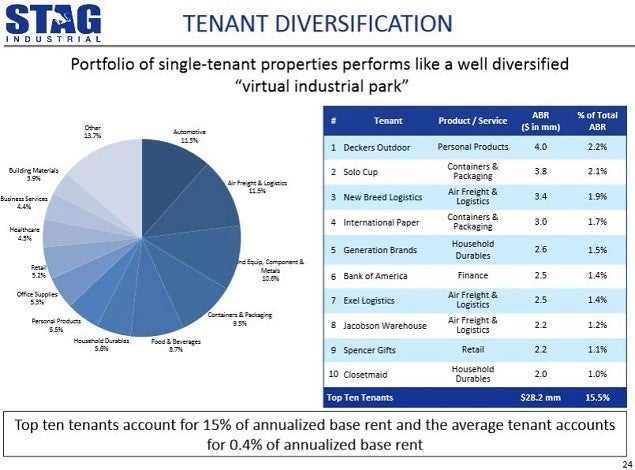 Credit losses since the STAG IPO have been 0.03 percent.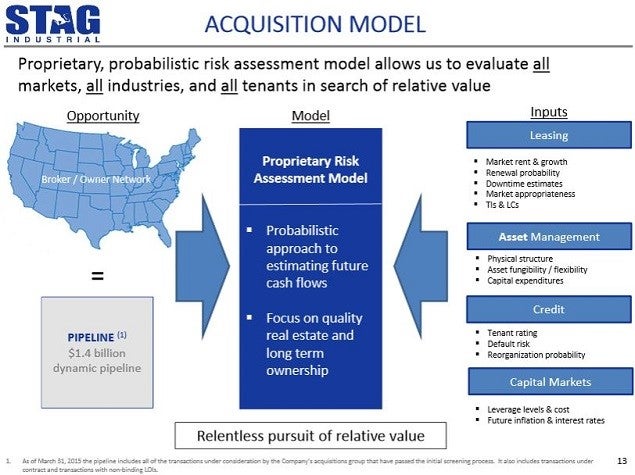 STAG is underwriting a vast pipeline of acquisitions on a daily basis.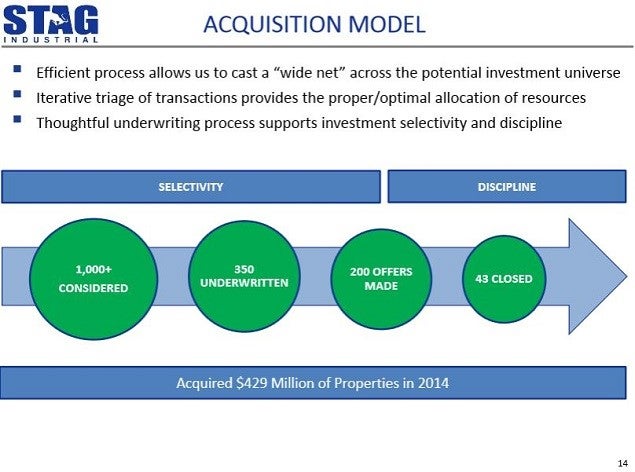 The average acquisition in 2014 was just under $10 million.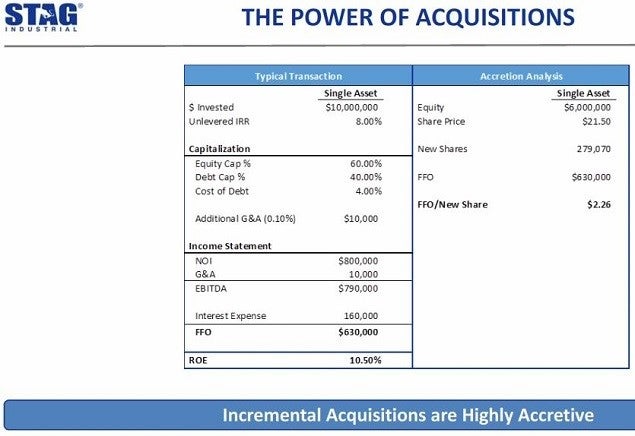 These acquisition are announced on a monthly basis by STAG management.
STAG's Lease Rollover
The STAG underwriting model will be put to the test during the next five years. As of March 31, 2015 the portfolio was 94.4 percent leased overall, and tenant retention was approximately 64 percent when leases came up for renewal.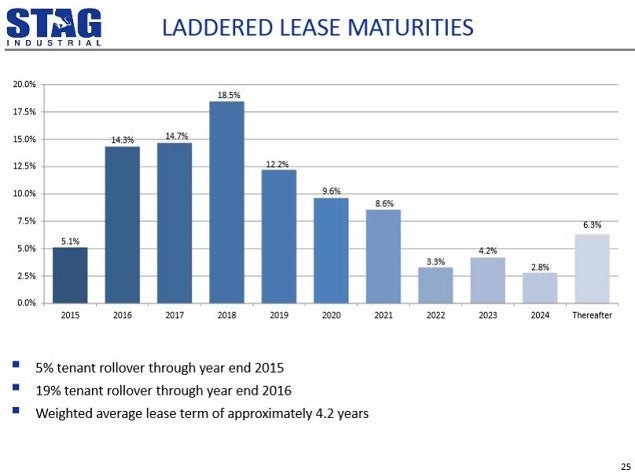 The STAG 4.2-year average remaining lease term is reflected in the chart above, which shows the large number of leases scheduled to rollover during the next five years.
The ability to navigate this churn successfully would both validate the inputs and demonstrate the predictive power of the model which underpins STAG's unique strategy.
STAG Proprietary Risk Assessment Model
A highly detailed explanation of STAG's "Proprietary Risk Assessment Model" was the primary objective for the management team during the REIT's inaugural Investor Day held in June.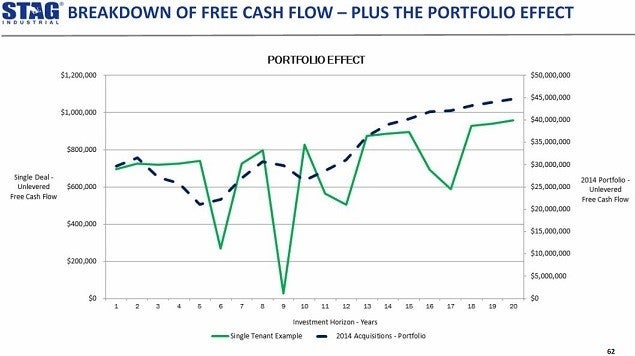 The slide above is one of 71 slides that accompanied the one hour presentation, and shows how owning a portfolio of single-tenant assets "smooths out" the volatility in cash flows.
STAG's Dividend Performance
STAG has a higher dividend payout ratio than some of its peers. However, the net-lease business model minimizes capex, while STAG management believes its proprietary portfolio modeling results in "highly predictable cash flows."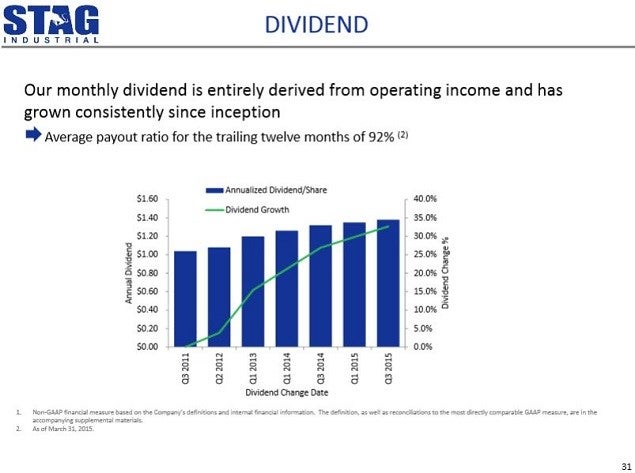 Investor Takeaway
At current prices levels STAG common shares pays a dividend about 250 bps higher than its peer average. Investors must decide if STAG's future cash flows are that much riskier than other industrial REIT business models.
Image Credit: Public Domain
Posted-In: Ben Bucher UBSAnalyst Color REIT Top Stories Trading Ideas Real Estate Best of Benzinga
View Comments and Join the Discussion!