Lennar Multifamily JV Strategies Gaining Momentum
On July 16, GlobeSt.com published an article on Lennar Corporation (NYSE: LEN)'s $1.1 billion Lennar Multifamily Venture (LMV), was created to develop luxury multifamily apartments in 25 U.S gateway and high-barrier to entry urban markets.
"The business plan: to provide better risk-adjusted returns through a 'develop-to-core' strategy—developing multifamily communities and then holding those communities in a portfolio long term for cash flow," according to Globe's Jennifer LeClaire.
The Lennar LMV joint venture is backed by a large number of institutional investors and sovereign wealth funds.
Lennar's Recent JV Focus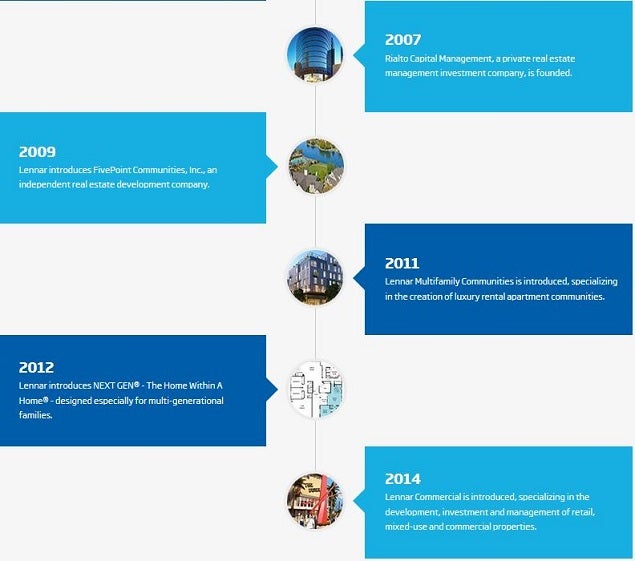 Source: Lennar Corporation
"This venture fund reinforces Lennar's strategy and commitment to diversify beyond homebuilding and become a major player in the multifamily market," Steven Lear, Bilzin Sumberg Corporate Practice Group Leader and attorney for Lennar, told GlobeSt.com.
He continued, "Whereas in the past, the company would work on stand-alone multifamily deals, this platform allows Lennar to continue its growth in multifamily by capitalizing on multiple opportunities throughout the country through a single investment and financing vehicle."
Zacks Research - "Thumbs Up" on LEN JV Strategies
According to Zacks Equity Research on July 16, "While Lennar's Homebuilding and Financial Services divisions are the primary drivers of near-term revenues and earnings, its three ancillary businesses – Rialto, Multi-Family and FivePoint Communities – provide diversification as well as complementary long-term growth opportunities."
Related Link: Credit Suisse Bumps Lennar On Five Point IPO Valuation

Notably, Lennar sports a Zacks Rank #1 (Strong Buy).
Multifamily Venture Strategy
The Lennar announcement explained, "LMV will have approximately $1.1 billion in equity commitments, including a $504 million co-investment commitment by Lennar. The Venture is targeting 50% leverage and will have a three-year investment period and an eight-year term.
"It will be seeded with 19 undeveloped multifamily assets that were previously purchased or under contract by LMC, totaling 6,120 apartments with a total projected development cost of approximately $2.1 billion."
Stuart Miller,CEO of Lennar, said, "In 2011, we drafted a blueprint to become one of the leading developers of class-A multifamily communities in the United States.
"We identified a multiyear shortfall in apartment development and targeted this housing category to complement Lennar's focus on the entry-level buyer. Over the past four years, fueled by the strength of our senior management team, we quietly built this business into the nation's fifth largest apartment developer."
Investor Takeaway
While at its core, Lennar remains one of the largest homebuilders in the U.S., it appears that the JV focus of the last decade is now scaling up to the point where it could contribute significantly to the Lennar bottom line.
Zacks shared this view, "Lennar has a solid development pipeline exceeding $6 billion with over 20,000 apartments. Though the segment incurred a loss in 2014, management expects it to begin contributing more meaningfully to earnings by late 2015 to early 2016. Moreover, over the long term, the company expects these assets to act as a source of cash flow, owing to the inflow of recurring rental income and management fees throughout the portfolio."
View Comments and Join the Discussion!
Posted-In: Analyst Color Long Ideas REIT Legal Management Analyst Ratings Trading Ideas General