Jefferies Cuts Iron Mountain Estimates And 'Shreds' Valuation
Could investors in Iron Mountain Inc (NYSE: IRM), a company with 45 percent of the global document storage market, actually be facing a grim future?
On Tuesday, Jefferies & Company analyst Dan Dolev published a research report, "Multiple Problems; Downgrading To Underperform," and lowered its target price on $7.75 billion cap Iron Mountain by over 12 percent.
Iron Mountain received IRS approval to convert to a REIT last year, and has recently announced its intention to purchase rival Australia-based Recall Holdings (RECALL HLDGS (OTC: RCLHF)), the number two global document storage firm, for approximately $2 billion, subject to regulatory approvals.
Related Link: Jefferies Downgrades Iron Mountain, Notes Multiple Problems
Racks Are 'Real Estate,' But Jefferies Not A Fan
The Iron Mountain REIT approval took several years, with a positive IRS private letter ruling that steel racks were considered real estate, effectively sealing the deal.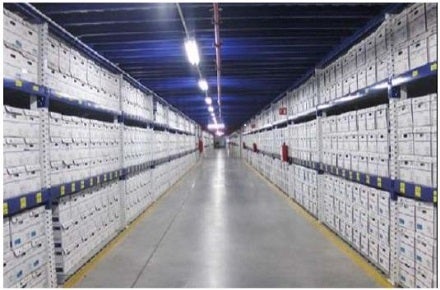 Dolev believes REIT depreciation of buildings for accounting purposes is of little concern when calculating FFO, (property valuations usually increase over time); however, he is concerned that steel racks owned by IRM (50 percent of depreciation) will have little residual value.
Tale Of The Tape: Jefferies Downgrade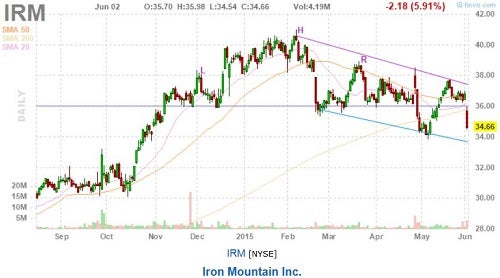 During the past 52-weeks, Iron Mountain shares have traded in a range of $25.62–$41.00 and notably lost almost 6 percent of their value on the day the Jefferies downgrade was published.
Iron Mountain Shares Have Struggled, 2015 YTD
Although shares of Iron Mountain have outperformed the broader REIT sector during the previous 12 months, they have underperformed so far this year.
The Vanguard REIT Index Fund (NYSE: VNQ) tracks the MSCI REIT Index, and is a good proxy for overall equity REIT sector performance.
However, Iron Mountain actually does not have any actual REIT peers, and simply looking at industrial/warehouse, data center or self-storage REITs for P/FFO multiple comps may be misleading.
Related Link: Jefferies Downgrades Iron Mountain To Underperform
Jefferies On Iron Mountain Peers
Jefferies believes that other "paper challenged" companies such as Lexmark International Inc (NYSE: LXK) and Xerox Corp (NYSE: XRX) are examples of better comps, (trading at a 30 percent discount to average S&P 500 multiples), due to the secular decline in office paper usage.
Dolev noted another troubling secular trend: the cost of Amazon.com, Inc. (NASDAQ: AMZN) S3 cloud-storage service has been slashed by 70 percent since December 2013.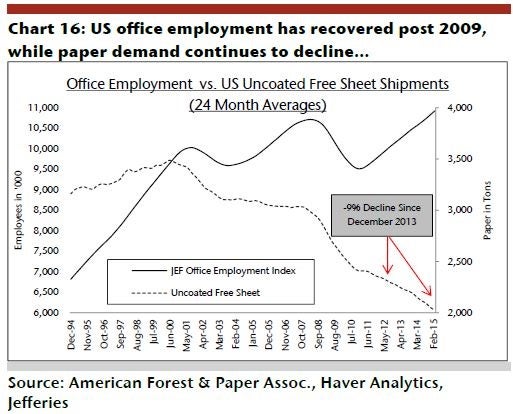 Jefferies–Iron Mountain: Downgrade Hold To Underperform; PT Lowered To $29 From $33
The new Jefferies $29 target price represents a potential 16.3 percent further downside from Tuesday's close of $34.68 per share.
Jefferies' new PT is based upon valuing IRM at approximately 12x its 2016 pro forma FFO of $2.37 "(vs. implied consensus $2.44) resulting in a PT of $29 (vs. $33 previous, -21 percent potential downside)."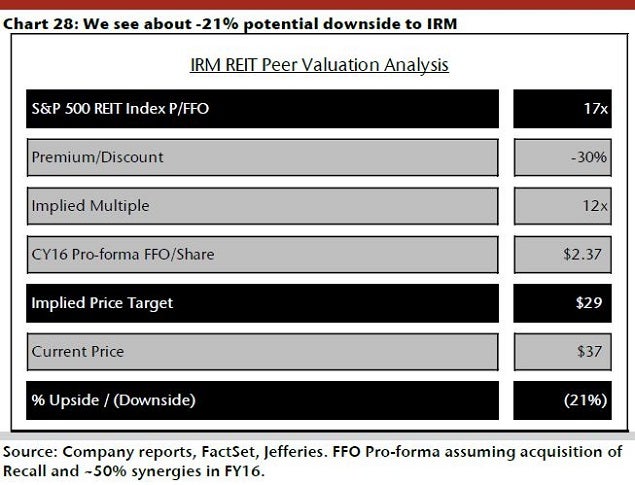 Notably, the assumptions used in the Jefferies' discounted cash flow (DCF) model resulted in a 53 percent downside calculation; however, that is below the Jefferies' bear case PT of $22 per share.
Jefferies does have a bull case PT of $44 per share, but assumptions such as Iron Mountain data storage revenues becoming significant, government regulations increasing need for paper storage, etc. seem unlikely to occur by 2016.
Jefferies On Rack Depreciation
The charts below highlight Dolev's concerns regarding the utilizing rack depreciation in the calculation of IRM FFO per share.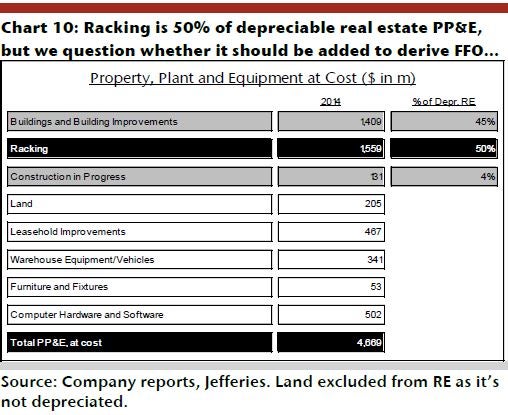 Jefferies agrees that Recall would be accretive to Iron Mountain FFO, and even assumes 20 percent greater synergies, beginning a year earlier (2016), than suggested by Iron Mountain's management.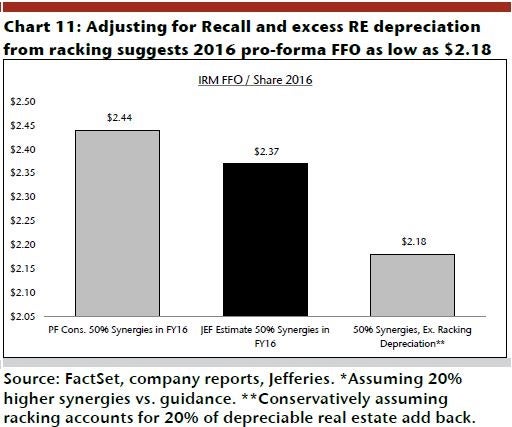 Jefferies: Iron Mountain Capex Returns Negative
According to Jefferies, recent history shows that Iron Mountain has had slightly negative returns on its capex spending.
While depreciation concerns could be debated, REITs must be careful to make sure that capex spending is accretive to earnings. If this has not been the case at Iron Mountain, it is potentially a much larger concern for investors.
The Jefferies analysis indicates a similar outcome moving forward, despite the positive pro forma contributions from the Recall acquisition being included in the model.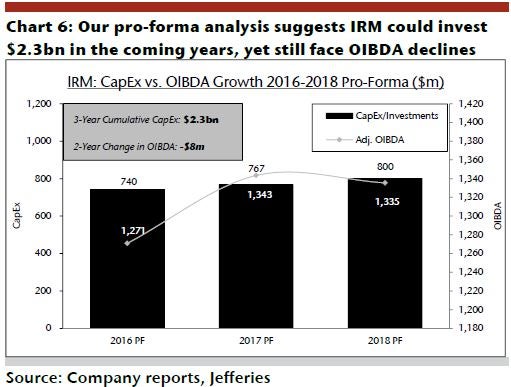 Jefferies On Dividend Worries
Notably, Iron Mountain is currently paying a dividend that yields about 5.5 percent.
However, Jefferies believes that the Iron Mountain dividend may be at risk based upon its "detailed pro-forma fixed/variable cost analysis shows [...] OIBDA declining post synergies and cash requirements growing."
Based upon his model, Dolev believes "IRM would need to issue equity (4–5 percent dilution per year), or raise debt to avoid a dividend cut."
A well-covered and increasing dividend is one of the main attractions for REIT investors.
The Bottom Line
Iron Mountain is the undisputed leader in document storage and related services worldwide; however, regulatory approval of the Recall acquisition will not solve the larger problems and secular headwinds facing the company.
Image Credit: Public Domain
View Comments and Join the Discussion!
Posted-In: Dan Dolev Jefferies & CompanyAnalyst Color REIT Short Ideas Analyst Ratings Trading Ideas Real Estate Best of Benzinga