Citi Likes Windstream & New CS&L REIT Spin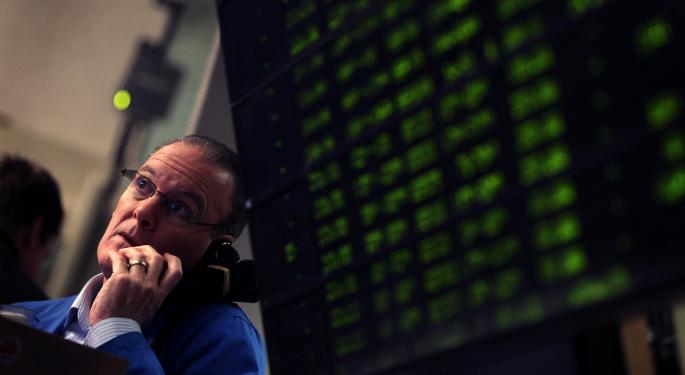 Citi Research on Monday issued a 42-page research report "Spin for WIN," maintaining its Buy rating for the new Windstream Holdings, Inc. (NASDAQ: WIN) after its Communications Sales & Leasing, Inc. (NASDAQ: CSAL) REIT spin-out, and related 1:6 reverse-split of WIN shares.
These two transactions occurring simultaneously resulted in confusion for some investors, which in turn, led to choppy trading in WIN shares.
Windstream's traditional telecom investor base owned a high-yield S&P 500 company last Friday; however, on Monday shareholders were confronted with the task of trying to understand the metrics for two very different companies.
See Also: Windstream's REIT Spin-Out & Reverse Stock-Split - Now What?
The Citi Research graphic below, covers all the basics in one illustration.
Best Graphic Yet - WIN/CS&L REIT Spin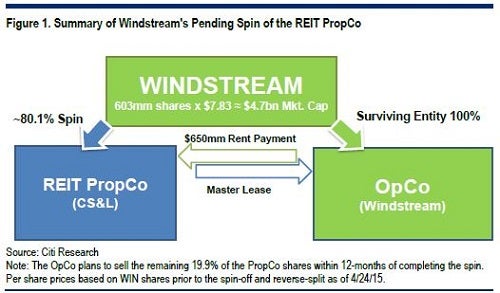 Tale Of The Tape: Trading Tug-Of-War
Windstream post-REIT spin has become a "tug-of-war" story between bulls and bears so far this week.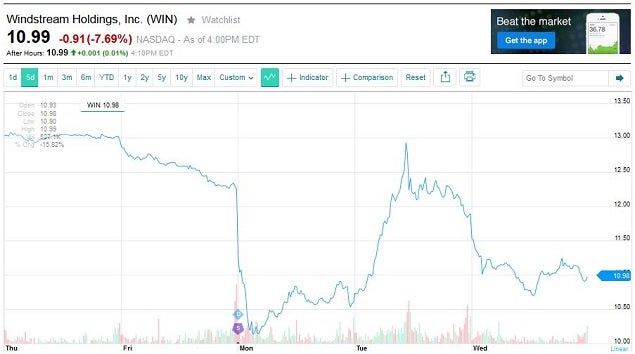 Source: Yahoo Finance
After trading up ~12 percent on Tuesday, Windstream shares fell back down just ~7.7 percent by the close of trading on Wednesday.
Tale Of The Tape - A New REIT Asset Class
The CS&L shares -- a new REIT asset class primarily consisting of copper and fiber telecom assets -- have steadily traded higher; although initially having Windstream as a sole tenant, raises a red flag for many traditional REIT investors.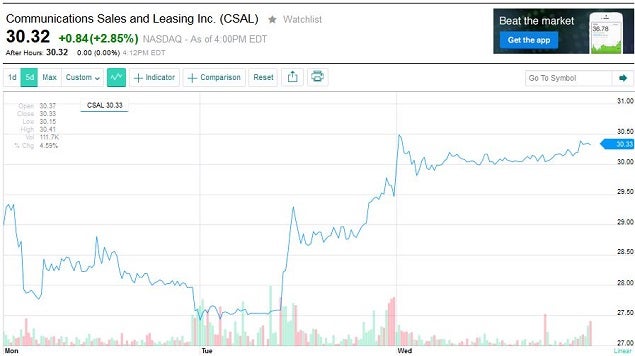 Source: Yahoo Finance
Citi Research - Windstream: Maintain Buy Rating, New $15 PT
The Citi target price represented a potential 11.9 percent upside from initial $12.31 per share, not including a $0.60 annual dividend yielding 4.9 percent.

The new Citi price target for WIN shares post-spin and 1:6 reverse-split, was derived from averaging its discounted cash flow (DCF), price to free cash flow (FCF) and EV/OIBDA models.
Citi Research - WIN Risk Factors
Citi noted that Windstream has "room for improvement," and potential risks include:
1. CS&L PropCo structure creates greater fixed costs for Windstream due to lease obligations;
2. Windstream operations "could erode meaningfully greater and faster than we anticipate, which could lead to financial distress" for the OpCo;
3. Pension funding obligations greater than Citi has modeled;
4. A sharp rise in interest rates;
5. Risks to revenue and FCF from increasing regulatory pressure.
Notably, Citi has removed its "High Risk" to reflect the lower debt after CS&L spin, and planned sale of the remaining WIN ~20 percent stake in the PropCo.
Citi Research - CS&L REIT: Initiate Buy Rating, $32 PT
The Citi target price represented a potential 11.9 percent upside from initial $28.60 per share, not including a $2.40 annual dividend yielding 8.4 percent.
The Citi price target was obtained by averaged its "DCF analysis, target EV/OIBDA assessment, and target P/AFFO assessment with a range of outcomes between $31.25 and $33.63." The target price matches up with its "top-down expectation" for the CS&L share price to reflect a dividend yield of ~7.5 percent.
Citi estimated "AFFO per share for CY 2015 of $1.99 and for CY 2016 of $2.84, which should grow at a CAGR of below 1% through 2019 to $2.87." Citi estimated the CS&L dividend of $2.40 per share "should represent a payout of AFFO at an average of 84% between 2016 and 2019."
Citi Research - CS&L Risk Factors
1. Near-term volatility due to no direct REIT asset class comparison;
2. Customer concentration risk, WIN as sole initial tenant;
3. Higher interest rates increasing investors required dividend yield;
4. Windstream ~20 percent CS&L share overhang; and future equity issuances by CS&L to fund acquisitions and growth.
Investor Takeaway
Although Citi remains relatively bullish on Windstream post-REIT spin, there does not seem to be any real "consensus" in the analyst community, with ratings and price targets varying widely.
Analyst concerns include the fact that Windstream's legacy rural telecom business has been shrinking, while adding a CS&L lease obligation on top of a highly leveraged balance sheet.
Notably, Citi mentioned that Windstream might consider growing by M&A to help spread costs; potentially teaming up with CS&L to buy the infrastructure. Windstream's "cloud" data center assets were not spun out to the CS&L REIT, and may represent a growth channel moving forward.
Posted-In: Citi ResearchAnalyst Color REIT Price Target Initiation Analyst Ratings General Real Estate Best of Benzinga
View Comments and Join the Discussion!