Citi Research: Student Housing Trends & Top REIT Pick
On April 14, Citi Research published a note, "Taking Extra Credits In Austin," after attending a the 2015 Interface Student Housing Conference, touring student housing in Austin, TX and meeting with senior management from American Campus Communities, Inc. (NYSE: ACC).
Although on the surface student housing can look like most apartment communities, in reality, it is a highly specialized REIT sub-sector, consisting of ACC and two other publicly traded REITs: Education Realty Trust, Inc. (NYSE: EDR) and Campus Crest Communities Inc (NYSE: CCG).
Not Just Apartments
Student housing uses an occupancy metric of beds, rather than apartments like most multi-family REITs, and leasing is highly seasonal -- tied to the start of each academic year. Essentially, these REITs get only one bite of the apple each year, so execution is critical.
Related Link: How To Invest In The Budding Student Housing Market
This also raises the stakes for ground-up development, as a student landlords must wait until the next academic year, or semester, if construction deadlines are missed. Likewise, operations and management of this asset class requires specialized skill sets, and a hands-on approach.
Tale Of The Tape - Past Year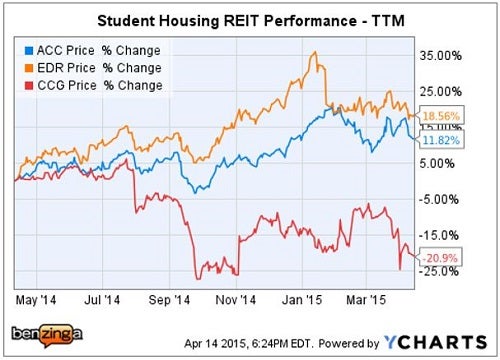 Campus Crest has been a company in turmoil during the past year. There have been numerous management changes, a recent dividend cut, and dissident shareholders are vying for control of the board.
Management from both American Campus and EdR were in attendance at the 2015 Interface Student Housing conference. Campus Crest "was notably absent from the conference," and did not release 2015/16 leasing numbers.
Citi Research - Conference Takeaways
Citi noted that "headline concerns" regarding supply, enrollment trends and student debt levels, did not appear to jive with the facts on the ground.
Pre-leasing for the 2015/16 academic year "is off to a strong start."
Rents are up 2.5 to 4 percent, with a "dramatic" decrease in concessions.
However, property tax increases were a primary concern.
These trends applied equally to both public and private attendees.
Citi Research - Housing Supply & Cap Rate Trends
Supply: is notably lower in 2015, when compared with 2014; and 2016 is expected to be even lower than 2015.
Construction costs are driving up the cost of new supply, due mainly to the higher cost of labor.
New supply is effectively modernizing the stock of student housing, taking market share from "antiquated" on-campus housing and "alternate" off-campus apartments.
There is ample availability of funds for construction financing.
Cap Rates: overall, "there is a lot of capital chasing deals."
Portfolios are more attractive than single projects; foreign buyers are increasingly looking at the student housing asset class. Cap rates for "core pedestrian assets" are in the low 5 percent range.
Cap rates for assets in "Tier 1 markets," (located a mile from campus), range from 6 to 6.5 percent. Cap rates in "Tier 2 and 3 markets" are 7 percent or higher.
There is ample financing available at "attractive" rates.
Citi Research - American Campus
Citi was impressed with the ACC management "approach and strategy and the quality of their Austin assets;" and left feeling "incrementally more positive…"
ACC management expressed that upgrading the supply of student housing was just in "the third inning," with plenty of runway for modernization.
ACC is focused on using its operating platform to drive margins; while lowering expenses by spreading G&A and leasing over multiple properties.
Citi toured the ACC University of Texas at Austin properties, and came away impressed; despite the addition of 35 new communities since 1996, (and a stable enrollment of ~50K students), occupancy trends have remained strong.
Citi - Bottom Line
When it comes to student housing REITs, Citi chose ACC "as it is the premier owner, operator, and developer in the space," noting, "more upside in [ACC] shares given current valuation and internal/external growth opportunities."
Notably, there were no rating or price target changes discussed in the note.
View Comments and Join the Discussion!
Posted-In: Citi Research Student HousingAnalyst Color REIT Analyst Ratings General Real Estate