Susquehanna Is Chatting About Single-Family REIT Activity; Here's What You Need To Know
On April 7, Susquehanna Financial Group (SIG) published a research note on the single-family home rental business, updating 2015 estimates and price targets on three REITs, in light of Q4 2014 performance.
The single-family for rent REIT sector is relatively new, and essentially was created to take advantage of the unprecedented drop in U.S. housing prices and home ownership trends as a result of the Great Recession.
The Susquehanna report covered:
American Homes 4 Rent (NYSE: AMH) - $3.6 billion cap, 1.2 percent yield
American Residential Properties, Inc. (NYSE: ARPI) - $600 million cap, no dividend
Silver Bay Realty Trust (NYSE: SBY) - $588 million cap, 2.2 percent yield
Tale Of The Tape - Past Year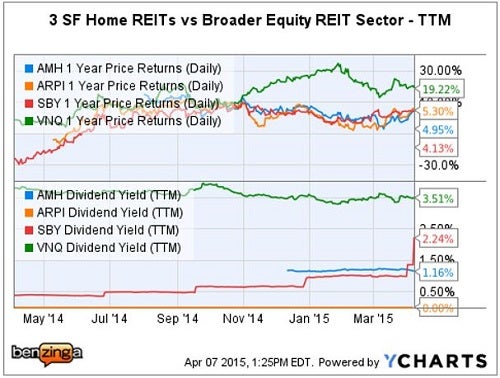 The Vanguard REIT Index ETF (NYSE: VNQ) is a good proxy for the overall equity REIT sector. During the past year, investors owning VNQ shares would have been better off from both a total return and income perspective.
Related Link: How Will mREITs Perform In Tomorrow's Economy?
Susquehanna - American Homes 4 Rent: Positive, $21 PT
The SIG price target is based upon a ~15 percent discount to pro-forma NAV (net asset value) of $24.70 per share, a potential upside of ~28.5 percent from the AMH previous close of $17.11.
Acquisitions: American Homes grew 12 percent, Q/Q sequentially from 30,877 homes to 34,599 homes at the end of Q4 2014. Management guided to an overall Q1 2015 acquisition pace of 2,000 rental homes.
Occupancy: The AMH acquisition pace combined with seasonal leasing trends to result in 81.6 percent occupancy, or a 3.1 percent decline sequentially Q/Q. Notably, Q2 2014 occupancy was at a high of 86 percent.
Renewal Trend: AMH "reported a quarterly tenant renewal rate of 67% this quarter, down from the 68.4% reported last quarter, and down from the ~72% figure in 2Q14."
Recycling Capital: AMH completed its fourth securitization in November 2014, raising $528 million at 4.4 percent for a 10-year term; bringing American Homes aggregate to over $2 billion raised by this method.
Susquehanna - American Residential Properties: Neutral, $20 PT
The SIG price target is based upon a 5 percent discount from its pro-forma NAV of $20.57 per share, a potential upside of ~7.4 percent from the ARPI previous close of $18.63 per share.
Acquisitions: ARPI reported "an 8% increase in the number of properties in its portfolio to 8,893 units, compared to 8,223 at 3Q14 and 7,205 at 2Q14."
Management expects acquisitions to slow significantly due to capital constraints and a renewed focus on operations to drive higher margins.
Additionally, ARPI will now be focused on rationalizing its portfolio through sale of assets in non-core markets, which could result in the company implementing a dividend.
Occupancy: ARPI's "self-managed portfolio declined from 80.1% in 3Q14 to 79.3% in the quarter; while occupancy including preferred operator portfolios was 81 percent, a 1 percent decrease from Q3 2014.
Margins: ARPI management "also walked back their NOI margin guidance - previously discussing 60% NOI margins in 2015 - which has now been pushed back to 2016."
Susquehanna - Silver Bay: Neutral, $16.50 PT
The SIG price target is based upon a ~15 percent discount from pro-forma NAV of $19.40 per share, potentially a 2 percent upside from the SBY previous close of $16.17 per share.
Acquisitions: SBY acquired 459 homes during Q4 2014, an increase of 126 homes sequentially Q/Q. However, the big news occurred on April 1, when SBY closed on 2,373 homes from The American Home (TAH) portfolio -- with two-thirds of the homes in metro-Atlanta.
Portfolio Focus: This TAH acquisition tilts the SBY portfolio heavily towards the Southeast, with the company looking to expand in Florida and Dallas markets.
SBY now believes it can achieve scale with 300 homes per market vs 500 homes previously; and management is now considering selling off appreciated homes in non-core markets.
Operational Focus: SBY's Q4 acquisitions outpaced leasing, resulting in an occupancy drop from 88 to 85 percent. Silver Bay is focused on decreasing turnover, pushing rents where possible, and internalizing management in larger markets.
View Comments and Join the Discussion!
Posted-In: Susquehanna Financial GroupAnalyst Color REIT Price Target Analyst Ratings General Real Estate