The Chinese Smart Car Market Is Heating Up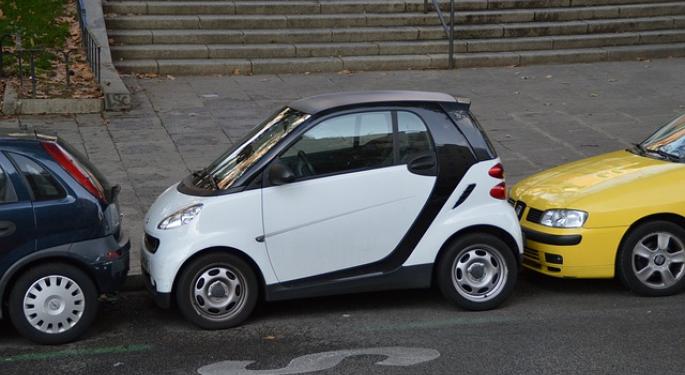 In an article published Tuesday on Seeking Alpha and Young's China Business Blog, analyst Doug Young looks into the Chinese smart car industry.
He concludes that "new smart car initiatives from Tencent Holdings ADR (OTC: TCEHY), LeTV and Baidu Inc (ADR) (NASDAQ: BIDU) are all likely to struggle, with Baidu most likely to be the first to drop out of this race to copy Internet giant Google Inc (NASDAQ: GOOG) (NASDAQ: GOOGL)."
Chinese firms are following U.S tech giants' lead in the smart car space.
There are rumors circulating that Tencent is planning to enter the business, teaming up with Taiwanese contract manufacturing giant Foxconn.
However, as implied above, Tencent is not the first Chinese tech company to follow Google's steps into the smart car arena. Last year, Baidu announced its own initiative.
Related Link: How Much Can Tesla 'Push The Envelope' On Battery Technology With Software?
In addition, LeTV recently said that it also plans to exhibit its first smart car at the Shanghai auto show next month.
Doug Young seems quite discouraged by this "copycatting and bandwagon mentality [that] has become all too common among China's Internet companies," and he therefore "wouldn't give any of these three new smart car initiatives a very big chance for success."
Back to Tencent, it seems like the company will soon enter the smart car race in partnership with Foxconn and China Harmony Auto, a little-known Hong Kong-listed automaker.
According to the article, a Chinese blogger "cites an unnamed Foxconn source as saying the trio will sign a strategic tie-up that will see them make cars with a strong Internet connectivity element."
Image credit: Public Domain
Posted-In: China Doug Young LeTV Shanghai Shanghai auto showRumors Opinion Tech Best of Benzinga
View Comments and Join the Discussion!