SunTrust On The Expected Evolution Of The Ad Tech Ecosystem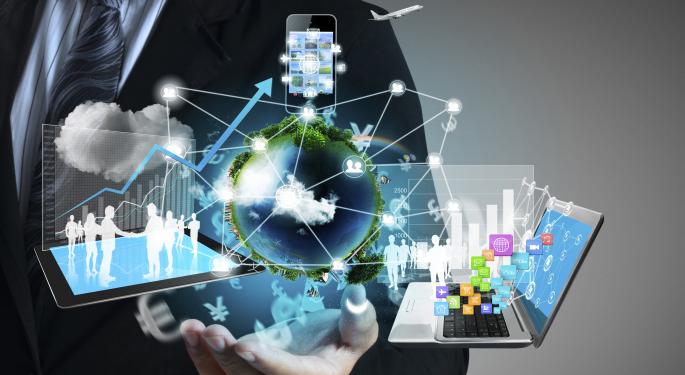 In a report published Thursday , titled Ad Tech Primer: From "Pipe" To "Hourglass," SunTrust's Bob Peck and his team took a look at the Internet and Digital Media sector.
Below are some of the main takeaways.
1) "The market is going programmatic." The firm expects a 43 percent CAGR in U.S. programmatic spend over the next two years, compared to -1 percent for non-programmatic spend. The increase should be driven by direct sales (227 percent CAGR), private exchanges (73 percent), mobile (79 percent) and video formats (133 percent).
2) "Benefits will accrue to advertisers, publishers, and select scaled partners. Benefits include operating efficiencies, improved targeting/ad relevance, access to more buyers/sellers, real-time optimization."
3) Premium inventory through programmatic will continue to expand.
According to the report, "this will alleviate a bottleneck to faster and more widespread adoption. Expansion of premium supply will come from: more premium publishers making more inventory available through programmatic channels; growth of premium video inventory in particular, with Facebook, Google, AOL, Yahoo, Twitter and others investing aggressively; and the standardization of native ad units, making this format more broadly available and easily accessible through programmatic channels."
4) Inventory quality will continue improve, and this "will alleviate another bottleneck to faster and more widespread adoption. Advertiser and general industry awareness around issues of viewability and bot-fraud is on the rise aided by several important recent studies. Further, credible independent detection and verification solutions from comScore, WhiteOps, Integral Ad Science, DoubleVerify, and others are available for integration into ad serving and buying platforms."
Thus, SunTrust expects "programmatic inventory quality to improve, benefiting advertisers and high-quality publishers and intermediaries (DSPs, networks, exchanges/SSPs) directly at the expense of low-quality publishers and intermediaries."
5) Measurement will evolve.
Peck and his team expect a migration from cost-per-impression towards cost-per-viewable-impression: seen by humans, within targeted audiences, against brand-safe content, etc.
6) Transparency will increase.
They "expect advertisers (not all) to gravitate towards partners/models that offer transparency around pricing and where ads are shown."
7) Targeting will advance, fueled by an increasing focus on first party data, "consolidating ad transacting platforms […] increasing use of retargeting engines, and evolving third party data […] all harnessed through robust data management platforms (DMPs)."
8) Point solutions will converge.
As expressed in the report: "on the "sell-side" of the ecosystem, ad exchanges and supply-side-platforms (SSPs) have already essentially converged. On the "buy-side", ad networks are pivoting (organically or via acquisition) towards becoming demand-side-platforms (DSPs) or to a lesser extent ad exchanges, though it is getting late in the game in our opinion. We expect a simplification of the ad tech ecosystem and jargon with DSPs, ad networks, ad exchanges, and SSPs (4 intermediaries) essentially going to buying platforms and ad exchanges (2 intermediaries)."
9) Supplier count will thin further.
The firm expects further consolidation and landscape thinning in the ad tech sphere: "Ultimately, we expect a handful of blue-chip ad tech vendors of meaningful scale. Some of the best positioned ad tech vendors are also publishers (examples: Google, AOL, Facebook). However, we believe there is also room for several independents (examples: AppNexus, Rubicon) that are not publishers and thus have no conflict of interest with publishers (not competing with them) or advertisers (not selling their own inventory to them). The outside force to watch here is the large enterprise SaaS group including Adobe and Oracle (perhaps IBM, Salesforce.com). Expect a handful of blue-chips long-term: some publishers (e.g. Google, Facebook, AOL), some independents (e.g. AppNexus, Rubicon, Adobe, Oracle)."
10) "Video and mobile ecosystems may follow different paths […] Leading independent pure-plays in video (importantly including programmatic TV) includes TubeMogul while leading independent pure-plays in mobile includes Millennial."
The Technology SPDR (ETF) (NYSE: XLK) recently traded at $39.94; the ETF is down about 3.5 percent year-to-date.
View Comments and Join the Discussion!
Posted-In: Adobe AOL AppNexusAnalyst Color Long Ideas Analyst Ratings Tech Trading Ideas Best of Benzinga