Street Leaned The Right Way Ahead Of Twitter's Earnings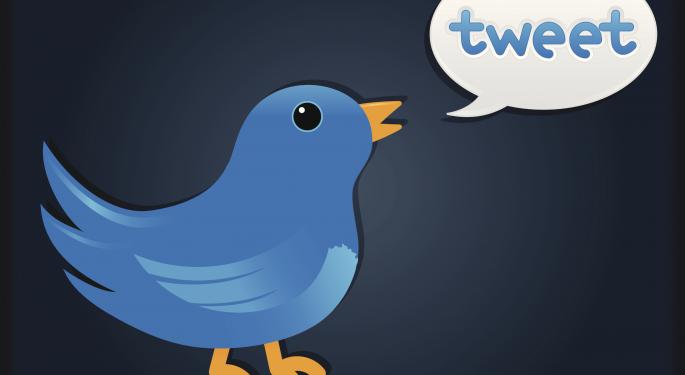 On many occasions, stocks will have a significant rally or decline prior to an earnings announcement. Nervous longs are looking to exit or aggressive shorts are looking to take advantage of any negative news.
Better known as "how the Street is leaning," these occurrences can sometimes be an early indication of the results of upcoming events. Since institutions have large positions, they may spread their orders over a few days so as to not influence the market.
Fits The Scenario
A great example of this type of trading action is in the shares of Twitter Inc (NYSE: TWTR) over the past few trading sessions. After getting whacked along with the rest of the market earlier this month, Twitter declined to $46.38. While the broad market rebounded with a vengeance, Twitter rallied but came up short of its recent high of $55.99.
Related Link: Defensive Issues Not Participating In The Market's Rally
Instead, it struggled at the $52.00 level early last week, at $50.00 toward the end of last week and at the $50.00 level in Monday's session. This type of trading action exhibits poor relative strength and, in this instance, was a precursor of things to come.
Revenue Shortfall
After Monday's close, Twitter met Q3 views, but its revenue outlook was shy of Wall Street expectations. The reactions were fast and furious as its share price tanked in frenzied after-hour trading, immediately declining to $43.00 level. The selling was not over and it reached $41.29 in premarket trading before it recovered to the mid $42.00s by the opening of the regular session.
Twitter bottomed ahead of the premarket low at $41.76 and has rallied well into the $44.00 handle at the time this article was published. Interestingly, last week's decline mirrors the series of lows after its earnings beat last quarter's estimations. Technically speaking, that area provided the foundation for the rally to $55.99.
Wall Street Analyst - No Help
Unfortunately for investors, Wall Street analysts did not predict this most recent decline. On October 9, Nomura maintained its Buy rating and and raised its target from $50.00 to $55.00. The following day, Susqehanna maintained its Neutral rating and raised its price target from $45.00 to $47.00. The last ratings change ahead of earnings was from Citigroup, which initiated coverage at Neutral and announced a $53.00 price target.
Now that the ax has fallen, Nomura has downgraded the issue from Buy to Neutral and lowered its price target from $55.00 to $45.00. Stifel Nicolaus has downgraded the issue from Hold to Sell and has no price target. Only Pivotal Research has upgraded the issue, but that is from a Sell to Hold and a price target increase from $38.00 to $42.00, not a very ringing endorsement to purchase the issue at its current level. Finally, Wedbush has maintained its Neutral rating but lowered its price target from $50.00 to $40.00.
Immediate Reaction
Not surprisingly, the carnage in the after-hours and premarket trading was a bit overdone. As previously mentioned, Twitter bottomed $0.47 above its premarket low ($41.29) at $41.76 in the regular session. This could be the result of shorter-term options players that played the issue "lotto" style and purchased out of the money puts.
Related Link: Has Twitter Done Everything Right This Quarter?
Since Twitter closed at $48.56, all the puts at $48.50 and under are deep into the money and will expire Friday. In addition, puts purchased at even higher prices are well in the money. Not wanting to take the chance on a snap-back rally, these participants may be purchasing the issue in the open market to offset their positions and lock-in the overnight windfall in profits.
Looking Forward
Where Twitter goes from here is anyone's guess. For now, buyers that missed out on the opportunity to purchase shares under $42.00 will be be lining up ahead of that level if it ever retreats. Technicians and patient investors waiting for the issue to return to its level before its last earnings report ($38.59), may have to reevaluate their game plan.
On other hand, there are many investors who are stuck long and may use any rally to lighten the load. Perma-bears in the issue could be utilizing any rally to initiate a short position. Keep in mind, besides ratings changes, there may not be any fundamental news to alter the current environment until its next earnings report next year.
View Comments and Join the Discussion!
Posted-In: after-hours trading pre-market tradingTechnicals Movers & Shakers Intraday Update Analyst Ratings Trading Ideas General Best of Benzinga