Athleisure Wear Fad A Rapidly Growing, But Crowded Space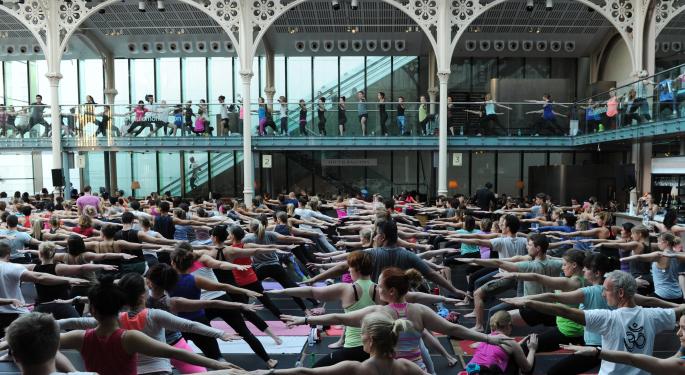 Sales of yoga apparel have risen 45 percent year over year, according to analysts at SportsOneSource. During the same time period, yoga participation also grew... by 4.5 percent.
Analysts at Barclays may have noticed the same trend. Those analysts stated that the U.S. athletic apparel market (or "athleisure wear") will rise by nearly 50 percent to more than $100 billion by 2020.
Many retailers and manufacturers sell athleisure wear, but the big players include Lululemon Atlethica (NASDAQ: LULU), Nike (NYSE: NKE), Under Armour (NYSE: UA) and The Gap (NYSE: GPS).
Related Link: JP Morgan: J.C. Penny Stands At 'Pivotal Crossroads'; Now A Good Time To Buy Shares
Analyst Commentary
Brian Sozzi of Belus Capital Advisers told Benzinga that "the apparel industry is ripe for innovation, the last real beneficial piece of clothing that was created was compression gear."
Sozzi also stated that specialty retailers now have an opportunity to "re-excite" consumers with the athleisure trend.
However, Sozzi isn't convinced that the trend is headed towards a $100 billion market.
According to Sozzi, a leading jeans manufacturer such as VF Corp (NYSE: VFC) needs to commit more capital to the category while its retail partners need to devote "stores inside stores" and not just tables towards the line.
Retail and apparel analyst Kristin Bentz noted that the athleisure wear market is becoming "more integrated" into daily and corporate life. Bentz pointed out that corporate America sees the value in fit and healthy employees, an attitude which supports the growing apparel trend.
However, Bentz stated that the market is getting "painfully" crowded and only a few names in the space stand out.
"Lululemon was lucky to occupy a niche between yoga freaks and gear-a-holics," Bentz told Benzinga. The Lululemon brand is "technically precise to give it studio credibility and expensive enough to pass muster to the higher-end. However, Nike and Under Armour can come in and accomplish both faster and cheaper."
Bottom line, according to Bentz, retailers and manufacturers that aren't Nike and Under Armour need to "be very afraid" of the competitive threat.
View Comments and Join the Discussion!
Posted-In: Athleisure Wear Athleta Athletic Wear Brian SozziAnalyst Color Topics Economics General Best of Benzinga