Coca-Cola Discovers a New Way to Appeal to Consumers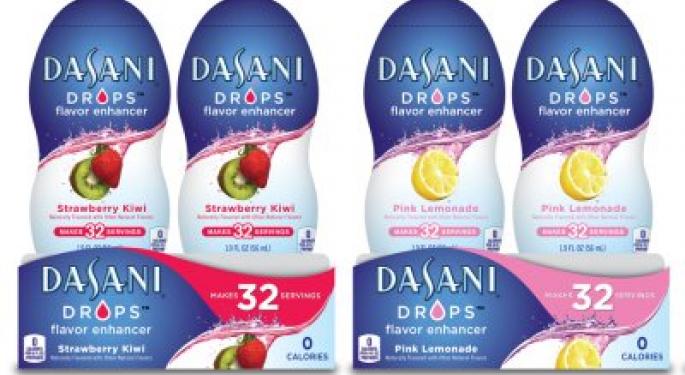 Dasani Drops, set to launch over the next few weeks, will give water a fruity, tropical taste with just a few squirts. According to The Los Angeles Times, the drink will be quite inexpensive at $4 per 32 servings, and is already set to expand throughout 2013.
Best known for its fizzy, classic taste, Coca-Cola (NYSE: KO) has had no trouble finding a multitude of ways to quench on-the-go consumers' thirst. As the owner of Dasani, Coke will likely use the drops as part of its larger strategy.
Though certainly innovative in itself, (Coca-Cola is offering Strawberry Kiwi, Pink Lemonade, Mixed Berry and Pineapple Coconut flavors to start), Dasani Drops may sound like a familiar concept. The new beverage flavoring will serve as a direct competitor to Kraft Foods' (NYSE: KFT) MiO drinks and Capella Flavor drops, among others.
Innovative ways to slurp down tasty, satisfying beverages continue to pop up all over the place. From Crystal Pepsi (NYSE: PEP) in the 90's to Green Mountain Coffee Roasters' (NASDAQ: GMCR) current Keurig cup craze, classic Coca-Cola consistently faces inventive competition when appealing to younger generations. However, the choice to produce delectable drops could give Coke a leg up on popular carbonated competition such as PepsiCo and Dr Pepper Snapple (NYSE: DPS).
At 0 calories per 8 fluid ounce serving, Dasani Drops offer a strong appeal to health-conscious customers that prefer flavor enhancement over plain purified water. Although Pepsi offers similar benefits with Aquafina FlavorSplash beverages and H2OH! products, the consumer is unable to control the amount of flavor released into those drinks.
Goldman Sachs' recent visit to Coca-Cola's New York-based distribution center hinted towards the future of the growing company.
"[The] increased business complexity was also apparent, which presents both opportunities and challenges for KO going forward," Goldman Sachs noted. "Today, the five areas in the US – from brand concept/development, commercial team, customer retail (national/regional), product supply system to customer care – are all aligned together to work towards the same strategic vision."
Maintaining a cohesive vision, Vice President of Coca-Cola's North American water, tea and coffee business John Roddey told The Los Angeles Times that eventually, Dasani Drops could prompt the development of other squeezable beverages, such as tea.
Trading up nearly 10 percent year-to-date, Coca-Cola is a company that has certainly seen its fair share of successes. Over the past five years alone, the beverage distributor is up over 35 percent, trading near $38.32 during Tuesday's pre-market session.
View Comments and Join the Discussion!
Posted-In: Dasani Dasani DropsAnalyst Color News Offerings Management Analyst Ratings General Best of Benzinga