Ford Blazes into September with Another Recall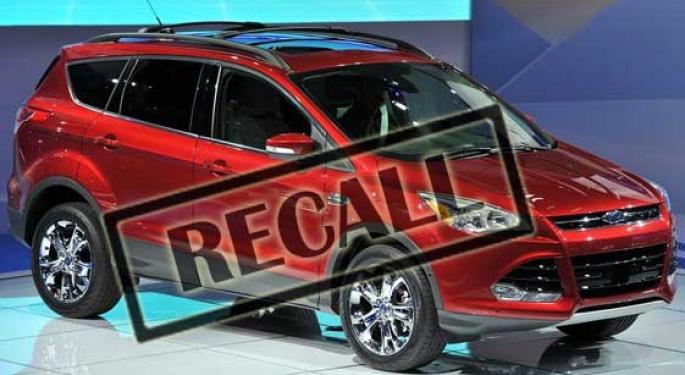 As the summer of recalls comes to a close, it would only be appropriate for Ford Motor Company (NYSE: F) to deliver one last request. The automaker has issued its third recall on the 2013 Ford Escape model as a defective, manually installed cup plug could cause coolant fires.
According to The Detroit News, the SUV's launch is becoming tainted by all the potential safety issues Ford is discovering. From brake interference, faulty engine compartments to fuel lines, the popular 2013 model has certainly seen its fair share of negative press.
While the magnitude of Ford's coolant fire recall is not nearly as great as the recall in which gasoline was likely to leak in the engine, 7,600 owners will still need to bring their vehicles in for inspection. The automaker estimates that just 0.4 percent will actually need replacement plugs.
Despite the fact that this is Ford's third Escape recall since its June 2012 launch, the company is not likely to experience any harsh sales repercussions. Surprisingly enough, Ford sold nearly 22,550 2013 Escape's over just the last month alone, helping the company to track better overall sales throughout August and increase investor confidence.
"The better-than-expected growth rate was driven primarily by growth in the Utilities segment (+23.1%, led by Escape), with Car segment sales tracking +3.2% y/y and Trucks +2.2% y/y. F-series pickup truck mix was richer in August, improving to 29.5% of total sales, vs. 28.3% in July and 27.9% a year ago," analysts at J.P. Morgan noted on Tuesday.
Investors have yet to be affected by the news; shares of Ford are up 0.84 percent in pre-market trading on Thursday morning.
Perhaps traders have turned their attention to other Ford headlines this morning, as the company announced plans to ship Indian-built engines to Europe in an effort to boost exports. Reuters reports that Ford will now have the capacity to build 450,000 cars and 600,000 engines in India by 2015 due to investments of over $2 billion. This will allow the automaker to export to Thailand, Europe and other countries in need of engines.
"If somewhere needs more engines and we've got the capability, then we're going to ship them," Ford Vice President of Manufacturing Operations for Ford Asia Pacific and Africa Gary Johnson recently told Reuters.
Although drivers and investors alike appear to be looking favorably upon the global news, the success will ride on the reliability of the Ford engines so as to not witness the same quality issues experience here in the United States.
Ford closed on Wednesday at $9.57, up 1.7 percent for the day. Year-to-date, the company is down 11.06 percent.
Posted-In: Analyst Color Earnings News Topics Management Events Global Analyst Ratings Best of Benzinga
View Comments and Join the Discussion!