Olympics May Not Produce Continuous Ratings Gold for NBC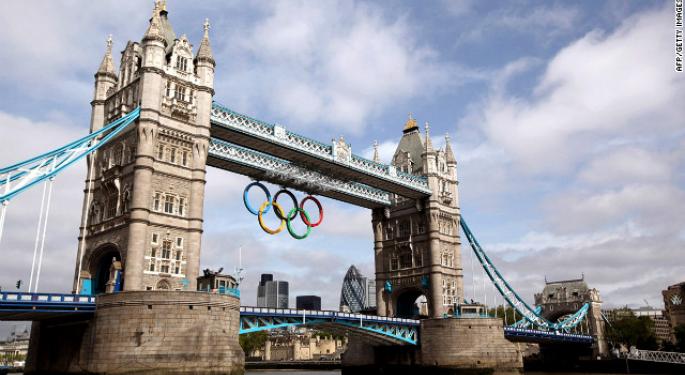 Although the Olympics are known to bring in hundreds of millions of viewers every four years, Comcast (NASDAQ: CMCSA) may have banked too heavily on promoting NBC programs throughout the competition. According to The New York Times, NBC will be unable to maintain its currently high ratings from the summer Olympic games.
Avid Olympic fans have been exposed to several NBC advertisements as of late, such as commercials for upcoming shows "The New Normal", "Grimm" and "Chicago Fire". However, the network has typically seen very little long-term show success following Olympic promotions, with this season predicted to be no different.
"In 2004, for example, the Games did not do much for 'LAX,' 'Hawaii,' or 'Father of the Pride'," The New York Times reported. "In 2008, NBC wanted the Olympics to introduce a new lineup of shows, and none of those highlighted in the promos — such as 'Kath and Kim', 'My Own Worst Enemy' and 'Crusoe' — made it past 17 episodes."
Unfortunately, NBC needs viewers to stick around in order to outshine the competition. Comcast recently reported healthy second quarter earnings with just one portion of the company holding back gold medal results: NBCUniversal.
According to Jefferies, network revenues were $5.5 billion in the second quarter, just below estimates of $5.6 billion. While this may not appear to be a very large drop, the spotlight certainly gravitated to NBCUniversal as its performance was the only thing holding Comcast back.
Despite many signs pointing to impending doom, NBC has already experienced some success from promoting to over 30 million viewers per night. The brand new Matthew Perry comedy "Go On" garnered over 16 million viewers on premiere night.
Former and current executives for NBC believe that using the Olympics as a platform for promotion is not only great, but highly valid due to the sheer amount of exposure alone. With the recent success of "Go On", it would appear that they may just be right this time around.
Along with promotional exposure, NBC aired the Olympics in high definition this year, a move that has not been popular in the past as HD was not as widespread as it is now. Competing cable company Time Warner (NYSE: TWC) also offered two new specialty HD channels, airing only men and women's soccer and basketball.
Unlike the fast pace of Olympic judging, Comcast has a few weeks to determine what kind of success NBC will experience from its advertising overload. In the meantime, company executives will wait with bated breath to see if 2012 was the year to turn around promotional luck for NBC and the Summer Games.
Comcast closed Friday at $34.73, up nearly 46.5 percent year-to-date.
View Comments and Join the Discussion!
Posted-In: Chicago FireAnalyst Color Earnings News Topics Analyst Ratings Tech General Best of Benzinga