Will There Ever Be Another Pop For Sodastream?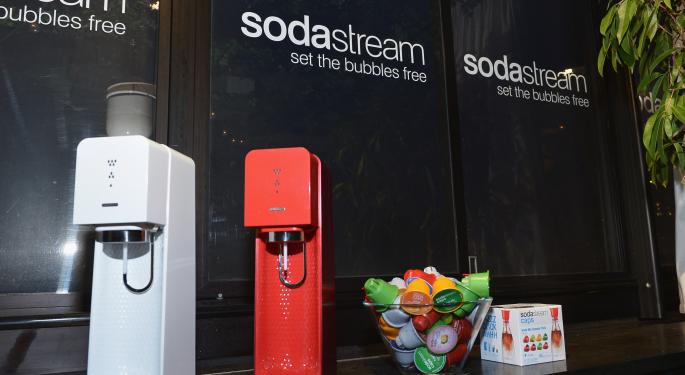 It is rare for a former momentum stock to rebound after its initial run and ensuing decline.
Of course, one can cite issues such as Netflix (NASDAQ: NFLX), but NFLX and others that do rebound do so only if the fundamentals improve.
One such issue that is attempting to rebound for the second time is Sodastream (NASDAQ: SODA). After reaching $79.64 in July of 2011, it swooned to $27.60 in November of that same year. Sodastream then reached $77.80 in June 2013, only to be completely washed out once again. However, this decline has taken place over a much longer period of time, 13 months versus five months.
Therefore more and more bottom-pickers are stuck long in the issue, and any quick rebounds will be muted as they attempt to exit into strength.
Looking At The Technicals
From a daily technical perspective, the issue appears to bottoming with its previous three lows within a narrow $0.20 range from $29.65-$29.85. Thus, if one was so inclined to attempt to pick a bottom in the issue, there is a somewhat attractive risk/reward ratio.
Related: Why Has Wall Street Punished Johnson & Johnson For Its Earnings Beat?
By risking a few points down to its November 2011 low ($27.60), the issue could easily rally four points, with an earnings beat or some love from Wall Street analysts. Also, if tempted to make this investment, one will be banking on solid earnings and guidance, when they are announced on July 30.
Keep in mind, an earnings beat of $0.07 last quarter has done little to improve its share price. In fact, SODA has declined from $40.62 to $29.20 since its earning beat in May. Perhaps Wall Street is concerned that its sharp decline in revenues from $168.10 million to $118.20 million will continue.
Analysts' Ratings
When it comes to Wall Street's take on the issue, it has been underwhelming at best. Since February, three of the six ratings changes have come in as downgrades. The most recent downgrade coming from Barclays, who lowered their rating from Equalweight to Underweight, and lowered their price target from $40.00 to $35.00. Interestingly, this is the second downgrade of the issue by the firm since April. On April 3, they lowered their rating from overweight to equalweight and trimmed its price target from $55.00 to $40.00.
On July 16, Deutsche Bank maintained its Hold rating but lowered its price target to a Street low $32.00. On most occasions, analyst chasing price with lower targets is an acknowledgment that they have missed the boat on the issue.
Less Pop In The Soft Drink Market
From a fundamental perspective, overall soda consumption in the world has held steady or declined. Whether it be for dietary or health reasons, consumers have been turning to a number of new beverages with less sugar and less negative connotations regarding health risks.
One perceived advantage to Sodastream is the cost savings. However, one would have to drink a lot soda to justify the costs saving from the initial investment and subsequent supplies that need to be purchased. Once again, availability and instant variety are not features of the product.
In fact, the average user would need to drink a liter per week over the next 10 years to break even on the initial purchase, plus supplies, versus purchasing store bought soda.
As the issue flounders under $30.00, having not been able to close above that key psychological level since July 11 when it ended the session at $30.47, investors may want to examine other issues for a potential investment. However, if your penchant is for picking bottoms after long declines with a well-defined exit level, the SODA chart has provided you with just that kind of opportunity.
Posted-In: beverage food and beverage soda industryTechnicals Intraday Update Analyst Ratings Trading Ideas General Best of Benzinga
View Comments and Join the Discussion!