Berkshire Hathaway: Playing Catch-Up With The Market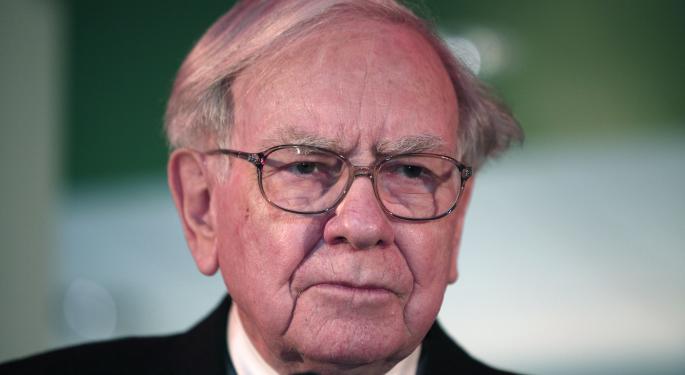 After trailing the broad market in the second half of 2013 and declining with it earlier this year, Berkshire Hathaway (NYSE: BRK-B) shares have finally exploded to the upside.
The issue, which peaked last August at 119.38 and traded in primarily a nine-point trading range for six months (110.00-119.38), finally cleared that major resistance level on Thursday and has not looked back. Since closing just off its high on Thursday (121.20), BRK-B has approached the 123 level in Friday's session, reaching 122.92.
The reason for this being that much of the rally in the second half of 2013 was relegated to momentum stocks. Stocks such as Facebook, Tesla, Netflix, Twitter, Google and Priceline attracted investors funds, while value stocks such as American Express, Wells Fargo and Bank of America increased in value, but at a much slower rate.
IBM, even declined in value during this period, falling from its all-time high in March (215.82) to 172.19 in February. Exxon Mobil peaked in July at 95.49 and traded down to 86.51 in October. However, it was during this swoon the Mr. Buffett began accumulating shares in the oil giant.
Related: Risk-On Trade - Out In Full Force
Since these five stocks represent the five largest holdings in Mr. Buffett's portfolio, it should come as no surprise that the BRK-B did not match the broad markets performance. Despite paying solid dividends, the capital appreciation in his main stable of stocks paled in comparison to issues such as Facebook (NASDAQ: FB) that nearly doubled from July through December, or Google (NASDAQ: GOOG), which tacked on 26 percent during this time period and another nine percent in 2014.
With some momentum stocks now appearing to be topping out by not fully participating in this weeks rally, investors are taking profits in the momentum stocks and reallocating to more value-oriented issues.
For example, Facebook topped out on Wednesday (71.89), ignored Thursday's rally and is now trading under 70. Tesla (NASDAQ: TSLA) peaked after earnings in late February 265.00 and has breached the major support at 250.00 in Friday's trading and now is changing hands at 247.00.
Meanwhile, Bank of America (NYSE: BAC) has gained this week and IBM (NYSE: IBM) has added only a few percent this week, but is up nearly 10 percent from its February 5 low (172.19).
Related: How Morgan Stanley Got Left Behind In The Rally
Also, Wells Fargo (NYSE: WFC) surged to new all-time highs this week, eclipsing the former all-time high (46.83) by almost two points as the issue traded to 48.48 earlier in Friday's trading. American Express (NYSE: AXP) has added nearly three percent this week and 13 percent since its February 4 low (82.63). In Friday's trading AXP has made a new all-time high at 94.35, surpassing the old high of 93.62.
XOM has been the only laggard in Buffett's top five holdings. The company disappointed on Analyst Day with the number of new projects planned for 2014; the company's revelation that its single largest non-U.S. asset is located in the Ukraine riled investors. The issue tumbled from 96.52 to 93.80 that day, but has since recovered to 94.41, still well above Buffett's entry point in the high eighties and low nineties.
As the broad market sells off from its all-time highs from earlier in the session, BRK-B remains in the green, trading higher by $0.80 at $122.00 in Friday's session, some two points above its former major resistance level at 119.83. This is perhaps an indication that the next leg up in this bull market will be led by value stocks that make a large portion of Mr. Buffett's portfolio, as opposed to the momentum stocks that fueled the move in latter half of 2013 and the recent move off the February lows.
Posted-In: Warren BuffettTechnicals Intraday Update Trading Ideas Best of Benzinga
View Comments and Join the Discussion!