Philip Morris - Left Behind in the Bull Market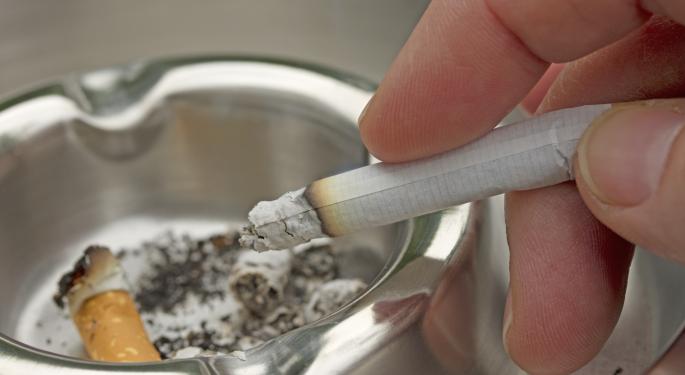 Long before Ronnie Moas of Standpoint Research published his controversial report on Philip Morris (NYSE: PM), it did not take much to notice the technical breakdown in the issue.
Mr. Moas, who cited moral reasons for his initiation with a Sell rating, certainly has the charts and price direction of the issue moving in his favor.
While the market posted a 30 percent gain in 2013, PM shares posted a paltry four percent gain. Meanwhile, as the broad market has held steady in 2014, PM has declined nearly five percent.
Since making an all-time high in May (96.73) it has been all downhill for PM, while the broad market has moved in the opposite direction. A majority of the downside action has occurred in the last two months.
See also: Standpoint's Ronnie Moas Receives Death Threats After Scathing Downgrades, Morality Debate
There are two reasons for the acceleration of the decline in PM in November. First of all, a Philip Morris executive stated the company was expecting international cigarette volume to be down three percent in November of 2013. As a result, the company will enter the E-Cig market in the second half of 2014.
Interestingly on that same day, the company raised FY 2013 EPS guidance from $5.35-5.40 to $5.37-5.42 vs $5.39 analyst guidance. The Street reacted to the positive news, knocking nearly three points of its price from 89.30 to 86.60.
The sharp move lower following the announcement suggests investors viewed the move into the E-Cig market as a step in the wrong direction. Moreover, a move out of its comfort zone of core businesses and into a new endeavor may eat up cash for a growth segment that may or may not pan out.
One day later, Goldman Sachs removed PM for its coveted Conviction Buy and lowered its rating all the way to Neutral. The firm also lowered its price target from 103 to 95.
Another negative catalyst was revealed by the company on November 25. That unfavorable currency effect will shave $0.40/share from its fiscal year 2014 EPS. This prompted Stifel analyst, Christopher Grove to lower his price target for the issue from $95 to $93.
The South China Morning Post reported the Chinese Health Agency will be seeking a smoking ban in public places by year's end. If this policy is adopted it may have a negative impact on PM sales in China. Furthermore, additional bans on smoking bans in public places may have a multiplier effect on global sales.
Although Standpoint's downgrade to Sell may have been emotionally based, there is no doubt that Wall Street has not looked favorably on the issue since May. And if Moas' appeal gains more momentum, it may be put additional selling pressure on the already retreating share price of PM.
This story was written by Joel Elconin
Tags: e-cigs Ronnie Moas
Posted in: Technicals Intraday Update Trading Ideas Best of Benzinga