Betting Against Hedge Funds On China Now Has A 23% Potential Payoff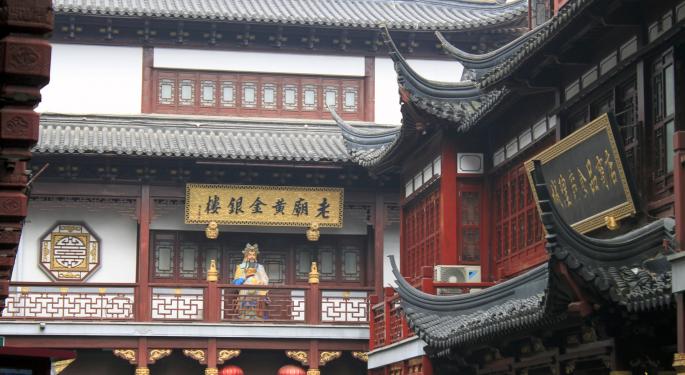 Hedge funds are making so many bearish bets against China that investors who want to take the other side of the trade now have a way to make an easy 22-23 percent. According to Bloomberg's Viren Vaghela, banks are now offering special products for investors to take advantage of the high demand for borrowed Chinese ETF shares.
The CSOP FTSE China A50 ETF (NYSE: AFTY) has reportedly become a top target for hedge fund short-sellers, and banks are now selling special products with huge payouts to generate the massive amount of ETF shares that hedge funds are looking to short.
Related Link: For Hedge Funds, Shorting China Is Easier Said Than Done
The Process
For investors, here's how it works. A BNP manager buys shares of the AFTY ETF to lend to short sellers. The bank is able to generate annual fees of roughly 5.0 percent. The bank buys a bullish call option and sells a put option.
After one year, if the ETF is higher by at least 0.1 percent, the investor gets back his/her principle investment plus a payout of 22–23 percent. If the ETF is up by more than 23 percent, the investor also gets the excess proceeds. However, if the ETF is down after 12 months, the investor's principle shrinks by the equivalent amount.
"Compared to buying the ETF, the potential upside is much bigger," BNP's Etienne Grisley told Bloomberg.
The AFTY is down 45.3 percent in the past year, and short interest in the ETF rose to a one-year high last month.
Disclosure: The author holds no position in the stocks mentioned.
Posted-In: Short Ideas Emerging Markets Specialty ETFs Hedge Funds Markets Trading Ideas ETFs General Best of Benzinga
View Comments and Join the Discussion!