The Vice Index: Prostitutes, Drugs, And The Stock Market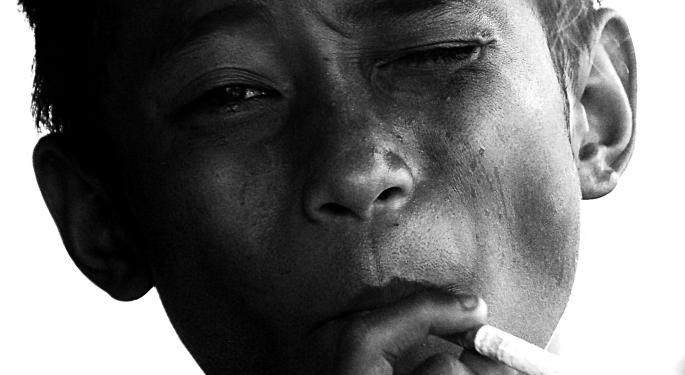 Ever wondered what the hooker economy has to do with the stock market?
What about how marijuana use can tell us about future economic activity? Well, Andrew Zatlin, founder and CEO of Moneyball Economics, spoke on Benzinga's #PreMarket Prep show on Wednesday about that very phenomenon. Zatlin is the creator of the the Vice Index, a way to measure how everybody's favorite questionable hobbies can actually forecast future markets.
So, how can the prostitution, narcotics and gambling industries actually predict the rest of the economic markets, and more importantly, what does that mean when it comes to YOU and YOUR money?
Why Hookers And Drugs?
The reasoning behind tracking such dubious activities is simple: follow the money. The Vice Index zeroes in on industries that, for all their varying legalities, attract massive amounts of money. According to Zatlin, this underground economy accounts for 10-15% of the American economy, and even more in Europe.
On top of that, it's the lack of discrimination when it comes to partaking in these vices that truly makes these industries unique.
"It's one of the few places where every socioeconomic demographic is going," Zatlin said. "I'm not saying everyone is indulging, I'm not saying they're all indulging in every single vice. But everyone, no matter your race, religion, sexual orientation — you all have vices."
Zatlin tracks tens of millions of transactions each month. Now compare that with the Consumer Sentiment Number, which tracks 400 people per month as a representation of the entire U.S. market. Suddenly the Vice Index doesn't seem like such a crazy idea does it?
What Is the Vice Index Actually Telling Us?
According to Zatlin, everything is fine, for now. To use a baseball metaphor (Hey, it's called Moneyball Economics), we're in the 8th inning. The markets are stable and the economy is moving, but it's time to start looking ahead.
"My professional view is in the next year we're going to start seeing signs of a recession. It's not going to be like the recession we went through a few years ago, but everybody already has the car they need, everyone's bought everything they need, wages aren't growing. There's just no growth."
No More Bull?
You might be wondering how Zatlin can drop an "R-bomb" with such authority. Looking at the Vice Index is nice, but what other data backs that up? According to Zatlin, the weekly jobless claims.
This year has seen the American economy continue to grow in its seventh year of economic recovery. Unemployment is going down. Businesses are creating more jobs and firing fewer people than last year. But the trend is starting to bottom out in the second half of 2015, and this, Zatlin says, is the smoking gun.
Not only does the weekly jobless rates predict market downturns with tremendous accuracy, but it does so 6-9 months in advance. 9th inning, here we come.
Fed Up
And where does that leave the Fed and that long-rumored interest rate hike? Zatlin isn't sure it's going to happen at all.
"The Fed likes to think in terms of business cycles. Things get better, things get worse, and they can extend the business cycle if they monkey around with interest rates," said Zatlin.
But that doesn't take into account structural changes to the markets and industry disruptors, which in an age of cord-cutters and smart cars, is happening quite frequently. At this point a change in interest rates could end up being a swing-and-a-miss for the Fed.
The preceding article is from one of our external contributors. It does not represent the opinion of Benzinga and has not been edited.
Posted-In: How vices affect the market stock market Vice Index Vice indicesShort Ideas Top Stories Trading Ideas General Best of Benzinga
View Comments and Join the Discussion!