Why Hasn't A Stock Split Helped Google?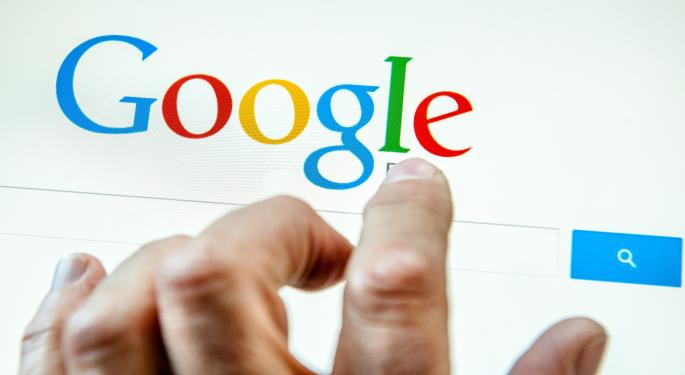 Investors that owned shares of Google Inc (NASDAQ: GOOG) (NASDAQ: GOOGL) as of March 27 ended up with twice as many shares at half the price when it opened on April 3.
The original Google Class A shares, which come with the right to vote at the company's annual shareholder meeting, had a new ticker symbol, GOOGL. The new Class C shares retained the old ticker symbol, GOOG. Owners of the latter have no vote at the annual shareholder meeting and will rely solely on Google to increase the value of their investment.
Shares Post-Split
Based on the closing price of these two instruments combined as of April 3 ($1,141.24) versus its combined price as of November 21 ($1083.39), the performance has been abysmal. Especially when taking two very important factors into account.
Both prices are a far cry from Google's all-time closing high price made on February 26 ($1,220.18). When comparing the negative return since that date, Google exhibits one the worst relative performances versus its mega-cap competitors.
Since the split, the combined price has declined from $1,141.24 to $1,099.59, or 4 percent.
Related Link: A Deeper Dive Into Home Depot's Flash Crash
Over that same time, the S&P 500 has rallied by nearly 9 percent, marking a combined 13 percent underperformance.
Effect Of Stock Splits On Price
There are mixed opinions on what the impact of a stock split will have on a stock's value going forward. Some view it as financial engineering that does nothing for the company. Jeffrey Carter, an angel investor, independent trader and financial blogger echoes this sentiment.
"Deceased Nobel Prize winning economist Merton Miller didn't like them," Carter wrote. He quotes Miller's work on the subject: "Everyone recognizes that's a joke because obviously the number and shape of the pieces doesn't affect the size of the pizza."
Carter provides evidence to the contrary as well by highlighting the work by Nobel Prize-winning economist Eugene Fama. His studies indicate that stock splits may benefit a stock's future performance, at least for some period of time.
In reference to Apple's 8 percent rise on the day of its own (7-1) split announcement, other good news was delivered, including the continuation of a share-repurchase plan and and a quarterly dividend boost.
As Carter concluded, "it looks like short term, a stock split is bullish... But long term, it's not bullish or bearish and will fall back into the efficiency of the market. The real onus on share performance is on management."
Another plausible reason for a stock split is to make an issue more appealing to retail investors. Even though the split-adjusted values are the same, shareholders are more comfortable purchasing more shares at a lower price, than less shares in a higher-priced issue. Apple, for example, explained the strategy in a press release: "We want Apple stock to be more accessible to a larger number of investors."
Interestingly, in Google's case, the split did nothing to make it more appealing to retail investors. Instead of a volatile thousand-dollar issue, it is now two volatile $500 issues. If the company's intent was to boost appeal to retail investors, it would have split one or both of the issues by at least 5-1.
The Competition
The timing and scope of the split is puzzling.
There's an argument to be made it indicates Google is becoming more aware of competition in the search space from the likes of Facebook, Twitter and others.
Tech stock strategist Sean Udall told Benzinga he believes other companies "already are" siphoning search market share from the "king" of search. Google, once his largest position, is not even a part of his portfolio. That's despite the fact that Udall characterized it as "on the short list for most powerful company in the world."
Why? As Udall explains, "Search in no longer unassailable... there is no doubt Facebook and Twitter are chipping away at Google's dominance in both forms of search.
"The data from Twitter and Facebook is changing the landscape of search," he added. "For real-time meta-search technology to be complete, it must include Twitter and Facebook data."
The Biggest Threat To Google's Search Dominance?
The primary reason Udall is avoiding the issue is simple: the threat of Apple developing its own search engine. "If that comes to fruition," he said, "Google may have a 10 or 15 percent decline [in search engine market share] and may not be able to recover."
If recent rumors are to be believed, in fact, Apple may be operating a mysterious Web crawling bot related to search.
Neil Hughes of Apple Insider has written about Jan Moesen, a developer he said "has discovered that Apple appears to be crawling HTML websites with its own automated bot, but the exact purpose of the mysterious homegrown software remains unknown."
Moesen first noticed the software on October 15, though no further details are known. Mutliple outlets have theorized on this idea over the past few years.
Long-Term Follower Reveals Current Strategy
Marketfy Maven and author of "Create Income With Options Spreads," Nic Chahine, explains there appears to be no sense of urgency to own the issue.
"Mid- to long-term, it makes a lot of money and therefore should maintain its current value. Investors are not in a rush to own the issue, since it has been range-bound for so long," he added.
"It takes a lot to move it up or down and there is nothing compelling to make it a must-own issue. The current trading range [for Google] from $500.00 to $560.00 makes it ideal for Iron Condor Spreads... Sell the outside risk and take in the premium, allow for limited upside and downside potential."
Chahine said he's been deploying credit put spreads and credit call spreads to create income.
On the downside, Chahine identifies the $500.00 level as support. That level is significant since it is the area from which shares broke out last October, when the company delivered blockbuster third-quarter results to the Street. "The company raised the bar on earning expectations from that point on and has not been able breach that level on multiple attempts," he explained.
Posted-In: Google Search engineShort Ideas Rumors Tech Trading Ideas Best of Benzinga
View Comments and Join the Discussion!