Jobs Report May Have Cinched Fed's Rate Raise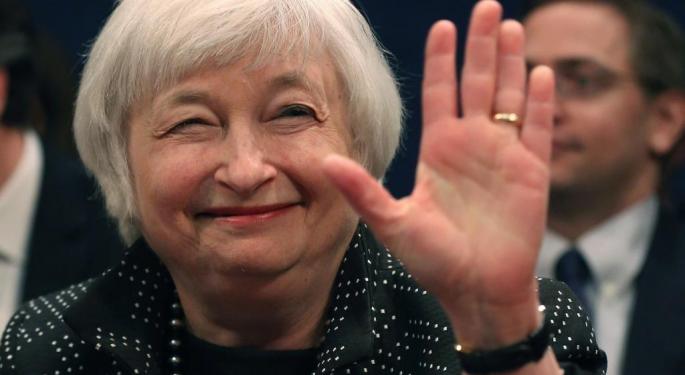 Few things in financial markets are a slam dunk, but a general consensus has emerged that last Friday's employment report was the last nail in the coffin for the Federal Reserve's zero-percent short-term interest rates.
In addition to announcing 211,000 new hires last month — a bit more than Wall Street had expected — the Labor Department on Friday also revised upward its earlier estimate of job creation in September and October by a total of 26,000 jobs. The unemployment rate was unchanged at 5%.1
"This is a green light [to raise rates] from our perspective," Phil Orlando, chief equity strategist at Federated Investors, told the New York Times.
Investors, who the Times said has previously shunned stocks after strong jobs data and the prospect of higher interest rates, greeted the report with enthusiasm, perhaps because it removes any remaining uncertainty about the Fed's plans.
Stocks reversed Thursday's losses and rose more than 2% on Friday alone. Bond yields fell slightly, but the trend overall for interest rates has been up, as investors have likely anticipated the Fed's decision. The 10-year Treasury note yield was at 2.28% on Friday – slightly off its high of 2015, but well above the near-term February low of under 1.7%.
Other investments tied to rising interest rates have outperformed recently. The Rising Interest Rates motif, for example, has gained 5.1% in the past month. In that same time, the S&P 500 has fallen 0.4%.
In the last 12 months, the motif has increased 17.6%; the S&P 500 is up 0.8%.
Friday's employment report echoes other recent positive data on job openings, new weekly claims for unemployment benefits and private payroll surveys, Orlando noted to the Times. "This is a good number for liftoff," he said, referring to the expected move by the central bank, which has held rates near zero since December 2008.
Indeed, the Times said that many analysts expect the Fed to raise rates roughly every other meeting next year, which would bring the Fed's benchmark rate to about 1% in the fall of 2016.
The Fed has certainly been hinting that it doesn't need much more convincing to raise rates. Federal Reserve Chairwoman Janet Yellen said last week – before Friday's jobs data — that economic conditions were ripe for the central bank to start raising its benchmark interest rate this month.
"I think the economy is on the road to recovery," Yellen said. "We're doing well."
Of course, Yellen also seemed intent on conveying caution, insisting the Fed's policy-making committee would not make a final decision until its meeting Dec. 15 and 16. She said raising rates would be "a testament, also, to how far our economy has come in recovering from the effects of the financial crisis and the Great Recession."
The Fed painted a similar picture in greater detail in its latest beige book report, a compendium of economic reports from the 12 regional reserve banks also released last week. It reported that economic activity "increased at a modest pace" across most of the country. It also noted increased wage pressures, particularly for skilled workers in fields like nursing and software development.
Yellen also said that some drags on the economy had subsided, the Times said. The risks from foreign economic events have diminished, and Yellen said she expected that government spending would contribute to growth in the coming years. That is a significant change from the post-crisis period, noted the Times, when a combination of spending cuts and battles over fiscal policy weighed on the economic recovery.
Still, Fed-watcher Jon Hilsenrath noted for the Wall Street Journal that the Fed's vote will also involve a parallel strategy: Fed officials are likely to go into the meeting debating how they can emphasize to the public that it will proceed cautiously and gradually with subsequent rate increases in 2016.
The content contained herein is for informational purposes only and is not a solicitation or a recommendation that any particular investor should purchase or sell any particular security. Motif does not assess the suitability or the potential value of any particular investment. You are responsible for understanding the risks involved with investing in securities and for all investment decisions you make. Investments in small cap companies and companies within a particular sector involve additional risks unique to those companies which you should be aware of before making any investment decision. The information contained herein is obtained from sources believed to be reliable, but its accuracy or completeness is not guaranteed. Performance of motifs are for informational purposes only and is not not based on results you could expect to achieve. See how returns are calculated.
Posted-In: Previews Economics Federal Reserve Trading Ideas Best of Benzinga
View Comments and Join the Discussion!