Earnings Outlook: Is Street Already Positioned For Same Story Of Global Woes, Oil Stain?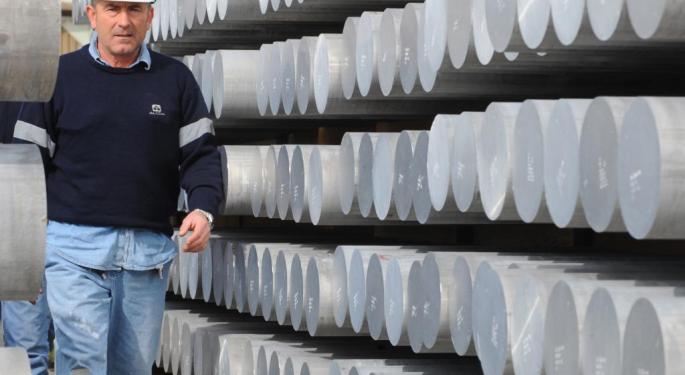 Remember Q3? Or have you put it out of your mind? It was a tough stretch for some U.S. companies and investors as China's troubled economy rocked the markets. China's impact—coupled with sluggishness in Europe, Japan, and developing markets that hit commodity prices—cut into multinationals' exports and sales abroad.
As if that wasn't enough, some U.S. companies—particularly those with operations abroad—were smacked by the impact of a stronger dollar.
We saw the nagging influence of these factors on Q2 earnings, and industry analysts say the same fate likely may await in the Q3 reports that begin to roll out later this week. But that's no surprise, right?
Alcoa Inc (NYSE: AA) unofficially kicks off the Q3 reporting period after Thursday's closing bell. Johnson & Johnson (NYSE: JNJ), Intel Corporation (NASDAQ: INTC), Netflix, Inc. (NASDAQ: NFLX), and a number of big financial names release results next week. Then the pace of reports picks up notably from there.
Top Line Focus
This time around, per-share results may not matter all that much—there's plenty of accounting gymnastics to prop those up. We want to know how top lines fared—we want to see how companies beat, met, or missed revenue expectations. Earnings influence stretches beyond pure sales and profit. For instance, many companies stepped up their share buyback programs and cut back on investments and infrastructure.
Look no further than Peoria, Ill.-based Caterpillar's numbing announcement late last month that it will slash roughly $1.5 billion in costs annually and more than 10,000 jobs as it wrestles with a global slowdown in key markets and industry sectors, most notably mining and energy, the company said. That underscores how Q3 results could be heavily sector-specific, with energy and materials likely getting trounced, while telecom and financials should hold up relatively well, industry analysts say.
In the past couple of quarters, forecasters called for the first year-over-year decline in S&P 500 earnings in five years only for companies to turnaround and beat lowered forecasts and show a net year-over-year rise. Forecasters aren't deterred. Analysts reporting to Thomson Reuters are warning that Q3 earnings per share will retreat 4.5% on a year-over-year basis at companies in the S&P 500. Strip the estimated 65% drop in energy-sector results and that estimate turns positive to a gain of 3.4%.
For sure, earnings forecasting has been a moving target. Company executives and Wall Street analysts have done their best to handicap the tug of global economic shifts and currencies; they've lowered expectations repeatedly, although some analysts note that this season kicks off with fewer earnings warnings than in the past couple of quarters. As the Street braced for bad news, actual earnings results have outperformed Street forecasts by an average of four percentage points over the past 14 quarters.
That Confounding Consumer
We're also going to be watching what comes out of the consumer staples and consumer discretionary sectors because these categories can help us get a better sense of economic health. Of course, we need all the help we can get as we watch the Federal Reserve struggle with the timing of what would be its first interest rate hike since 2006; the Fed has a meeting in October and December yet this year.
At this point, industry analysts see consumer discretionary earnings rising 11.6%, while consumer staples could decline marginally. If those directions switch, and more consumers start shopping for staples, that's a potential sign that the U.S. economy is sputtering.
Stay tuned, it's bound to be a telling quarter, set against a backdrop of already volatile stock trading.
Inclusion of specific security names in this commentary does not constitute a recommendation from TD Ameritrade to buy, sell, or hold.
Market volatility, volume, and system availability may delay account access and trade executions.
Past performance of a security or strategy does not guarantee future results or success.
Options are not suitable for all investors as the special risks inherent to options trading may expose investors to potentially rapid and substantial losses. Options trading subject to TD Ameritrade review and approval. Please read Characteristics and Risks of Standardized Options before investing in options.
Supporting documentation for any claims, comparisons, statistics, or other technical data will be supplied upon request.
The information is not intended to be investment advice or construed as a recommendation or endorsement of any particular investment or investment strategy, and is for illustrative purposes only. Be sure to understand all risks involved with each strategy, including commission costs, before attempting to place any trade. Clients must consider all relevant risk factors, including their own personal financial situations, before trading.
TD Ameritrade, Inc., member FINRA/SIPC. TD Ameritrade is a trademark jointly owned by TD Ameritrade IP Company, Inc. and The Toronto-Dominion Bank. © 2015 TD Ameritrade IP Company, Inc. All rights reserved. Used with permission.
Posted-In: earnings outlook earnings preview JJ Kinahan The Ticker TapePreviews Trading Ideas
View Comments and Join the Discussion!