Fed-Mania? We Actually Aren't Talking About The Central Bank As Much As In 2008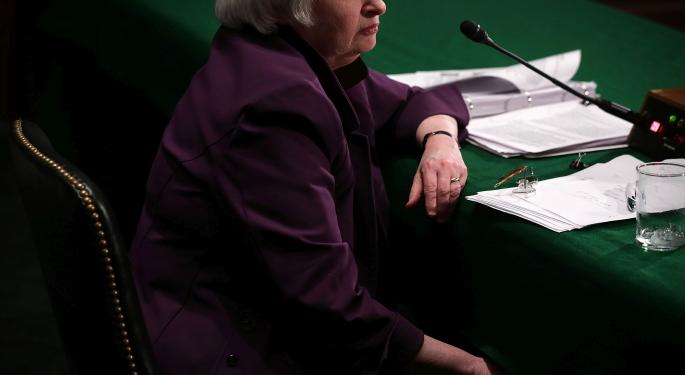 While the Fed decision has been a hot topic of debate lately, Google Trends shows it is not as popular of a search as it was during the Financial Crisis.
The recent global economic weakness stemming from China may have derailed a September hike.
There is no clear consensus on Wall Street concerning the timing of the Fed's first move.
All eyes will be on Washington today as the Federal Reserve will announce its decision on a possible interest rate hike at 2 PM Eastern time. The FOMC decision has been debated constantly on Wall Street in recent weeks, but statistics from Google Trends show that the Fed is not nearly as popular these days as is was back in 2008.
The Numbers
The data from Google Trends shows that searches for "Federal Reserve" have mostly been on the decline since they peaked in January, March and October 2008.

Discussions about when the first Fed rate hike will occur have been ongoing for years now, but the FOMC has yet to see the economic numbers they have been hoping for.
Last-Minute Change Of Plans?
Up until the last month or so, many Wall Street analysts were predicting that September would finally be the month that the Fed would begin tightening. However, economic weakness in China, a pullback in global equity markets and continued weakness in commodity prices has economists worried that the U.S. economic expansion may soon be at risk.
No Consensus
The Federal Reserve has a history of predictability, but even top forecasters on Wall Street don't agree on when the first rate hike will finally happen this time around. Indeed Chief Economist Tara Sinclair recently told Benzinga she believes the FOMC should go ahead and pull the trigger in September. However, Morgan Stanley recently stated that they only see a 10 percent chance of a hike in September.
U.S. markets are trading mostly flat on Thursday ahead of the decision.
Posted-In: Fed Mania Federal ReservePreviews Top Stories Economics Federal Reserve Markets Trading Ideas Best of Benzinga
View Comments and Join the Discussion!