PreMarket Prep Stock Of The Day: JPMorgan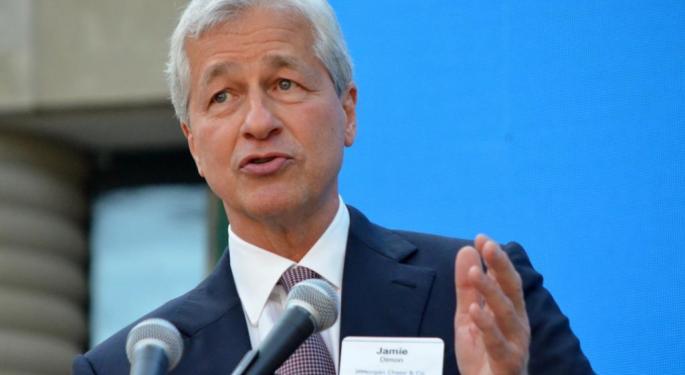 Benzinga's PreMarket Prep airs every morning from 8-9 a.m. ET. During that fast-paced, highly informative hour, traders and investors tune in to get the major news of the day, the catalysts behind those moves and the corresponding price action for the upcoming session.
On any given day, the show will cover at least 20 stocks determined by co-hosts Joel Elconin and Dennis Dick along with producer Spencer Israel.
For those who don't have the time to tune in live or listen to the podcast, Benzinga will highlight one stock that merits further discussion. This analysis is not a buy or sell recommendation.
Selective listening can be very dangerous, especially when it applies to statements made by one of the most respected men on Wall Street: JPMorgan Chase & Co. (NYSE: JPM) CEO Jamie Dimon. It's not that his comments from April are of all sudden coming to roost in today's market, but do help explain the poor performance of the sector since March.
With JPMorgan being the best in breed in the sector with the most influential leader, it's the PreMarket Prep Stock Of The Day.
The Jamie Dimon Rally In 2016: With crude oil prices crashing from triple digits to the $50 area and a world full of uncertainty facing the markets with a new administration and the Brexit saga in full bloom, Dimon stepped up to the plate in shares of his of company.
On Feb. 11, 2016, it was reported Dimon purchased 500,000 shares of his own company during its slide from the $70 area to the $50 area. The announcement instigated a major rally not only in JPMorgan but in the broad market. In fact, the lows from that session have not been revisited ever since. Even the March lows were nearly 400 points higher in the S&P 500 index: 2,200 vs. 1,820 for the S&P 500 and $53 vs. $77 for JPMorgan.
The Jamie Dimon Warning? Notwithstanding what Dimon's current stake is in his own company, it's hard to ignore comments on the U.S. economy from April 6 in his annual letter to shareholders. In that letter, Dimon detailed just how bad he thought the economy could get from the coronavirus pandemic and how his bank was preparing for "severe recession."
Market Don't Care, At Least For Now: When a market becomes disconnected from its true fundamentals, anything can happen. That's exactly what has transpired since the March lows, with the notion of the "Fed put" or the banks willingness "to do whatever it takes" to support the fledging economy, investors have taken many issues and sectors to unsustainable levels.
However, one very important sector of the market has severely underperformed on the rally, that being the banking sector. While the indexes bolted to new all-time highs, many bank stocks could barely distance themselves from their March lows. In fact, one issue, Wells Fargo (NYSE: WFC) breached its March low ($25.11) in May, falling to $22, and is currently within $2 of it.
See Also: HSBC, Deutsche Bank Lead Bank Stock Sell-Off Following Money Laundering Allegations, Potential China Blacklist
The Nail To An Already Closing Coffin: U.S. and European banking shares are under extreme selling pressure today, which was instigated by a report that Deutsche Bank appears to have facilitated more than half of the $2 trillion of suspicious transactions that were flagged to the U.S. government over nearly two decades from German broadcaster Deutsche Welle.
Not Buying The In Banks: On days like today, the familiar mantra is "buy the dip," which has turned out to be the winning strategy time and time again. Co-host Dennis Dick advocates that strategy with one caveat.
"If I am going to be buying the dip today, it is going to be in tech stocks, not banking stocks," he said. "The relative strength in this sector has been poor and today's news will add to that."
JPMorgan Price Action: After a lower open, JPMorgan attempted to rally, but came up well shy of the lower end of Friday's range ($87.44), only reaching $96.50 and resumed its move lower. As of 12:30 p.m. ET, it has declined to $93.89 and is not far off that level.
Based on the daily charts, it's falling into an area with limited support. The reason being, the next daily low doesn't come in until its July 10 low ($91.87). In that session, it sprinted from its previous day closing price of $91.28 to $96.27 following the broad market higher as investors emphasized positive treatment and vaccine news as such treatments would lead to a rebound in economic activity, spurring investment and helping the financial sector.
View Comments and Join the Discussion!
Posted-In: Jamie DimonLong Ideas Short Ideas Technicals Trading Ideas Best of Benzinga