No Surprise: Guess What Market Is Leading Post-Virus Equity Rebound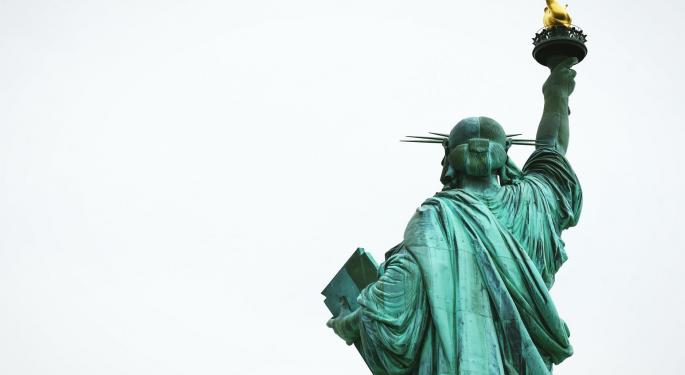 The equity market rally that started in late March amid the economic shutdown forced by the coronavirus has plenty of participants, but domestic equities maintain impressive advantages over their international counterparts.
What Happened
Obviously, exchange-traded funds make it easy for set-it-and-forget-it investors to own a broad basket of U.S. stocks to participate in that upside. For those looking to not only profit from the resurgence of domestic fare, but also wanting an instrument responsive to the laggard status of ex-US markets, there's the Direxion FTSE Russell US Over International ETF (NYSE: RWUI).
"The strong May showing has put US equities strongly ahead of their international peers, trimming losses for the US large-cap Russell 1000 to 4.9% for the year so far, roughly one-third the 12.0% decline of the FTSE All-World ex US," said FTSE Russell in a recent note. "This extended rally has added significantly to the US index's sizable 12-month outperformance versus the rest of the world, while other developed markets continue to lag, despite a recent rebounds in Europe and Japan."
Why It's Important
The aim of RWUI is simple. The Direxion fund tracks the Russell 1000/FTSE All-World ex US 150/50 Net Spread Index, obtaining its long exposure via 150% position in the widely followed Russell 1000 Index and its short positioning via 50% exposure to the FTSE All-World ex US Index.
That nets out to 100% and with the larger weight to the domestic benchmark, RWUI becomes overweight high-flying sectors, such as technology, as well as leading mega-cap stocks, including Microsoft Corporation (NASDAQ: MSFT) and Apple, Inc. (NASDAQ: AAPL).
The intensity of the recent strength in global stocks is something to behold, but most of it is attributable to the U.S.
"It took just 24 trading days for the FTSE All-World Index to hit bottom, a blink of an eye compared to the length of time for it to do so during the last two major market crashes," said FTSE Russell. "It took only another 49 trading days to recoup nearly three-fourths of its pandemic loss of 32% at the height of the sell-off in March. The roaring April/May risk rally has trimmed the world index year-to-date declines to 7.9%."
What's Next
There are some risks with RWUI, the primary one being that somehow, someway, international stocks seize a leadership role.
Geographically speaking, signs of life in Europe could weigh on the fund as the U.K., Switzerland and France combine for about 11% of the fund's short exposure. Conversely, any retrenchment in Asian equities without affecting the U.S. would help RWUI as Japan and China combine for over 14% of the ETF's geographic short positioning.
View Comments and Join the Discussion!
Posted-In: direxionLong Ideas News Specialty ETFs Trading Ideas ETFs