Focus On The US With This New ETF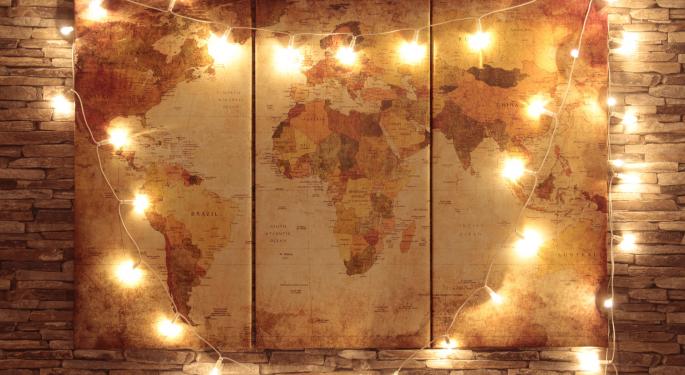 Even with many U.S. equities, investors are getting international exposure whether they know it or not because many large- and mega-cap U.S. companies are legitimate multinational firms that derive significant portions of their sales overseas.
That is true of scores of big-name U.S. companies across multiple sectors. Investors that want to focus more directly on the U.S. economy with equities have a new alternative. The iShares Russell 1000 Pure U.S. Revenue ETF (NASDAQ: AMCA) debuted Thursday. The new ETF tracks the Russell 1000 Pure Domestic Exposure Index, a benchmark that holds companies that generate at least 85 percent of their revenue within the U.S.
"Globalization has profoundly altered the exposure of U.S. companies to offshore revenues and that is apparent in the performance of U.S. equity portfolios. In turn, iShares AMCA aims to provide investors with greater control to overweight the stocks of U.S. companies that are less dependent on overseas returns and more insulated from overseas risk," said Martin Small, Head of U.S. iShares at BlackRock, in a statement.
Patriotic Sectors
The sectors that loom large in AMCA are not surprising, nor are the ETF's smaller sector allocations. For example, U.S. consumer staples and technology firms generate significant portions of their sales in markets outside the U.S. As such, those sectors combine for barely more than 9 percent of AMCA's weight. Likewise, the U.S. is now a net energy exporter, meaning the energy accounts for just 5.4 percent of the new ETF's weight.
Conversely, financial services firms account for over 24 percent of AMCA's weight; a sensible allocation when considering even large U.S. banks generate the bulk of their revenue and earnings in the U.S. Consumer discretionary and healthcare stocks combine for 26 percent of the new ETF's roster.
AMCA offers some yield potential as real estate, utilities and telecom, all domestically-focused sectors, combine for over 26 percent of the new ETF's weight.
Index Matters
While AMCA's underlying index is an offshoot of the widely followed Russell 1000 Index, the new ETF holds just over 420 stocks, not 1,000.
AMCA adds to BlackRock's existing line-up of 14 Russell-indexed ETFs, with over $187 billion in assets under management as of Aug. 3, 2017," according to BlackRock.
AMCA charges 0.15 percent per year, or $15 on a $10,000 investment.
Related Links:
Posted-In: AMCALong Ideas News Broad U.S. Equity ETFs New ETFs Markets Trading Ideas ETFs Best of Benzinga
View Comments and Join the Discussion!