A New Reality: Triple-Digit Gains For 2017 Possible For Virtual, Augmented Reality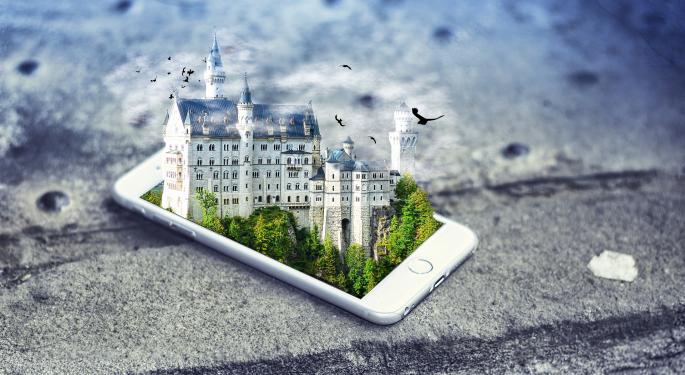 Augmented and virtual reality, the hot-and-happening technologies of our age, could be gaining momentum, according to recent research and the IDC.
A recent IDC release showed worldwide shipments of AR and VR headsets surged up to 2.3 million units in the calendar year's first quarter. And what more, the IDC is more optimistic about the prospects for the rest of the year.
The first-quarter number represented a 72-percent year-over-year growth but a 41-percent sequential decline, with the quarter-over-quarter decline reflecting a tougher comparison with the holiday quarter.
IDC attributed the year-over-year growth to the introduction of new products and the expansion in the distribution of headsets to additional countries.
Quarterly Break-Up Of VR/AR Headset Unit Sales
Q1 2016: 1.34 million units.
Q2: 1.70 million units.
Q3: 2.49 million units.
Q4: 3.87 million units.
IDC's research showed that VR sales of the first quarter of 2017 represented more than 98 percent of the total AR/VR shipments. Within the VR headsets, the firm noted that two-thirds were screenless viewers, such as Samsung Electronic (OTC: SSNLF)'s Gear VR and Alphabet Inc (NASDAQ: GOOGL) (NASDAQ: GOOG)'s Daydream View.
On the other hand, tethered VR headsets such as HTC Corp (OTC: HTCKF)'s Vive, Facebook Inc (NASDAQ: FB)'s Oculus Rift and Sony Corp (ADR) (NYSE: SNE)'s PSVR accounted for one-third of the market.
"The VR market is still very young and consumers seem to be taking a cautious approach," said Jitesh Ubrani senior research analyst for IDC's Mobile Device Trackers.
"With plenty of headset options already in the market and even more coming soon, hardware isn't the issue. The bigger challenge is the slow growth in content that appeals to a mass audience, combined with the confusion associated with a lack of cross-platform support."
Company Standings
Samsung shipped 489.5 million units of AR/VR, giving it a 21.5 percent share of the total market. Closely following Samsung was Sony, which shipped 429 million units and had a 18.8 percent market share. HTC was a distant third, having shipped 190.9 million units and boasting of a 8.4 percent share.
Facebook shipped 99.3 million units (4.4 percent share) compared to TCL's 91.3 million units (4 percent share). The companies falling under the "others" category shipped 980 million units, giving them a collective share of 43 percent of the market.
Giving reasons for Samsung's dominance, IDC said it benefited from its large distribution network and its partnership with Oculus. That said, the firm noted that Samsung was the only company in the top 5 to have seen year-over-year declines in shipments, with the absence of their flagship Note line of phones being offered as a reason for the drop. However, IDC expects things to change, with the recently released Gear VR with Controller.
IDC expects Sony to remain the leader in the near term that due to its large installed base of PlayStation 4s and the support of AAA games.
On Facebook's Oculus Rift, IDC said it would continue to provide a compelling alternative for VR enthusiasts, with the addition of touch controllers, improved room-scale tracking and a price drop from $599 to $499.
Rosy Outlook
IDC expects triple-digit growth in AR/VR shipments in 2017, given the impending launch of new products scheduled to be shipped in the second half of 2017. While noting that majority of the AR shipments in the market is focused on getting hardware into the hands of developers, the firm said it expects consumers to have the first taste of AR through the cameras and screens of their existing mobile devices such as smartphones and tablets.
Related News:
For Microsoft, The VR Game Is Still Afoot
Posted-In: IDCLong Ideas Topics Top Stories Tech Media Trading Ideas General Best of Benzinga
View Comments and Join the Discussion!