Gold Did Something Really Interesting In April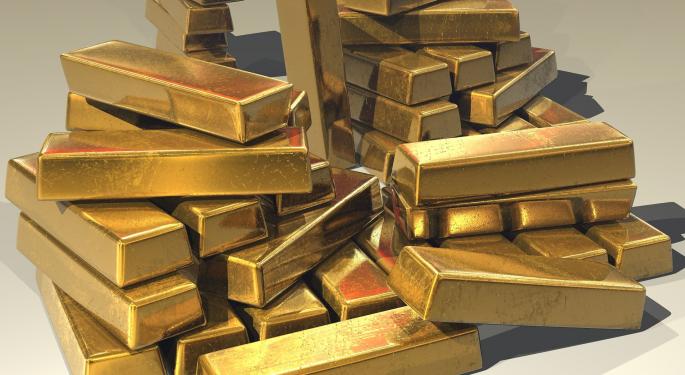 The SPDR Gold Shares (NYSE: GLD), the world's largest exchange-traded product backed by physical holdings of gold, rose 1 percent in April. On the surface, that does not sound all that impressive. After all, there have certainly been months over GLD's lengthy trading history that the ETF has delivered more than 1 percent upside.
Upon further examination, gold was actually pretty impressive last month, particularly when considering GLD's platinum equivalent fell 2.1 percent. Meanwhile, the iShares Silver Trust (NYSE: SLV) is off about 7 percent over the past month and is in the midst of an 11-day losing streak.
The Curious Case Of Gold's April
Overall, April was a rough month for commodities, underscoring the point that GLD's 1 percent monthly gain, while modest, was good by comparison.
"Only 2 of 5 sectors and 7 of 24 commodities were positive in April. In the S&P GSCI, livestock gained 8.6 percent, its best monthly performance since July 2007, making it the best performing sector, while energy was the worst performing sector, losing 3.6 percent," said S&P Dow Jones Indices. "Feeder cattle posted its biggest monthly gain ever of 15.1 percent, making it the best performing commodity in the index, while cocoa was the worst performer, losing 12.9 percent. All metals except gold lost in April, which hasn't happened since May 2010 and has only happened 6 times in history (since lead, the last metal was added in Nov. 1994.)"
Going For Gold
Gold was helped last month by ongoing weakness in the dollar, which is already one of 2017's big duds among developed market currencies. The U.S. Dollar Index slumped 1.4 percent last month, bringing its year-to-date decline to 3.3 percent. Gold and other commodities are denominated in dollars, meaning a weak dollar is usually helpful to commodities prices.
"Gold was not just the only positive metal in April, but was the only commodity of all 24 in the S&P GSCI in backwardation," said S&P Dow Jones. "This is the first time in history that gold was the only backwardated commodity (since 1978 when gold was added into the index.) Backwardation is a condition describing the forward curve where the contract with a nearer expiration date is priced higher than the contract with a later expiration date. It is profitable for market participants rolling out of expiring contracts and into later dated ones, and it reflects a shortage where demand is greater than supply. Gold's forward curve has only been backwardated in 28 percent of months historically since it is relatively abundant."
Year-to-date, investors have added $1.32 billion in new assets to GLD.
Related Links:
Erratic Trump Prompts Investors To Seek Safety In Silver, Gold
View Comments and Join the Discussion!
Posted-In: Long Ideas Specialty ETFs Commodities Topics Top Stories Markets Trading Ideas ETFs Best of Benzinga