Erratic Trump Prompts Investors To Seek Safety In Silver, Gold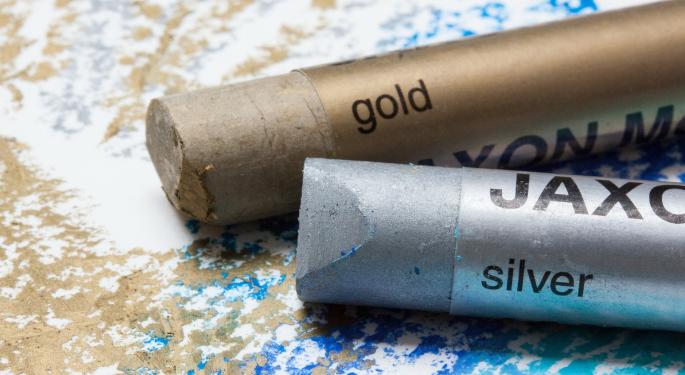 Precious metals were the best-performing commodities of the first quarter, and some analysts believe the volatile nature of President Donald Trump's first months in office played a big part.
A composite of the active month futures prices of the four exchange-traded precious metals moved higher by an average of 11.45 percent in the first quarter.
"Love him or hate him, there's one thing that President Donald Trump has done since he took over the White House, and that's create a lot more uncertainty around the world," wrote stock picker Michael Lombardi in "The Lombardi Letter." "And this is great for precious metal prices."
Lombardi cited Trump's bombings of Syria and Afghanistan and his rhetoric about sending an aircraft carrier fleet toward North Korea — something the Pentagon later recanted — as reasons why investors were seeking out the traditional, post-apocalyptic safe havens of gold and silver.
"Since the U.S. (fired) Tomahawk missiles on Syria, gold prices have made an almost-vertical move to the upside," he said.
Scary Silver Lining
Silver was up more than 13 percent year-to-date, and not just as a sanctuary move. Lombardi said each Tomahawk missile contains 15 kilograms of silver wires and batteries, meaning that the 59 fired on Syria contained 31,200 ounces of the metal.
"Yes, silver is a precious metal that investors often flock to (alongside gold) in times of uncertainty," he said. "But silver is also used in the aerospace and defense sectors, so a lot more silver could be needed if the U.S. goes to war again."
Benchmark New York gold futures edged up to a five-month high on Tuesday and closed at $1,291.7 per troy ounce, the Nikkei Asian Review said.
Metals Bump Began With Breixit
Market analyst Itsuo Toshima told the review that the demand for gold was robust even before the geopolitical tensions of recent weeks. "From Brexit to the Trump administration, a series of unexpected events across the world have been pushing up gold demand among investment funds," he said.
Silver was trading at $18.13 an ounce after hitting a three-month high of $18.60 on Monday, according the APMEX metals index. Palladium was at $797.80 after reaching its three-month high of $812.50 on March 24. Gold was $1,290.70 after posting its three-month $1,294.90 on Tuesday.
Platinum, a scarcer metal that historically outperforms gold, was at $980 an ounce on Thursday.
Related Links:
War-Torn Afghanistan Sits Stubborn Atop Vast Reserves
Is Trump's Foreign Policy Belligerence A Diversion From A Stalled Agenda?
View Comments and Join the Discussion!
Posted-In: Afghanistan APMEX metals indexNews Commodities Politics Markets Trading Ideas General Best of Benzinga